As soon as the weather starts looking up and the sun starts warming up our feet, we are all ready to kick off those winter shoes and slip into our beach sandals. This sounds fine and dandy, but we might be sporting more than our pretty little toes. Our feet can be a frightful sight after months of stomping around in closed-off shoes causing dry, cracked heels. Let's face it – it's an unpleasant look to portray this summer or ever.
Summer is the season for enjoying outdoor activities like laying out by the pool, going to the lake, or even taking that early morning hike. If the pool is where we want to be, it can be a real enemy to our feet, as chlorine can cause dryness and cracking of your heels. Let's not forget those horrible blisters that are caused by sporting those new hiking boots on our early morning hike retreats. Even if outdoor activities help us maintain a healthy lifestyle, this can all take a toll on our pretty toes and can cause a lot of anxiety and embarrassment if you need to expose your footsies in public.
After all, you want your toes and feet to leave a perfect first impression!
Get ready for some easy steps to keep your feet pampered and pretty all summer long.
1
Soak
Soften your feet with a soak and soothe them to perfection.
You don't need an excuse to take a break and treat your feet to a foot bath. There are several benefits that a soak can provide you, one being soft refreshed feet. Soaking your feet in a lukewarm tub or bowl can clean and soften your skin and cuticles making it easier for you to scrub away loose skin gently. Not only are we cleaning those toes, but we can also relax our aching muscles or sore feet all while improving the flow of our blood. Improving our circulation and taking a breather from the everyday hustle and bustle will relax us in general. Take time to pamper those toes and keep them feet energized and ready to handle another shopping trip with no painful interruptions.
2
Exfoliate
Exfoliate your feet regularly to impress with softness.
Barefoot season is here, and you need to keep your toes looking great in those comfy flip flops and strappy sandals. Also be sure to keep a pumice stone near and dear. You can find these at any beauty supply store or local drug store. Every week, gently scrub the dry heels of your feet to release any dry, dead skin cells away. Some of the dead skin cells will not be visible to the human eye, but gently scrubbing them will release all the cells that are ready to leave your feet. This movement will help in the exfoliation of your feet along with other exfoliating scrubs that can be found at any local convenience or grocery store. Plus if you have dehydrated skin, you can try a sugar scrub which is designed to rid your feet of any dry skin.
Exfoliation will wipe away all of the flaky dead skin cells, leaving your feet refreshed and pampered to perfection. Pick a day of the week when you can find some "me time" to keep your feet looking the way they should with any of these exfoliation treatments. You can also go one step further if you find enough free time in your busy day to schedule a pedicure at one of your local nail salons.
3
Moisturize
Moisturize your way to silky smooth skin.
No foot care is complete without a substantial amount of moisturizer. The skin on the bottom of our feet is the thickest and most stubborn and can get pretty ugly if not taken care of properly. We need to take an additional step in our daily upkeep when we are looking to have pretty pampered feet. It is vital to make an extra effort to keep your feet moisturized so that you can lock moisture deep into the layers of the skin, leaving them soft as silk. Moisturizer will help keep our feet pretty, fresh, and clean. Make sure to rub in an abundance of thick-heavy moisturizer morning and night to keep them soft as long as we possibly can. Not only will your feet feel like a million bucks, but they will also look great in your favorite pair of summer sandals.
4
Choose the right footwear
Flaunt those feet by choosing the right pair of shoes.
Not only can you improve the overall look of your feet during the entire summer, but you also need to pay particular attention to the type of footwear that are snuggling your feet as well. Have you ever walked around in some new flip flops throughout your shopping trip, only to come home with painful blisters? These blisters can take a toll on the look and feel of your feet, causing calluses and corns long term. Be sure to choose comfortable shoes when out and about shopping or just running those errands we all love to do. In the hot summer months, your feet's best friend will be good shoes made of breathable fabrics that support your heel well. Only such shoes take care of your feet and keep them looking good.
5
Eat Well
Eating right can lead to beautiful feet from the inside out.
Unbelievable but true, some foods can cause your feet to look NOT so vibrant, fresh, and well taken care of. No matter how much you pamper those toes, if you are consuming foods that are high in salt and you have an irresistible sweet tooth, then your feet might not be up to par. Even though you feel satisfied by ingesting salts and sugars, this consumption can cause swelling and inflammation in your feet, which doesn't do much for their look. Living a healthy balanced life can keep your feet looking good and stomping around will be a lot less painful.
6
Protect your feet with sunscreen
Who says your feet are safe from the harmful rays of the summer sun?
Even if we think our toes and feet are safe from the sun, we need to be careful. Sunscreen is a must in the summer, PERIOD. We should always protect the sensitive skin on our feet and our toes, but we need to take extra steps to protect our toenails. Our protein-enriched toenails need some tender loving care protecting them from the harsh summer breezes all the way to the dry, scratchy sand that we believe are not taking a toll on our overall feet maintenance. Not only will the sandy beach take a toll on our cuticles and dry those out, but they can also cause dehydration of our nail folds. There is a perfect way to avoid these issues by rubbing some SPF on our feet before ever stepping outside.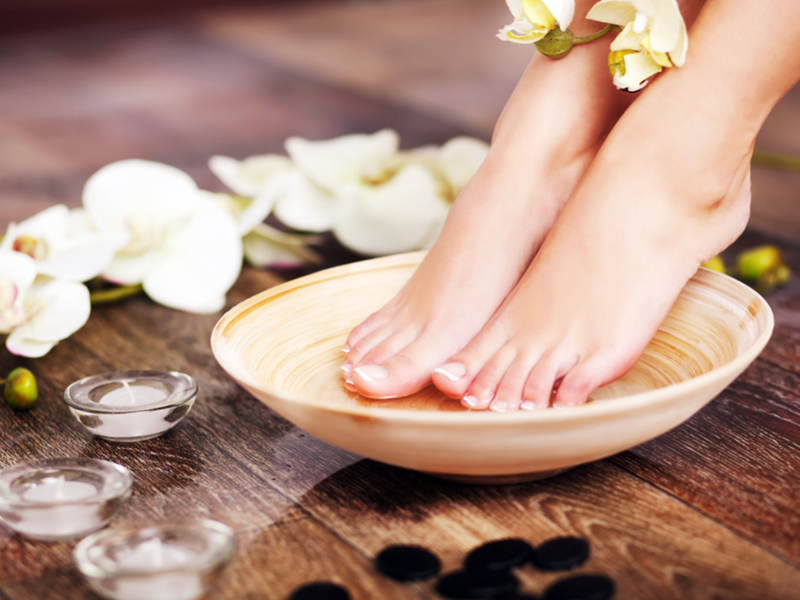 7
Don't Walk Barefoot Around the Pool
Our feet are made for walking, but keep them safe from bacteria.
Even if we take care of our pretty little toes and can't wait to showcase them to the world, it isn't the best idea to walk around with bare feet. Shoes are a must since this is the season we can contract all kinds of diseases of the feet. Walking around the pool is always soothing to our feet but imagine all of the fungi, viruses, and bacteria that can live poolside. Try to keep those feet safe and wear your favorite beach shoes and avoid contracting any of these pathogens that can cause foot and toenail fungus infections. Look at it this way: Now you have the perfect excuse to go sandal shopping!
8
Choose the Right Polish for the Right Occasion
Pamper your toes with your favorite shade and let them feel pretty too.
If you don't have time to visit your local nail salon and you groom your pretty little toes, then now it's time to make sure they look their best. The next time you walk thru your favorite grocery store, take a trip down the cosmetic aisle and choose the color that fits your summer mood. If you have a hard time deciding, then pick up a few and go all out. Make sure you keep those cute little toes groomed and ready for a night out on the town, but don't forget to put a coat or two of your favorite nail polish on your toes showcasing how you feel about yourself. Not only will you feel good about yourself-others will know it, too.
All of these tips are easy enough to keep up with, giving your feet that tender loving care they deserve, and it will do a lot to improve your overall summer look. Our feet carry us around daily, and they should be taken care of and not neglected in any way. Summer might be the season for sandals and laying out by the pool, but we should pamper our feet all year round. After all, our feet tell a story about ourselves and let's create a story we can be proud of.
Pick and choose the tip that fits your schedule the best, and keep your skin looking fresh and vibrant all year round.