Facials In Phoenix - Show Your Skin Some Love
Your go-to solution for instant beautifying.
What Do We Offer?
At Vibrant Skin Bar, we provide a dozen different facials – among the very best facials Phoenix has to offer!
Our facials nourish every skin type and cater to each and every client!
Click on treatment of choice to purchase online!

Let our specialists evaluate and treat all of your skin care needs. Relax and enjoy a customized facial, with the addition of Frequency Sound Healing, while our team of skin care experts works to make your skin look its best. You will leave our practice with beautiful skin and a personalized regimen to maintain results.

It's never too early to start taking great care of your skin. Facial mapping by our skin whisperers will allow you to treat acne at the source. This facial starts with cleansing and extractions and it utilizes personalized masks to exfoliate gently. Treatment serums formulated for your skin type will be layered and leave your skin balanced and vibrant. Finally, we will give you a customized regimen to achieve and maintain results.

This is a favorite among celebrities for a reason! Our Oxygen Infusion facial combats visible signs of aging and feeds your cells the nutrients they thirst for. Exfoliate, nourish, plump, and glow.

HydraFacial meets Oxygen Infusion. We will definitely make you ready to walk the red carpet. This customized facial starts with the famous HydraFacial and ends with a nourishing Oxygen Infusion therapy. Your skin will be hydrated, plump, and ready for a night among the stars.

Whatever your skin condition, customized HydraFacial infusions will work for its benefit, and LED light therapy will stimulate your skin cells' healing cascade. Cleanse, extract, peel, infuse, hydrate, and protect. Give us 60 min, and we will give you the best skin of your life.

Are you struggling to find "me time"? Come in for a lunch break HydraFacial. Forget all the added bells and whistles because you need to be in and out in 30 minutes. We sure can have it all!

Dermaplaning, Microcurrent, Oxygen Infusion and HydraFacial. Exfoliate, resurface, infuse, and hydrate. La Crème de la Crème!

AquaGold
Called the 'super mega facial', AquaGold Facial will use the elegant device with its 24K pure gold-plated surgical grade microchannels thinner than a human hair micro needles to deliver just what your skin needs! Botox, Fillers, diluted Hyluronic Acid, Growth Factors and PRP are some of the examples that will bring you smaller pores, brighter tone, reduced fine lines and a glowing skin!

Remove the dead skin and say goodbye to your beloved "peach fuzz" using a medical scalpel blade.
Learn more about the procedure here.

Plump and go with this 25-minute lip exfoliating and hydrating experience. You will leave looking like you were freshly injected.

Smooth fine lines and relieve dark circles with this amazing brightening eye perk add-on.

Low-level wavelengths of light target fine lines, wrinkles, inflammation, and redness. Your skin will look brighter and tighter in just 20 minutes.

Microcurrent Express
A fitness routine for your face? Add lifting and contouring to any facial by electrically stimulating your muscles after your mask. This treatment is a must for all your beautiful Botox users!

Hands are one of the first things to give your age away. Take extra special care of them by adding this restorative peel to your facial routine.

Your feet literally take you on a journey everyday so take good care of them by utilizing our foot peel.

A lash lift is like a perm for your lashes. Lash lifts set the shape of your natural lashes using a chemical solution to give them a natural curl that lasts up to 8 weeks. A tint is also added on to this service to give your lashes a pop of color, so you can ditch the mascara.

Brow lamination is essentially a perm for your eyebrows, but without using the same harsh chemicals. It's a keratin treatment that not only stimulates growth while strengthening the brow hairs, but creates the appearance of thicker, fluffier, and fuller brows.
Explore Our Other Customized Solutions
Time has become a precious resource.
We have so much to do and so little time!
A busy woman will often neglect self-care, be it physical or mental.
If you've noticed that taking time for yourself and taking high-quality care of your face is difficult, you're the right candidate for a facial.
Vibrant Skin Bar offers a dozen facials that will cleanse your pores, shed the dead cells, nourish your skin, and make it glow. If you want to get glamorous for a big event, or just be pampered every once in a while, let our experts work their magic on you. This is the perfect place to relax and be lathered with the best products to achieve the ultimate results!
I truly love the results of the HydraFacial treatment, which improve with each session I do! My skin was exfoliated, extracted, replenished with hydration, and then coated with antioxidants. My skin is dewy, glowing, hydrated and feels so clean and refreshed. I recommend the HydraFacial to everyone!
I started getting anti-aging facials to help my skin look healthier and to help clear up the occasional blemishes. I continue getting them because my skin looks amazing and I feel so pampered during treatments. Since I changed to anti-aging facials, my husband says my skin looks so much younger!
The microneedling treatment was effective to lighten my hyperpigmentation. My skin felt smooth and looked radiant for weeks. The downtime was minimal and I was able to conceal the redness with light powder after about 36 hours. I was initially hesitant due to fear of the discomfort but it felt like a light prickly sensation. I would highly recommend microneedling for a fresh vibrant appearance.
What Do Facials Do?
T
here are different facials on the Phoenix market, and they serve different purposes for a wide range of skin types and conditions. In general, facials provide deep cleaning that regular products cannot, remove blackheads and whiteheads, exfoliate and remove dead skin cells, hydrate the skin generously, help with an anti-aging regimen, as well as tighten and regenerate. Of course, some people just love the feeling of lying down carelessly while someone massages their face and scalp, but the fresh invigorating look of your skin is the true reward when you leave our practice!
Would you like to treat yourself to a luxurious treatment recommended by our experts? You deserve to give your skin the proper pampering it so desperately needs.
Come rejuvenate your skin today with a facial at Vibrant Skin Bar!
What Is A Facial?
A
facial is a skin treatment consisting of multiple steps, all with the common goal of making your skin cleaner, more refreshed, more youthful, and ready for creams and serums. Facials usually consist of a consultation, determining your skin type, cleansing, exfoliating, nourishing, hydrating the skin, and a gentle massage. After completion of the facial, you'll get a detailed plan on how to treat your skin at home.
When you leave the practice after a facial, not only will your skin look rejuvenated, but you will feel fresh, relaxed, and pampered!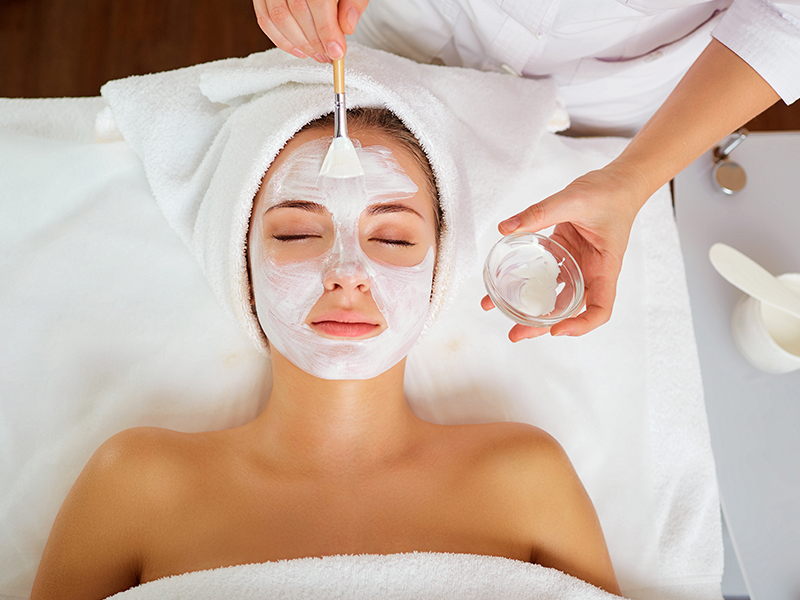 How Do Facials Work at Our Phoenix Med Spa?
We need to reassure you that facials are not one-size-fits-all treatments. That's precisely why your aesthetician will first examine your skin closely so that they know what type it is, what it needs, and how it is best achieved! Best facials are often very personalized and custom fit to meet your skin's specific needs.
This process usually includes steaming to relax and soften up any gunk in the pores so it is easily extracted. Exfoliation will remove dead skin cells from the surface and reveal brighter skin. If there are any blackheads or whiteheads, your aesthetician will remove them with a special tool, making it safer and easier than you would have at home. A pleasant massage will relax your facial muscles and stimulate your skin, while a special mask will target your skin type and any particular condition.
The facials at our luxurious Phoenix medical spa can also include microneedling, LED light therapy, oxygen infusion, microcurrent, or even your own platelet-rich plasma. Schedule a consultation, and we will be more than happy to suggest several great facials to choose from!
Did you know that a facial is the second most popular spa treatment after a massage?
Professional Maintenance
You might think you can do a facial at home by using quality products. However, people doing facials are licensed, knowledgeable, and equipped with bright lights and tools you don't have available at home. Experts will be able to easily determine your skin type and find on the best creams and masks fit just for you. If your skin contains any blackheads or whiteheads, they will extract them in a more hygienic and safer way than you could possibly do at home.
Prevention
Even if you have beautiful, healthy skin now, doing regular facials will help it stay that way! A professional aesthetician will not only use the best products fit for your skin, but be able to recognize any subtle changes that you might oversee, and suggest the next steps. They are here to keep your skin looking young, fresh and vibrant.
Amazing Results
Whether you come in for a monthly facial or one that will make you ready for a movie premiere in Hollywood or Cannes, you'll walk out with amazing, bright skin that you'll love seeing in the mirror!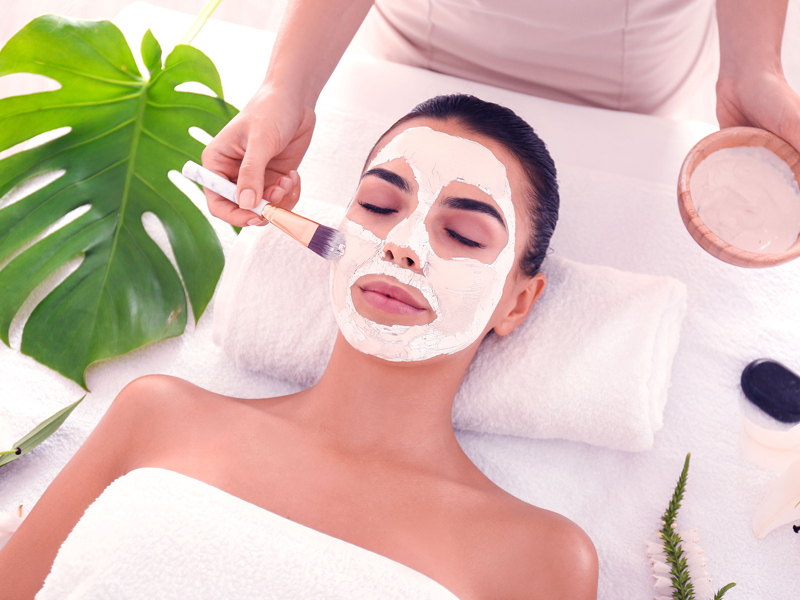 Become a member of the Vibrant Skin Bar Tribe to save on facials!
Why Choose Vibrant Skin Bar?
Our wide range of facials will make any client happy, whatever their needs and concerns are!
Our aestheticians will make sure that your overall experience is satisfying and relaxing. We'll choose the best skin products for you and work our magic to make you glow.
We value continuous education in the field and strive for continuous improvement. That is why we are trained, certified, and experienced, guaranteeing you an experience that will keep you coming back for more!
Here at Vibrant Skin Bar, we appreciate our clients. We will never try to up-sell and convince you to undergo additional treatments that aren't necessary, because we value your trust and are committed to keeping our clients satisfied. We know you are beautiful, but we are here to make you feel that way from the inside out.
Schedule an appointment, and together we will find the best facial for you in Phoenix, perfectly fit for you depending on your skin type and what you are looking to achieve.
Contact us today and book your appointment!