Many women dislike their thin lips. Thankfully, today's cosmetic treatments provide an easy fix to unsatisfactory lips and the resulting lower self-esteem.
If you're thinking about giving your lips more volume and a sensual pout, lip flips and fillers are your answer. But how to choose between the two?
Read on to learn how lip flips differ from fillers, which cosmetic treatment is better for your desired image, and when to use both.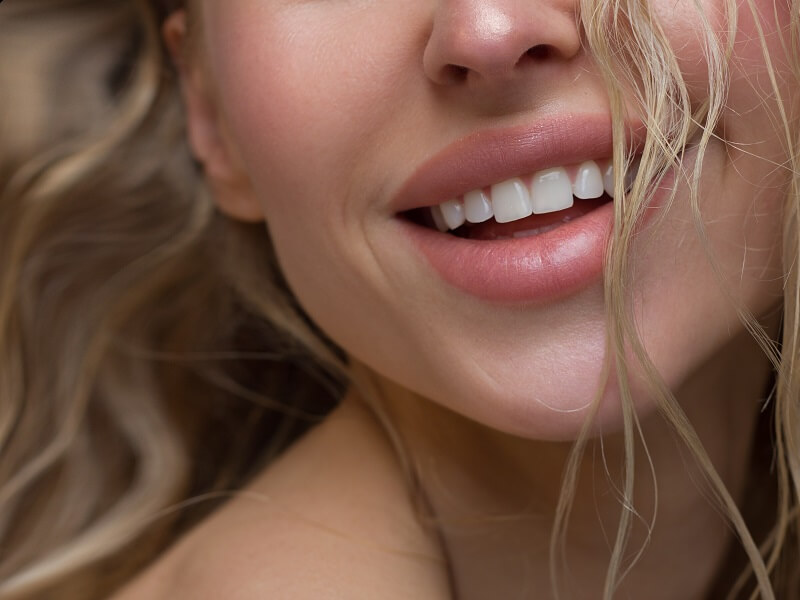 Lip Flip Vs. Lip Filler: What's the Difference?
Lip flips and lip fillers are both injectable cosmetic treatments, and they both provide a more sensual look to your lips. That's where the similarities stop.
The two injectables differ in their composition, how quickly they work, how long they last, and how much they cost.
| | LIP FLIP | LIP FILLER |
| --- | --- | --- |
| What is it | A small dose of Botox injected into the muscle above the upper lip | Hyaluronic acid injected into the top and bottom lips |
| What does it do | It flips the lip upward, visually enhancing the upper lip | It adds volume to lips, making them fuller and softer. |
| Time to first results | Up to one week | Immediately |
| How long does it last | Approximately six weeks | Up to one year |
| Potential side effects | Minor swelling and bruising | Swelling, bruising, redness, pain Rare: Allergies, infection, cold sores |
| Recovery time | No recovery time | 3-10 days |
| Price | $80-120 | $550-850 |
Lip Flip Overview
Lip flip is a Botox injectable that uses small doses of the botulinum neurotoxin to relax the muscle above the upper lip. By paralyzing this muscle, the upper lip slightly curls upward in a sensual pout.
Botox doesn't add any lip volume—the appearance of fuller lips comes from the changed upper lip shape.
What Can You Expect from Lip Flip?
Lip flip provides a subtle, natural look. The treatment doesn't add any actual volume to the lips, but they appear fuller because of the change in the upper lip contour.
It also helps people whose upper lip seems to disappear when they smile, revealing the teeth and gums. Lip flip paralyzes the muscle above the upper lip, preventing the lips from moving too far up.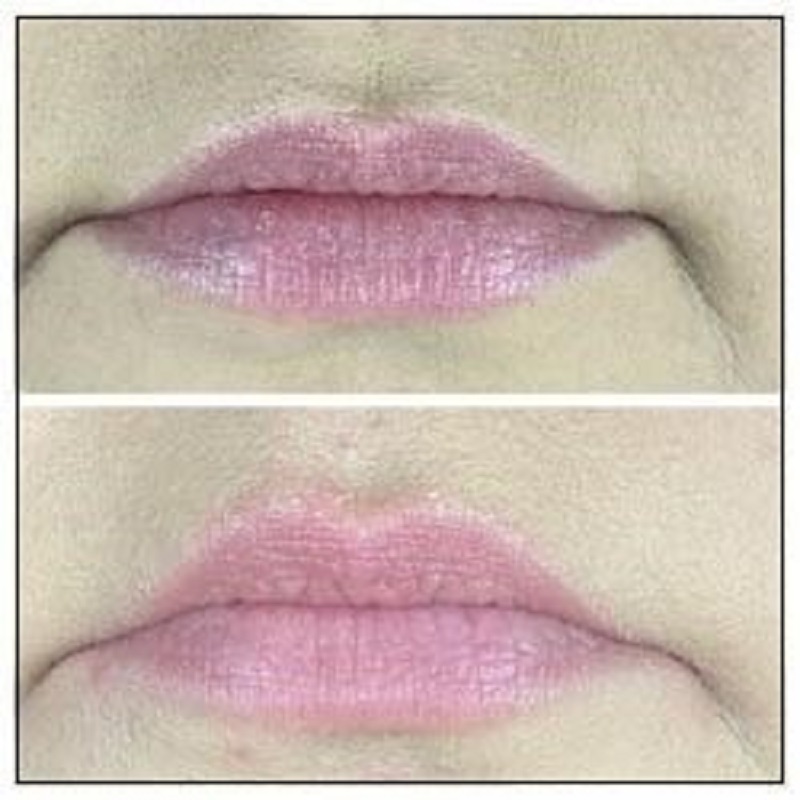 What Does the Lip Flip Procedure Look Like?
Your medical provider may apply some numbing cream to your upper lips. After it takes effect, they inject a small dose of Botox into the muscle above the upper lip.
The process takes about ten minutes. You can resume your daily activities right after the treatment.
When Can You See the First Results?
It takes up to one week to enjoy the results of a Botox lip flip.
How Long Does Lip Flip Last?
Lip flip is a Botox injection using 4-6 units to weaken a part of the orbicularis oris muscle, the muscle around the mouth. The dose used is intentionally low so that the remaining part of the muscle can contract and be used for eating and speaking. A low dose does reduce the longevity so expect the results to last approximately six weeks.
Lip flip can be used as a preview to see what the results of dermal filler can look like and is a great way to treat a gummy smile. The lip flip procedure is also a wonderful way to make lip filler last longer since you reduce the amount of movement in the area.
Are There Any Side Effects?
There are usually no side effects with lip flip treatments. You may experience minor swelling and bruising. During a consultation with your medical provider, they will explain how to lower the chances of bruising and swelling.
How Much Does Lip Flip Cost?
At Vibrant Skin Bar, the cost of a lip flip is $80-120. The final price depends on your desired look and how many units of Botox you need.
Pros and Cons
Before you book a lip flip treatment, consider the pros and cons of the treatment.
Pros:
Subtle, natural look
Results don't last long (good for deciding if you like it)
Less expensive than fillers
Usually, no side effects
Cons:
Delayed results
Doesn't last as long as fillers
Lip Filler Overview
Lip fillers are dermal fillers that are injected into the lips and the surrounding area. Most lip fillers are made of hyaluronic acid. Their purpose is to make the lips bigger, fuller, smoother, and more sensual. It may also fix asymmetries and reduce the appearance of fine lines around the mouth.
What Can You Expect from It?
Lip fillers give you full, plump lips for up to a year. The injected substance gives volume to your lips, so their size and shape are not just a visual enhancement.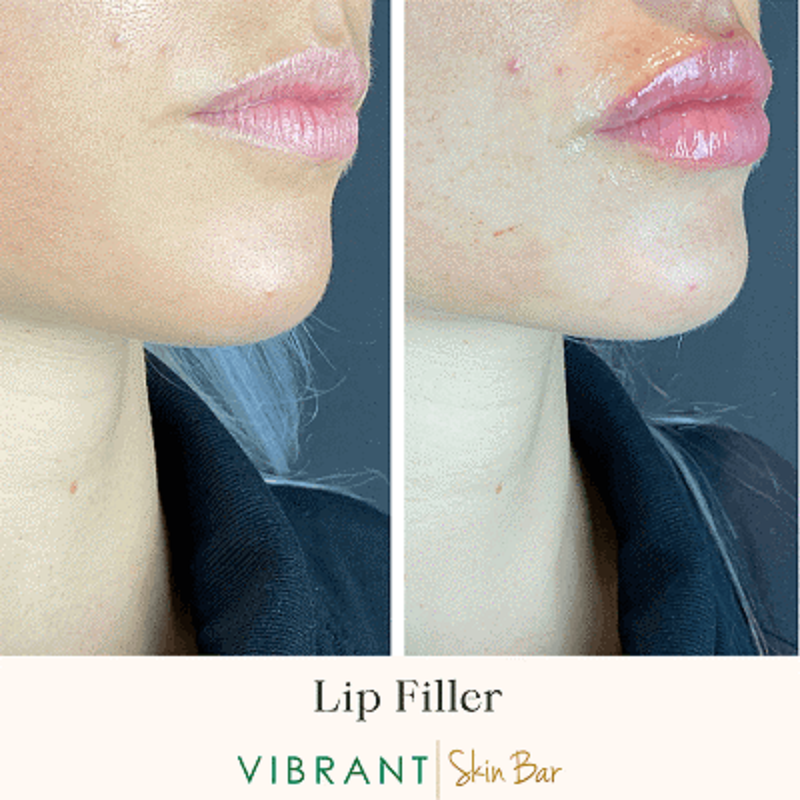 What Does the Procedure Look Like?
Your medical provider first applies a numbing cream to the treatment area. After about 30 minutes, they administer lip fillers to multiple sites on your lips, lip line, and the surrounding tissue. The whole procedure takes up to 45 minutes.
After the treatment, your medical provider gently massages your lips to ensure there are no asymmetries or bumps. There is no recovery time after the lip filler treatment.
When Can You See the First Results?
The results of lip fillers are immediate. Your lips become bigger and more sensual right after the treatment.
How Long Do Lip Fillers Last?
Lip fillers last up to one year. Consult with your injector about the best time to come for a touch-up.
Are There Any Side Effects?
The most common side effects of lip fillers are bruising, swelling, redness, and mild pain. They usually go away in up to two weeks. Read more about Lip Filler Aftercare to learn how to reduce pain, swelling, and bruising, and how to get the most of your fillers.
You'll be able to resume your daily activities right away. However, some activities like vigorous exercise should be avoided the first couple of days after the procedure to minimize the chances of more severe side effects.
How Much Do Lip Fillers Cost?
At Vibrant Skin Bar, your lip fillers may cost $550-850 per syringe, depending on the product.
We use three main groups of hyaluronic acid lip filler products: Juvéderm, Restylane, and Versa. Your medical provider will determine the right product for you depending on your medical history and desired effects.
Pros and Cons
Consider the following pros and cons before you book a lip filler treatment.
Pros:
Immediate and long-lasting results
Visibly fuller, enhanced lips
Mild side effects and no recovery time
Cons:
More expensive than lip flip
Which One Is Better for You?
Deciding how you want your lips to look will help you choose the right lip treatment for you.
Lip flip is a quicker procedure than lip fillers and has fewer side effects. It provides more subtle results that last up to six weeks. If you are uncertain about whether you'll like it, don't worry—the effects of lip flip wear off quickly.
Lip fillers bring a more noticeable change to your lips. They will be bigger and plumper, and they will keep their volume for up to one year. If that's the look you are hoping for and you don't want to go for touch-ups too often, lip fillers are perfect for you.
Can You Combine Lip Flip with Lip Fillers?
Yes! Lip fillers and lip flips provide different effects. Combining them is ideal if you want the whole package: full lips, perfectly defined lip contour, and a feminine pout.
At Vibrant Skin Bar, we offer a unique opportunity to get the lip flip + lip filler combo for the price of lip fillers only. All you have to do is book a lip filler appointment for a Friday, and we'll provide a complimentary Botox lip flip.
Conclusion
Gone are the days of being stuck with thin lips and gummy smiles. Lip flip and fillers are a great opportunity to achieve the look you want and feel good about it.
It's essential to get your treatment from an experienced, certified professional at a reputable medspa or clinic. Otherwise, you risk the possibility of undesirable results like bumpy lips, an asymmetrical smile, and an oversized mouth.