Dermaplaning in Phoenix: Trendy Exfoliation Treatment
An Efficient Solution To Eliminate Peach Fuzz
Are you bothered by the appearance of that fine layer of hair on your face constantly preventing an even distribution of makeup, giving you an unfinished look?
Would you like a smoother, softer face, without the peach fuzz?
If so, dermaplaning was invented just for you! This exfoliating treatment is performed using a surgical blade to gently get rid your skin of facial hair and dead cell buildup. If you're looking for a dermaplaning treatment in Phoenix, come see us at Vibrant Skin Bar, a luxurious medical spa in the heart of Arcadia. Our aestheticians use professional-grade surgical blades to quickly but gently remove all the peach fuzz and everything that's been sitting on top of your skin, preventing beauty products from penetrating deeply and do their work.
After a dermaplaning procedure, you will admire your smooth and silky look without any peach fuzz. Moreover, your skin will be in the perfect condition to take in the nutrients from your favorite skincare products!
Imagine applying your foundation on beautiful skin that's smooth as silk – you will be astonished by the perfect look you have finally achieved!
Had my first dermaplaning treatment and loved it! The session includes a pre-treatment skin cleansing, dermaplaning of my skin (including gently on the nose), and then a moisturizing skin hydrator. I'm so excited how fresh and glowing my skin looks now – with NO makeup!
What a great experience this was! My first time dermaplaning! Highly recommend. My skin feels so fresh and new. I will definitely be back!
What Is Dermaplaning?
D
ermaplaning is a manual treatment administered by a doctor or a licensed aesthetician, who will use a surgical scalpel to gently scrape the surface of your skin to remove dead skin cells and peach fuzz. In a way, we could say dermaplaning is a form of shaving – only way better! Shaving removes facial hair while dermaplaning goes a bit deeper. The doctor or aesthetician performing the treatment uses just enough pressure and the right angle to remove the top layer of old and dull skin, immediately revealing a brighter, younger complexion.
Why Would I Want Dermaplaning?
Y
ou might be surprised to hear this, but we shed – quite a lot, too. Skin cell turnover is about four weeks and, once those skin cells are dead, we just shed them. But since skin cells are so small, they tend to just stay there, creating a thin layer of dead skin on our face. Add exposure to pollution and ultraviolet radiation to the equation and the result is dull-looking skin, prone to breakouts and the creation of wrinkles.
Dermaplaning is an easy mechanic way not only to remove the layer of dead skin cells but the vellus hairs on the face as well. A smooth face enables skincare products to penetrate the skin better, making them much more effective than when applied on the layer of dead skin cells. No peach fuzz also makes for a smoother foundation application, and zero hairs visible in the sun.
Some women have peach fuzz that's thick and visible and would prefer if it weren't there. One of the solutions is a laser treatment, but it doesn't work on blonde and gray hairs. A laser also takes multiple sessions to notice results. If you want a quick and safe way to rid yourself of facial hairs, dermaplaning in our Phoenix med spa is the right treatment for you! As an added bonus, you'll get more youthful and brighter skin in one treatment!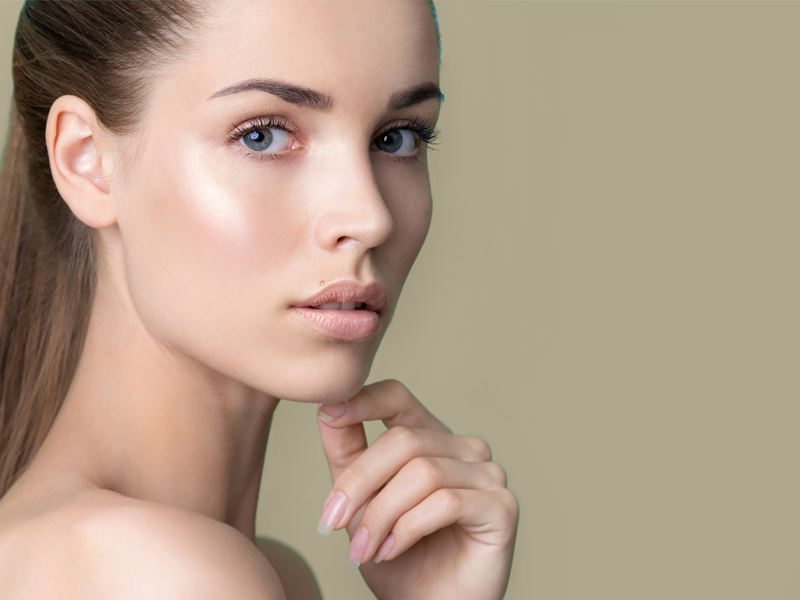 How Does Dermaplaning Work?
A licensed and experienced doctor or aesthetician will use a sharp surgical blade to remove dead skin cells and peach fuzz by aiming the blade at a 45-degree angle and dragging it across the skin. The process scrapes away dead cells, hair, and any other debris that may be clogging your pores and making your face look dull and uneven.
A dermaplaning treatment at our Phoenix medical spa typically takes about 30 minutes lasts half an hour. You'll be able to enjoy your newly silky smooth skin right after the treatment!
Fit To All Skin Types
Women of all skin types can benefit from dermaplaning. While harsh exfoliators don't suit some skin types, chances are your skin will respond very well to the exfoliation with dermaplaning. You will notice particularly great results with acne, product penetration, and dry patches on skin.
Highly sensitive skin, however, or inflamed acne, might make you pass on this treatment. Consult with us, and let us evaluate if this procedure is the right treatment for your skin at this time.
Perfect For Preventing Breakouts
Breakouts often occur due to the buildup of excess dead skin that clogs your pores. When the pores and hair follicles don't have a safe and clean exit on the surface of the skin, they will create those nasty zits that we all hate. In addition, clogged pores also mean that the skin care products you apply aren't reaching the vital skin cells they are meant to treat. Dermaplaning reveals new skin and enables the products to penetrate deeply, while also keeping it clean and buildup-free, preventing breakouts.
Explore Our Other Customized Solutions
Twofold Benefit
Chemical exfoliation removes dead skin buildup and reveals fresh, clean skin. Hair removing treatments such as laser can help to get rid of the unwanted hair. Dermaplaning, however, will work its magic in both domains: it will gently remove peach fuzz and the layer of dead skin that's preventing you from glowing! Once you've had dermaplaning, your creams, gels, and serums will be able to nourish the skin in a way they have never been able to before without the physical obstacle of dead skin. And let's not forget the added benefit of transforming your skin into the perfect canvas for your daily makeup application!
Quick Procedure
If you decide a fresher, younger-looking face that glows without the presence of peach fuzz is what you are looking for, you'll be able to come in our practice and leave in less than half an hour. That's how long the treatment lasts! The perfect way to spend your lunch break and take some time to pamper yourself!
Because your skin will be able to deeply absorb products and benefit from them, we may advise you to add a chemical peel at the end of your dermaplaning treatment. The combined treatments can add extra smoothness to your skin that you'll be admiring long after your appointment!
No Pain
Dermaplaning yields the same results as abrasive treatments, but is completely non-abrasive. There's no scratching of the skin involved, just gentle scraping motions across your face. There are no harsh exfoliators either, so you can count on a completely painless treatment.
Why Choose Vibrant Skin Bar?
According to our clients, Vibrant Skin Bar is an excellent place to get a dermaplaning treatment in Phoenix – they keep coming back! We will make sure you relax and enjoy this soothing treatment all while we remove the unwanted peach fuzz preventing you from shining!
At Vibrant Skin Bar we value our client's trust; we will never suggest additional treatments that you don't need. Our clients shine from the inside out – we just like to help you see that glow!
Schedule an appointment, and we'll be happy to discuss the skincare treatments right for you!