Hair loss is a widespread problem that can happen at any point in life and causes serious mental distress. Multiple factors cause hair loss and thinning, including genetics, medical issues, stress, hormonal changes, aging, poor nutrition, and overuse of hair products.
Fortunately, there are treatments that help patients slow down hair loss or regrow new hair. They range from shampoos and topical scalp products to supplements and prescription drugs. One such product is Nutrafol, a popular dietary supplement that many celebrities praise for its effectiveness.
This article explains how Nutrafol works and whether it helps improve hair growth.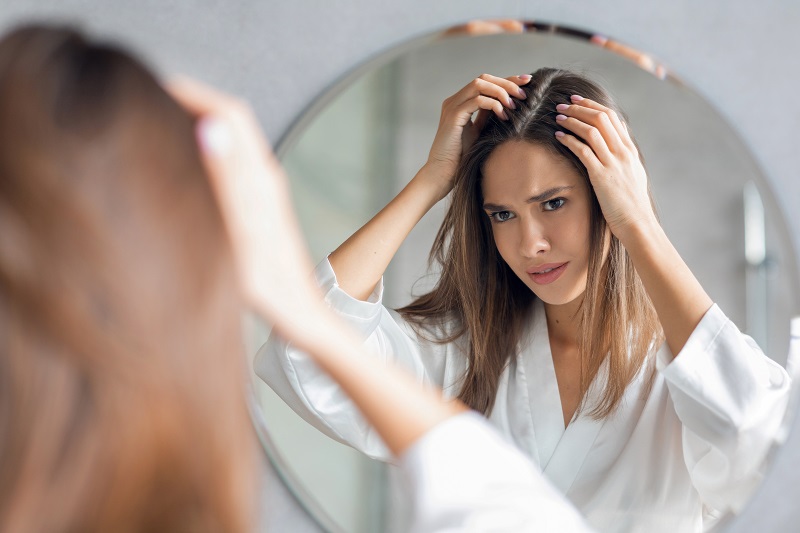 What Is Nutrafol?
Nutrafol is an over-the-counter supplement for hair loss. The product contains all-natural, medical-grade ingredients clinically proven to improve hair strength, thickness, and growth rate.
The Nutrafol product line includes four formulations. Each contains slightly different ingredients, which directly address the different causes of hair loss.
Who Is Nutrafol for?
Nutrafol is designed for men and women experiencing mild to moderate hair loss or thinning caused by aging, stress, and genetics. It comes in four variants: for men, women, postpartum women, and perimenopausal or postmenopausal women.
Nutrafol is not suitable for pregnant women and patients who experience hair loss due to a disease or cancer treatment. Also, patients who use anticoagulants or blood-thinning medications may not react well to Nutrafol.
How Does Nutrafol Work?
Nutrafol is designed to treat six underlying causes of hair loss, which also affect overall health. Most people experience hair shedding, thinning, or breakage due to a combination of these six factors, and Nutrafol's formulas address them in the following ways.
1. Hormonal Hair Loss
About 10% of testosterone in men and women converts daily to the androgen dihydrotestosterone (DHT). This hormone is primarily produced in peripheral tissues, including the scalp. Excessive DHT activity due to genetics, aging, environmental toxins, and lifestyle factors causes hair follicles to gradually shrink and close, preventing hair growth.
Since men have more testosterone, they are more susceptible to baldness due to DHT than women. Women typically suffer from DHT-related hair loss during pregnancy and menopause.
Nutrafol targets this specific cause with ingredients such as saw palmetto, which inhibits DHT receptors, and maca. Only the product for menopausal women contains maca, which is effective at balancing female hormones during this period.
2. Hair Loss Due to Stress
Stress increases the production of cortisol. This hormone causes hair follicles to transition from the growth phase to the rest phase, during which hairs don't grow. Increased cortisol levels may also disrupt other hormones and cause nutritional deficiencies, perpetuating hair loss.
Nutrafol is the only hair loss product that uses Sensoril® Ashwagandha, a potent herbal blend proven to balance cortisol levels, manage and reduce stress, improve sleep, and provide other health benefits.
3. Hair Loss Caused by Lifestyle Factors
Smoking, UV radiation, chemicals from styling products, lack of sleep, and other lifestyle factors cause hair thinning and baldness. Many of these factors increase oxidative stress and deplete our antioxidant stores, disrupting the hair growth cycle.
Tocotrienol Complex in Nutrafol is a concentrated form of vitamin E, a potent antioxidant that reduces environmental stress and improves hair health. The product for menopausal women also includes Astaxanthin, an antioxidant found in algae, which neutralizes free radicals and supports cell health and the immune system.
---
Note: PRP for hair loss is an innovative, natural solution for men and women. Learn how it works!
---
4. Hair Loss Due to Nutritional Deficiencies
Keratin is the main component of hair, giving it structure, strength, and shine. Our bodies naturally produce this protein, but a diet lacking essential nutrients can decrease its production, resulting in weak, brittle, and thinning hair. Low nutrient absorption, lack of exercise, stress, and other lifestyle factors can also lower keratin levels.
Marine collagen peptides in Nutrafol provide the right combination of amino acids, vitamins, and minerals to improve keratin production, build stronger hair fibers, and support healthy hair growth.
5. Metabolism-Related Hair Loss
Metabolism is the process of converting food into energy in cells. The body needs cellular energy for all life processes, including healthy hair growth. People often experience pattern baldness or thinning hair when factors such as inflammation, a high glycemic diet, hormone imbalances, or thyroid issues disrupt metabolic processes.
Nutrafol addresses metabolism-related hair issues with two ingredients: curcumin, the anti-inflammatory compound found in turmeric, and organic kelp, a seaweed rich in a variety of minerals that support a healthy metabolism.
6. Aging-Related Hair Loss
Collagen and elastin are key hair-building proteins. They help anchor hair follicles to the scalp, hydrate the skin, and promote hair growth. As levels decline with age, hair becomes thinner, weaker, brittle, and grows more slowly or starts shedding.
Nutrafol's marine collagen peptides increase collagen and elastin stores in the body, delivering moisture to the scalp and building stronger hair. The product also includes vitamin D, which reduces hair damage and stimulates hair growth.
---
Note: Learn how to recognize premature aging signs.
---
Other Nutrafol Ingredients That Stimulate Hair Growth
All four Nutrafol products include other health-supporting botanicals and vitamins. These help create a healthy environment for hair growth.
Vitamin A - Helps cell growth and repair.
Vitamin C - A potent antioxidant.
Zinc – Promotes hair follicle recovery.
Biotin (B7) – Promotes keratin production and accelerates hair growth.
Selenium - Supports thyroid function and helps promote hair growth.
Resveratrol - Helps protect hair follicles from environmental damage.
Hyaluronic acid ­– A potent hydrating agent which helps hair retain moisture, volume, and shine.
Users can also combine Nutrafol supplements with the brand's serums and boosters designed for specific hair loss causes.
What Are the Side Effects of Nutrafol?
The company behind Nutrafol, Nutraceutical Wellness Inc., claims no adverse effects were reported during clinical trials. However, they note a biotin overdose may cause certain side effects, including:
Nausea
Cramping
Diarrhea
Skin rashes
Lower vitamin C and B6
High blood sugar
Slower insulin release
Some researchers warn of the potential negative effects (e.g., hair loss) of high doses or extended use of the following Nutrafol ingredients:
Vitamin E
Vitamin A
Saw palmetto
Selenium
The company claims Nutrafol products may bring the following additional benefits:
More energy
Improved sleep
Improved gut health
Reduced stress
Cleaner skin
Stronger nails
Reviews: Does Nutrafol Really Work?
Most commercial products for hair loss are not clinically evaluated. This sets Nutrafol apart from the competition and wins dermatologists' approval.
Many doctors consider Nutrafol a high-quality supplement, trusting its science-backed formulation. The medical staff at Vibrant Skin Bar recommends it as a clinically effective, drug-free nutraceutical with a high success rate.
Anecdotal user experience also confirms the beneficial effects of this supplement. Satisfied users typically see results within two months but acknowledge that the change requires time and patience.
Pros and Cons of Nutrafol
The following list sums up the main advantages and disadvantages of Nutrafol products, helping you determine if they are suitable for your hair concern.
Pros
All natural ingredients
Clinically tested
100 drug-free
Improves overall health
Available for men and women
Suitable for all hair types
Cons
More expensive than most similar products
It may take months to see the results
Not effective for everyone
Cost of Nutrafol
Vibrant Skin Bar offers Nutrafol for Women at $209, Nutrafol for Men at $209, and Women's Balance at $209.
Each bottle contains 120 capsules, sufficient for one month. The recommended dosage is four capsules daily with a meal.
Nutrafol vs. Competitors
This table presents some of the most effective hair loss products often recommended by dermatologists and how they compare with Nutrafol.
| Product | Type of product | Designed for | Prescription | Key features |
| --- | --- | --- | --- | --- |
| Nutrafol | Supplements | Men and women | No | A clinically backed formula that targets the root causes of hair loss and thinning. |
| Viviscal | Supplements Shampoo Conditioner Elixir | Supplements for men and women; other products for women | No | A clinically backed formula that targets the root causes of hair loss and thinning. |
| Nourkrin | Supplements | Men and women | No | A clinically backed formula that targets proteoglycans, the proteins that play a vital role in hair growth. |
| Rogaine | Foam Topical solution | Men and women | No | FDA-approved hair regrowth formula with minoxidil 2-5%. |
| Propecia | Oral tablets | Men | Yes | FDA-approved prescription drug for hair growth with finasteride. |
| Keeps | Oral tablets Foam Solutions Shampoo Conditioner | Men | Yes (for finasteride tablets), no for other products | Clinically proven treatments for hair loss and thinning. |
| Hims | Oral pills Topical spray Foam Solutions Shampoo Conditioner | Men | Yes (for finasteride pills), no for other products | Clinically proven treatments for hair loss and thinning. |
Conclusion
Nutrafol addresses the hereditary, hormonal, and environmental causes of receding hair. Its unique blend of botanicals and nutrients appeals to patients with mild to moderate hair loss, helping to repair damaged hair and set the environment for healthy hair growth.
Many patients find their hair is fuller, shinier, and more voluminous after using Nutrafol. Join them in their positive experience and order the product at Vibrant Skin Bar today!