There is a growing interest in non-invasive skin rejuvenation treatments that deliver natural-looking results. Such treatments work by boosting collagen and elastin production, which declines as we age and is among the leading causes of aging signs.
Vivace microneedling is a favorite of many cosmetic providers and patients because it improves multiple skin issues without pain and downtime. This article explains the procedure, how it differs from traditional microneedling, and what benefits to expect post-Vivace.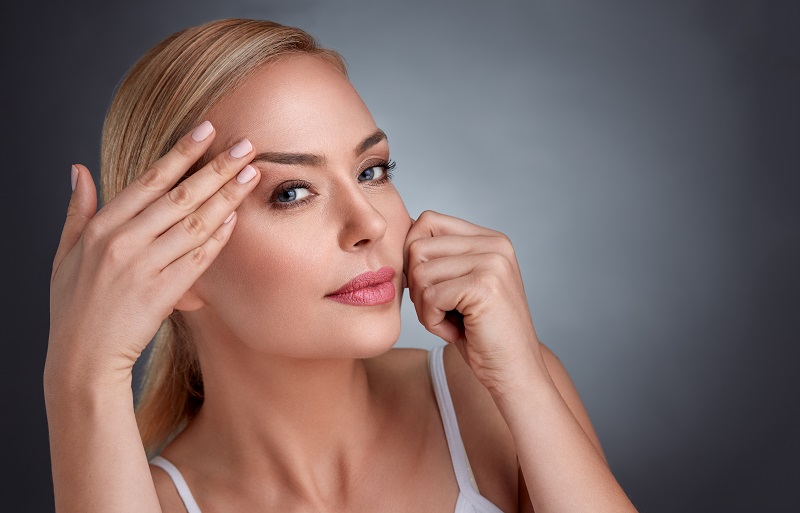 What Is Vivace Microneedling?
Vivace is a next-generation, FDA-approved cosmetic treatment that combines microneedling with radiofrequency energy to boost collagen and elastin production and rejuvenate the skin.
Microneedling uses tiny needles to puncture the skin's surface and trigger the body's natural defense mechanism, stimulating increased collagen and elastin synthesis to heal the wounded skin.
The Vivace microneedling device is the best in class, with 36 gold-tipped needles that are more precise than in other microneedling devices. It also uses radiofrequency, sending heat waves through the needles to instantly tighten the skin and encourage more collagen production in deeper skin layers.
LED light therapy is another component of the treatment, additionally stimulating wound healing and collagen production.
Vivace microneedling is often combined with other rejuvenation treatments to optimize the results.
Benefits of Vivace Microneedling
Vivace microneedling reverses the effects of skin aging and provides multiple benefits, including:
Reduced wrinkles and fine lines
Instantly tightened skin
Minimized pore size
Reduced hyperpigmentation
Smoothed acne scars
Minimized stretch marks
Improved skin tone and texture
Immediate and long-lasting results
No downtime
Unlike many anti-aging treatments, Vivace microneedling is suitable for all skin types and tones and can be safely used on other body parts, not just the face.
---
Note: Learn how microneedling reduces dark circles under the eyes.
---
Before and After Vivace Microneedling
The skin after Vivace is visibly tightened, smooth, and younger-looking. The best results are achieved after a series of three treatments spaced four to six weeks apart.
What Does the Procedure Look Like?
Vivace microneedling is an in-office treatment. The medical provider disinfects the patient's skin in the target area and applies a numbing cream to ensure they feel comfortable throughout the treatment. Most patients report feeling little or no pain – only heat and light pressure.
The provider presses the handheld Vivace Experience device against the patient's skin and the tiny needles prick the epidermis, emitting heat and creating micro-injuries.
After the treatment, the provider usually applies restorative serums and healing masks with vitamins and peptides to take advantage of the deep channels in the skin that better absorb products.
The session takes less than an hour, and patients can resume their daily activities immediately.
Side Effects
Vivace causes fewer side effects than other microneedling treatments because it uses an advanced motor and more precise needles, helping to avoid skin dragging, scabbing, and bleeding.
However, patients can still expect mild side effects such as swelling and redness. They usually resolve within a few days.
In the hands of inexperienced providers, patients may experience increased hyperpigmentation, breakouts, scarring, and wrinkles.
Aftercare
Medical providers instruct their patients to follow these recommendations after Vivace microneedling:
Avoid strenuous workouts for 48 hours.
Avoid makeup for 24 hours.
Avoid direct sun exposure and heat for 48 hours.
Don't apply pressure on the treated area for several days.
Don't use any skincare products for 24 hours and only mild products for several days after that.
Vivace Microneedling vs. Other Types of Microneedling
Vivace microneedling is more advanced than other microneedling procedures because it further stimulates collagen production with radiofrequency and LED light.
The device's advanced motor helps minimize pain and discomfort, providing a more pleasant experience. The device's needles are more precise, helping to minimize bleeding, scabbing, and downtime.
The microscopic channels in the skin stay open for longer (48-72 hours) than after regular microneedling, allowing skincare products to penetrate deeper into the dermis and maximize the results.
How Much Does Vivace Microneedling Cost?
At Vibrant Skin Bar, patients can choose from several Vivace microneedling options.
Vivace Face costs $800 and addresses facial signs of aging, including wrinkles, blemishes, and sagging skin.
Vivace Chest also costs $800, and Vivace Neck costs $750.
Our medical team also offers Vivace Pro, a more costly option for patients who are prepared to endure longer downtime and achieve more dramatic results. The treatment costs $1,200.
Conclusion
Vivace microneedling is an innovative cosmetic treatment providing firmer, smoother skin and long-lasting results. It can be paired with other anti-aging treatments, such as Botox and dermal fillers, for more striking rejuvenating effects.
---
Note: Find out how Botox and Microneedling work together
---
Contact our skin experts at Vibrant Skin Bar to help you uncover healthier, glowing skin and achieve your beauty goals.