In recent years, the goal of having an hourglass figure without going through an invasive procedure has become more attainable. Hip dip fillers are the most popular method for filling out the hollows on the upper legs or below the hip bones, known as hip dips.
By strategically injecting hip dip fillers, skilled medical providers can enhance the patient's curves and contours, resulting in a more balanced and symmetrical appearance that can last up to a couple of years.
This article explains how hip dip fillers work, their benefits, and the results you can expect after the treatment.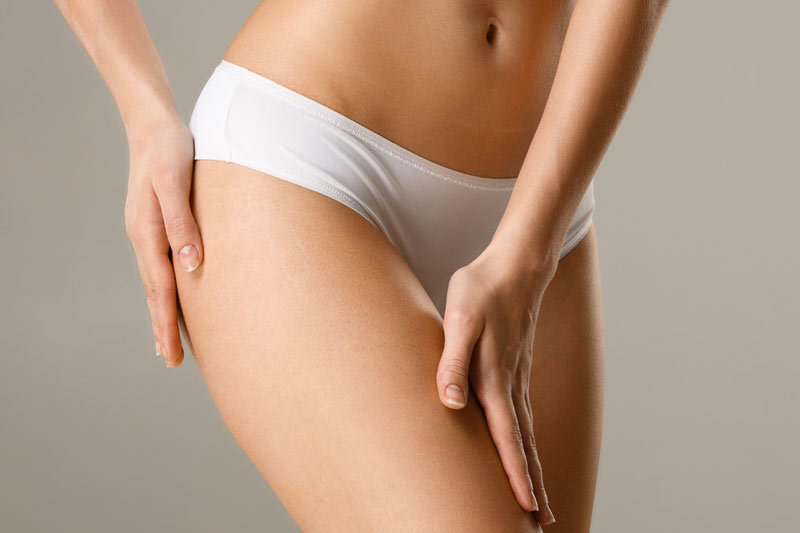 What Are Hip Dip Fillers?
Hip dip fillers are dermal fillers for hip dips (sometimes referred to as "violin hips"). These are the indents on the outer part of the thighs, below your hip bones.
Hip dip fillers create rounder body contours in this area without an invasive procedure, which is why many patients choose this cosmetic treatment.
Having hip dips is natural and quite common in people of all ages and sizes. Depending on your bone structure, anatomy, and muscles, hip dips are more or less pronounced. Sometimes they can become less evident with exercise, but the most successful and lasting results are achieved with hip dip fillers.
How Do Hip Dip Fillers Work?
When fillers are injected into the desired area, they stimulate the body's natural collagen production. As the body generates new collagen (neocollagenesis), the treated area is volumized and filled out. The filler also creates more fibrous tissue and builds a thicker dermis, which contributes to plumper, smoother-looking skin.
Hip dip fillers gradually restore volume to the treated area. The best results are achieved a few weeks or months after the treatment, depending on the body's ability to produce more collagen.
---
Note: Learn about the difference between collagen and elastin and how they contribute to your desired figure.
---
Benefits of Hip Dip Fillers
There are many benefits to using hip dip fillers.
1. Quick and Painless Procedure
Depending on the size of the treated area and the amount of filler injected, the procedure can last between 20 and 90 minutes. Most patients do not experience any pain, only mild discomfort when the needle pierces the skin. Medical providers also administer a local anesthetic before the treatment to alleviate the pain.
2. Minimal Side Effects
Most patients do not experience any discomfort or lasting side effects of hip dip fillers. However, some swelling, redness, or bruising are perfectly normal around the injected areas, as with any other injectable.
---
Note: Read our comprehensive guide to filler side effects which includes tips on how to prevent them and what to do if they appear.
---
3. No Preparation or Recovery
Hip dip fillers do not require any initial preparation or recovery time. Patients are only advised to avoid tanning and strenuous exercise after receiving hip dip filler injections.
4. Natural-Looking Results
When administered by experienced medical providers, hip dip fillers result in a natural-looking curvy silhouette.
5. Lasting Results
Hip dip fillers provide long-lasting results of around 2 to 4 years after the treatment. The longevity of the effects depends on the number of treatments, the amount of filler injected, and the speed at which the patient's body dissolves the filler.
---
Note: If you enhanced your lips with fillers and you don't like the results, find out about different lip filler dissolving methods.
---
Who Is a Good Candidate for Hip Dip Filler Treatment?
Almost anyone who wishes to fill out their hip dips and achieve an hourglass figure with a non-invasive procedure is a good candidate for hip dip filler treatment.
However, there are some patients who might not be suitable candidates for this treatment. They include:
People with allergies to medication, such as Lidocaine
People with actively infected or inflamed skin
People with a history of hypertrophic scarring or keloid formation
Minors
Pregnant women
Women who are breastfeeding
What Does a Hip Dip Filler Treatment Look Like?
The treatment does not require any previous preparation. The medical provider cleans the patient's skin with alcohol, marks the injection spots, and injects the filler into the area below the hips. Hip dip filler injections are painless, with some patients rarely experiencing mild discomfort.
The amount of filler each patient needs for treating hip dips depends on their anatomy, weight, muscle structure, and desired results. Medical providers usually apply 10 vials of Sculptra per hip dip treatment.
The number and frequency of treatments also vary, but most patients usually need at least 3 treatments for best results, each spaced 4 to 6 weeks apart.
How Much Does a Hip Dip Filler Treatment Cost?
At Vibrant Skin Bar, one vial of Sculptra costs $900. The total cost of the treatment depends on the number of vials your medical provider suggests you need.
When to Expect Final Results and How Long Do They Last?
The results vary from one patient to another since they depend on the body's ability to produce new collagen and the amount of volume used. Typically, it takes 4 to 6 weeks for the results to become visible, and they can last around 2 to 4 years with occasional touch-ups.
The touch-ups are recommended because hyaluronic acid present in dermal filler and collagen and elastin present in skin will start to break down naturally in the body within 9 to 18 months of your Voluma, Radiesse or Sculptra session.
---
Note: Find out about the benefits of collagen for the skin and how can you restore this protein.
---
Conclusion
Hip dip fillers are a non-invasive solution for people who wish to temporarily enhance their hip contours. Compared to surgical alternatives, such as fat transfers or liposuction, hip dip fillers are much safer and require minimal downtime.
However, it is important to manage your expectations. Since the procedure is not permanent, the results will fade over time, so you will need touch-ups and new treatments.
If you are interested in the hip dip filler, consult our medical professionals at Vibrant Skin Bar to learn more about this procedure.