Botox, a treatment for wrinkles and fine lines, is something everybody knows about. It's no wonder, as Botox is one of the most sought-after non-surgical treatments worldwide! And it's really good at its job.
But in this post, we're answering some other questions about Botox. Rumor has it that it can be used under eyes for those pesky little wrinkles that develop due to changes in your skin and facial muscles over time. Can Botox work under eyes? What exactly can it do?


How Botox Works and How it Can Be Used Under Eyes?
To understand how Botox can solve this problem, let's step back and see how it works. Bear with us for a moment.
Botox is a medication (neurotoxin injection) that stops the signals from the nerves to the muscles. Without signals for moving, muscles relax. The muscles into which Botox is injected are those that create wrinkles by contracting. So, when they're relaxed, the skin that covers them is flatter and basically wrinkle-less.
Botox is not a permanent solution. It wears off over time, and so does its effect. This means that the signals are restored and the muscles begin to contract again, "dragging" the skin along – and here come wrinkles again. If you want to maintain your results, you need to receive another treatment after several months.
Botox is used for so-called dynamic wrinkles – wrinkles created by muscle movement. It reduces the following wrinkles:
Forehead wrinkles
Wrinkles between the brows (frown lines)
Crow's feet (at the sides of the eyes)
Wrinkles around the mouth
Skilled and experienced injectors are also using Botox in other ways that have not yet been approved by the FDA. One such use is injecting Botox under the eyes for treating fine lines, an extension of the treatment used for crow's feet.
How Effective Is Botox Under Eyes?
Botox injection under the eyes is not FDA approved, but it has become a common off-label use for Botox.
Few studies have investigated the effectiveness of Botox injected under the eyes. In one study, patients who received Botox in their lower eyelids in addition to the crow's feet area claimed positive results regarding their under-eye area. This may be because Botox makes the lower eyelid appear fuller and plumper, which then leads to a subtle reduction in bagginess in this area.
Are You a Good Candidate for Botox Under the Eyes?
There are not very many specific requirements for Botox patients.
Generally, you need to be healthy and over the age of 18. In this context, "healthy" means that you do not have any serious health conditions or chronic neuromuscular conditions. You must to not be allergic to Botulinum toxin, the substance from which Botox is made. Since Botox for men is becoming more and more popular, both men and women are good candidates for Botox treatments.
Botox is rarely injected only under the eyes. Usually, you get Botox under the eyes when you get Botox injections for crow's feet.
If you're pregnant or breastfeeding, please refrain from getting Botox. The medical field does not know enough about the effects of Botox on unborn and nursing babies.
What Is The Procedure for Botox Under Eyes Like?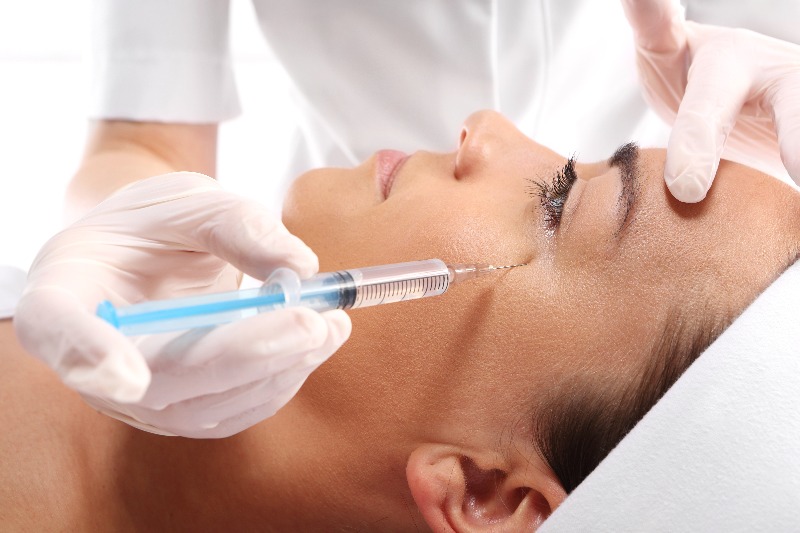 All Botox procedures are swift and simple. As a non-surgical procedure, Botox doesn't require any special preparations or recovery time. Getting Botox is often praised as the "lunch time procedure," because you can be out and about in half an hour!
First, you will come to your injector's office, have a conversation about goals and expectations, and establish a treatment plan.
Your cosmetic professional may then use a topical anesthetic cream or ice to numb the injection site. The needles they use are tiny. Nevertheless, they are needles and can cause some discomfort.
The cosmetic professional will then inject Botox into the intended muscle. For this procedure, only two or four units of Botox are injected on each side. If you regularly receive Botox injections, you know that is very little in comparison to other treatments, such as those for forehead lines and frown lines. Higher doses in this area may increase the risk of complications, so it's better to stick to small, proven doses.
Once the injections for crow's feet and the under-eye area are completed, you can go back to your normal activities: work, lunch, rest.
How Soon Will You See Results and How Long Do They Last?
You won't see the results immediately after you leave the office, as Botox needs time to work. But you won't have to wait very long.
Botox has an onset time of about three to seven days. This means that full results become apparent within a week.
If you like the results, you will need to maintain them by having Botox injected again after several months. The effects of Botox are not permanent, and they will last for about three to four months.
How Much Does Botox Under Eye Treatment Cost?
Typically, Botox costs about $12 per unit. Treating crow's feet usually requires 16-24 units, and Botox under eye only requires only a small amount of Botox. That means that your treatment of these areas will cost about $200-$300 per session.
However, the price differs in different locations and based on the area treated. The current state of your wrinkles and muscles also influence the total price. These are all factors that a cosmetic professional takes into account to determine how much Botox you need for your desired results.
If you're in Phoenix, take a look at our pricing list and keep an eye on our monthly and holiday specials. We sometimes offer discounts on Botox, but we never compromise the quality. It could be a great option for you.

Side Effects Of Using Botox Under Eyes?
Botox is a medicine, and as such, it can have side effects. Side effects can range from mild and common to those requiring urgent medical response.
When you have your lower eyelid injected with Botox, risks include:
Eye drooping
Eye numbness
Swelling of the eyelid
Difficulty closing the eyes
Other common side effects of Botox include:
Bleeding
Flu-like symptoms (dizziness, fainting, muscle weakness)
Pain at the sites of injections
Bruising and swelling
Headaches
Neck pain
Nausea
The majority of people treated don't suffer any side effects. If side effects persist, contact your cosmetic professional or your doctor immediately.