Body scrubs are powerful allies in the fight against skin aging. They aid in the shedding of dead skin cells and remove impurities off the skin's surface to reveal a softer, younger-looking complexion. However, it's not enough just to use body scrubs. It's important to apply them properly.
To avoid doing more harm than good to your skin, study our tips on how to use a body scrub correctly.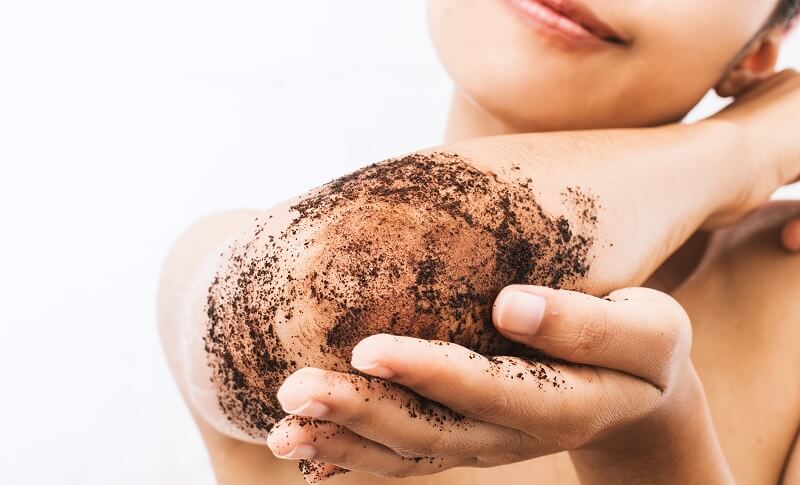 What Is a Body Scrub?
Body scrubs are skincare products with a thick, grainy consistency that mechanically exfoliate the skin. Body scrubs are rubbed on the skin to remove dirt and dead cells, unclog pores, and deeply cleanse the skin.
The main ingredients in body scrubs are usually salt or sugar, whose large crystals act as abrasives. The salt and sugar particles are suspended in an oil base such as olive, avocado, coconut, jojoba, or some other type of oil.
Sugar-based scrubs are typically softer and suitable for dry, sensitive skin, while salt-based scrubs are grainier and better for areas with rough skin like the elbows and soles of your feet.
More advanced body scrubs include ingredients such as cinnamon and coffee because of their antioxidant, anti-inflammatory, and anti-aging properties.
---
Note: Visit our shop and check our cinnamon coffee scrub. Make sure to read our article to find out how coffee scrub for cellulite works.
---
How to Use a Body Scrub
It's essential to use a body scrub the right way to get the most out of the product. Fortunately, it's a simple process that only adds a few minutes to the time you spend in the shower.
Prepare and Cleanse Your Skin
The first step is to wash your body with a body cleanser of choice and rinse it with lukewarm water. That way, you'll remove sweat and impurities from your skin's surface and facilitate exfoliation.
Apply the Body Scrub
Place a small amount of body scrub on the palm of your hand. Start rubbing your skin using a circular motion from the feet upwards. This improves circulation. Scrub each area for about 30 seconds or according to the instructions on the product label.
Rinse the Body Scrub
Rinse the body scrub with lukewarm water until your skin is smooth and clean of all product residue.
Pat Dry Your Skin
Don't rub your skin with a towel after showering because it may irritate your skin. Pat your body until it's semi-dry.
Moisturize
Body scrubs may temporarily disrupt your skin's protective barrier and dry out the skin, so it's important to use a moisturizer right after a body scrub -- preferably while the skin is still damp. This will lock in moisture.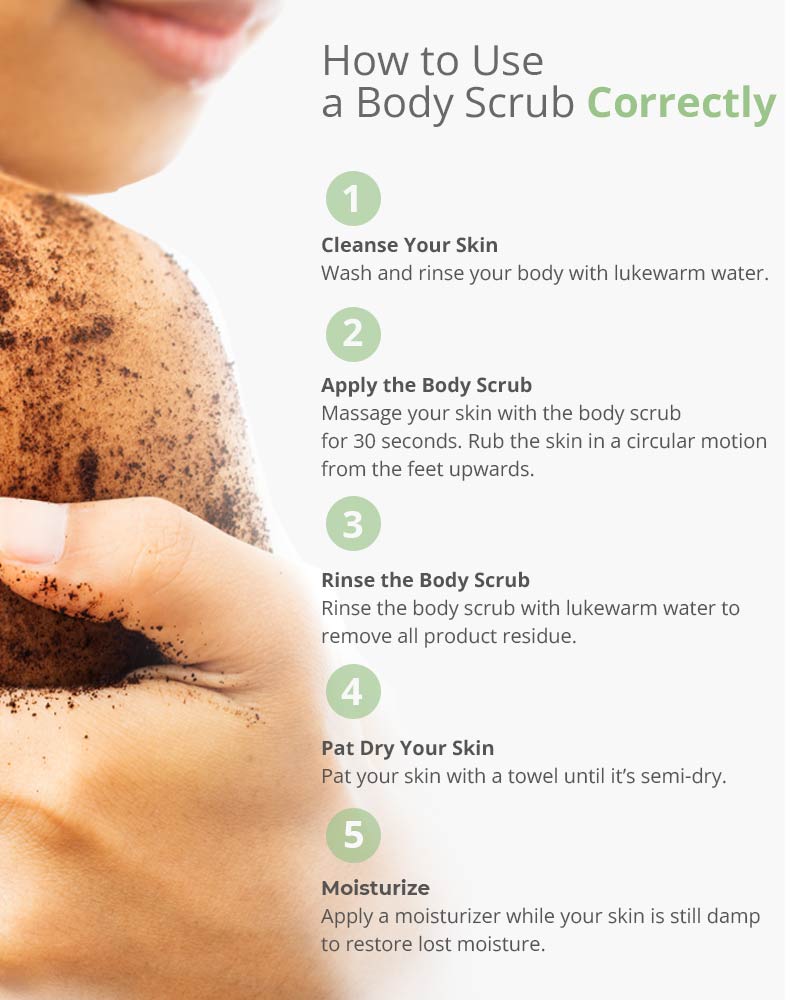 How Often Should You Use a Body Scrub?
The frequency of body scrub use depends on your skin type. Skin experts recommend using body scrubs at least once a week to remove dead cells, toxins, and impurities, unclog pores, and improve circulation.
If your skin is sensitive, perform a patch test on your hand to see how it reacts. Start by using the product once a week and build up to three times per week.
People with oily skin shouldn't exfoliate too often because it may backfire and cause an overproduction of sebum.
Consult your chosen skin care expert to determine the optimal frequency of body scrub use for your skin type.
---
Note: Visit our article on some wonderful DIY cellulite scrubs you can make today!
---
When to Use a Body Scrub?
A body scrub should be used one to three times a week during your shower.
You can use it before or after washing the body. Consider the pros and cons of both approaches to decide which is better for you.
Body Scrub After a Body Wash
Exfoliating after washing means the skin is cleansed and better prepared to receive the body scrub's exfoliating agents, making the procedure more effective. However, some grainy particles, dead skin cells, and other impurities may remain on the skin's surface if you don't wash after a body scrub.
Body Scrub Before a Body Wash
If you use a body scrub before a body wash, you'll have more dirt, sebum, and dead skin cells on the surface of your skin. The body scrub may not be able to exfoliate the skin as deeply.
However, some people prefer to wash away all impurities and oily body scrub residue after exfoliation.
Precautions
Body scrubs are generally safe products, but some conditions require that you consult your dermatologist before using a body scrub.
1. Skin conditions
If you're suffering from eczema, psoriasis, sunburn, hyperpigmentation, open wounds, skin infections, scars, or active acne, ask your dermatologist if you can use a body scrub.
2. Sensitive or dry skin
All skin types can use a body scrub, but people with sensitive or very dry skin should carefully choose the body scrub for their skin type and start with weekly or bi-weekly exfoliation.
3. Oily skin
People with oily skin may not respond well to the base oils in body scrubs, so test the product first before applying it on a larger area and start using a body scrub once per week.
4. Prescription or retinol creams
If you're using prescription creams or products with retinol, ask your dermatologist if you can use a body scrub.
Conclusion
Body scrubs are amazing products for deep skin exfoliation, toxin removal, and improved circulation. The result is glowing and beautiful skin. Incorporate a body scrub into your weekly skincare routine to start feeling its benefits.