Body scrubs can significantly soften the skin and diminish skin aging signs. Adding special ingredients to basic body scrub ingredients can help target specific skin issues. For example, body scrubs with coffee grounds are particularly helpful in combating cellulite.
This article explains how coffee scrubs for cellulite work, which ingredients aid in the process, and how often to use the product to achieve desired results.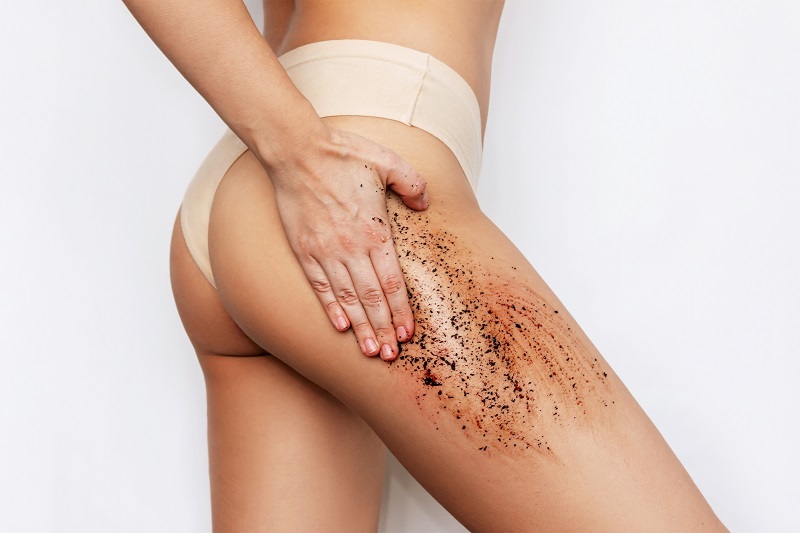 Do Coffee Scrubs Get Rid of Cellulite?
Coffee scrubs can't get rid of cellulite, but they can help reduce the appearance of cellulite with regular use. When you massage the skin affected by cellulite with a body scrub, you remove dead skin cells and impurities from the surface, enabling the active components of the scrub to penetrate into deeper skin layers.
Coffee helps reduce the appearance of cellulite in three ways.
It removes excess water from the skin and tightens it, visibly reducing cellulite dimples.
It dilates blood vessels and improves blood flow, helping to combat fluid retention and cellulite formation.
It has antioxidant properties which help fight free radicals and keep the skin smoother and plumper.
Some coffee scrubs include other ingredients that assist in cellulite reduction. For example, Vibrant Skin Bar's cinnamon coffee scrub for cellulite uses cinnamon to intensify the antioxidant effects of the product, sugar for extra exfoliation, and three different oils to hydrate the skin. Aloe, jojoba, and avocado oils in the product plump up the skin, making cellulite less visible.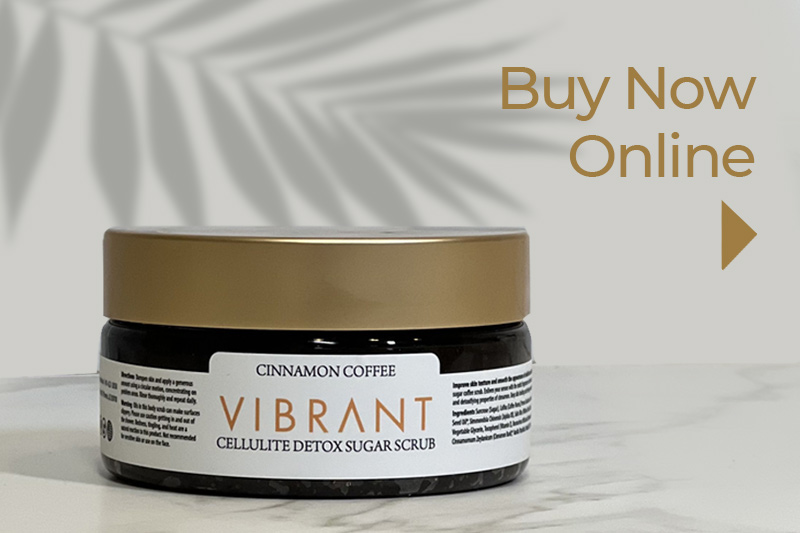 How to Use a Coffee Scrub for Cellulite?
Some DIY products with coffee grounds are used on clean, dry skin. The coffee scrub by Vibrant Skin Bar is applied during the shower on wet skin.
The application is generally the same for all coffee scrub products. Apply a handful of the paste onto the skin affected by cellulite – usually thighs or buttocks – and massage the area gently using a circular motion. Follow the instructions on the product label on how long to massage the skin. If you are using a DIY coffee paste, scrub it for about two minutes.
After scrubbing, rinse the product with lukewarm water. If you are using a DIY coffee scrub on dry skin, remove the scrub residue with a wet towel.
You can also use a cloth or dry brush during the procedure to scrub your skin and further stimulate blood flow. It's best to use it before the coffee scrub to prevent oils from the coffee scrub to get in the dry brush.
---
Note: For more details read our article and find out how to use a body scrub correctly.
---
How Often Should You Use It?
Skin experts recommend using body scrubs at least once a week.
Coffee scrubs for cellulite should be used more often for faster results. They are safe to use every time you shower.
How Long Do the Results Last?
The effects of a coffee scrub for cellulite are temporary. The treated area appears smoother and firmer after each scrubbing, but it will return to its previous state when you stop using the product.
Frequent use of coffee scrubs combined with regular exercise and a balanced diet can help you keep your cellulite in check.
---
Note: Learn how innovative QWO injections help remove cellulite.
---
Conclusion
Cellulite is one of the main beauty concerns of many women. It is difficult to get rid of and often leads to lower self-esteem. Knowing what causes cellulite might help with getting rid of it easier.
One of the ways in fighting cellulite is using a coffee scrub - a quick and inexpensive way to improve the skin's texture and making it less noticeable. With the summer approaching, now is the perfect time to try it out.