Maintaining an attractive physique requires a lot of work and discipline. It requires a moderate diet, regular exercise, and rarely slipping from the healthy routine. Sometimes, however, none of our efforts can help us achieve what we want: a toned, well-defined body.
That's where CoolTone comes into play. Let's see how this cosmetic treatment works and how it can help you define your body like no sit-ups or squats ever could.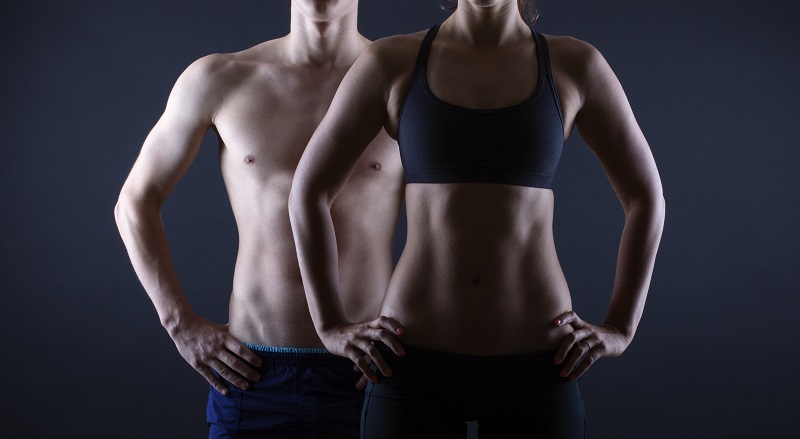 What Is CoolTone?
CoolTone is a muscle-toning cosmetic treatment by Allergan, the company that developed Botox and CoolSculpting. It is not a weight or fat loss treatment. CoolTone is intended for average-weight people who want chiseled, finely shaped muscles. The treatment strengthens and firms existing muscles, sculpting the patient's body, improving posture, and reducing back pain.
---
Note: Find out how to tighten the skin on your legs via CoolTone and other methods.
---
How Does CoolTone Work?
CoolTone uses Magnetic Muscle Stimulation (MMS) technology to send electromagnetic pulses to the patient's abs, thighs, or buttocks, causing the muscles beneath the skin to contract in quick successive movements.
The machine stimulates the muscles to contract at a rate that is impossible to achieve during regular workouts, and that's why these contractions are called "supramaximal." Compared to a gym workout, one 30-minute CoolTone treatment induces the number of contractions achieved through approximately 20,000 sit-ups or squats.
The repeated contractions strengthen the muscles and help tone the treated areas.
What Are the Benefits of CoolTone?
CoolTone appeals to men and women because of its many benefits.
It is a non-invasive, non-surgical treatment.
It is FDA-approved and safe.
The side effects are mild or non-existent.
It requires no downtime.
Your muscles become stronger and firmer.
Your body becomes toned and well-defined.
What Areas Can Be Treated?
CoolTone is FDA-cleared to strengthen, firm, and tone muscles in the following areas:
It is sometimes used as an off-label treatment for the upper arms (triceps).
Is It Painful?
Most patients say that the CoolTone treatment isn't painful. They typically feel soreness and pressure in the muscles, resembling the sensation during strength training.
You may feel sore for a day or two after the procedure.
Who Is a Good Candidate for CoolTone Treatment?
The best candidates for CoolTone are healthy, average-weight individuals. The pulses of electromagnetic energy that the CoolTone device emits can penetrate approximately 2-3 inches. If you have more fat than that, the device won't be able to cause the muscles to contract strongly enough to yield significant results.
To benefit from CoolTone, patients should be physically active, have little or no excess fat, and have realistic expectations from the procedure. Again, CoolTone is a muscle-toning treatment and can't help with weight loss.
Who Should Avoid CoolTone?
CoolTone is not suitable for people with the following conditions or disorders:
Pregnancy, lactation, or menstruation.
Recent surgery.
Metal or electronic implants or devices (e.g., pacemakers, hearing devices, etc.).
Graves' disease.
Bleeding disorders.
Malignant tumors.
Hemorrhagic conditions.
Epilepsy.
Pulmonary insufficiency.
Infected or inflamed skin.
Women who have a CoolTone treatment just before their period may start menstruating sooner and experience more intense cramping.
Patients should disclose all information about their medical state during a consultation with their chosen CoolTone provider to ensure the safety of the treatment.
The Results

CoolTone is typically performed in a series of four treatments spaced during two weeks. The results appear a few weeks after the treatment, but some patients report seeing a significant difference in muscle definition after a few days.
The results of CoolTone treatment last for about six months if the patient maintains a moderate diet and takes regular physical exercise. You can maintain the sculpted physique with CoolTone maintenance treatments every three to six months.
Patients often book CoolTone and CoolSculpting treatments during the same visit to enhance the results of CoolTone with CoolSculpting's powerful fat removal technology.
Potential Side Effects
Most patients experience minimal or no side effects after a CoolTone session. They usually report sore muscles for a few days, just like after a high-intensity workout.
The CoolTone manufacturer warns that potential side effects include:
Muscular pain
Temporary muscle spasm
Temporary joint or tendon pain
Redness at the treatment site
Patients can return to their daily activities after the treatment without any special aftercare.
Cost
The Vibrant Skin Bar team provides a series of four CoolTone treatments for $1,400. If you are in Phoenix, use the opportunity to tone your muscles in a safe, pleasant environment with experienced medical aesthetic professionals.
Conclusion
Few people have the time for 20,000 daily sit-ups in today's fast-paced world. However, the results that such a workout could provide are attainable with CoolTone, the innovative muscle-toning treatment. It's safe, quick, and requires no preparation except a consultation with your chosen medical provider.
If you recognize yourself as a good candidate for CoolTone, book a treatment on time before you hit the beach, and dazzle everyone with your newly sculpted body.