Skin loses its natural elasticity over time, causing it to sag and wrinkle. No body part is left unaffected, but loose skin on the legs can be particularly frustrating, especially when summer comes.
This problem affects both men and women and can take a toll on one's self-confidence. Luckily, there are effective methods to reduce or prevent wrinkly, saggy skin and restore some of its firmness.
This article explains how to tighten the skin on the legs through lifestyle changes, skin products, and treatments.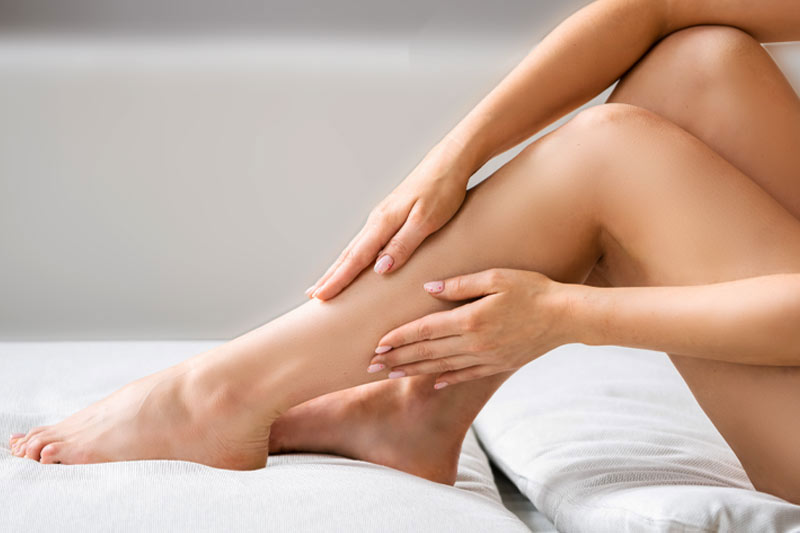 What Causes Loose Skin on the Legs?
The dominant factors linked to loose skin on the legs include:
Aging – Levels of collagen and elastin, the two proteins responsible for maintaining skin elasticity, decline as we age. As a result, the skin becomes lax and wrinkly in all areas, including the legs.
Genetics – Some people are genetically predisposed to premature aging. They develop fine lines, wrinkles, or sagging skin faster than others, requiring preventive skincare treatments.
Sun damage – Exposure to ultraviolet (UV) rays can further accelerate collagen breakdown and slow down its production. Prolonged exposure also damages elastin fibers. Consequently, the skin loses its ability to stretch and retract to its original shape.
Weight loss – Sudden or unexpected weight loss often results in wrinkly, sagging skin. Overstretched skin cannot shrink in proportion to lost fat tissue, creating excess, loose skin on all parts of the body.
Pregnancy – The skin on the legs can expand during pregnancy due to weight gain, hormonal changes, or swelling. After childbirth, the skin starts firming up gradually. However, some women require postpartum skin-tightening treatments to remove excess loose skin on the legs.
Lack of muscle tone – Strong, well-toned muscles support the skin, making it taut, firm, and supple. Underdeveloped muscles create a saggy look, with loose skin on the thighs and calves.
---
Note: Discover the benefits of collagen for the skin and learn how to restore it.
---
5 Ways to Tighten Skin on Legs
It is possible to achieve tighter skin on the legs with the following five approaches. Use them in tandem rather than separately to achieve optimal results.
1. Exercise
Physical activity promotes skin tightening on the legs through several different mechanisms:
Mid-intensity workout stimulates collagen production, enhancing skin elasticity and resilience.
Exercise improves blood circulation, feeding the skin cells with oxygen and nutrients necessary for regeneration.
Strength training grows leg muscles, replacing fat pads with toned muscles to achieve a firmer look.
Working out promotes lymphatic drainage, helping the body remove built-up waste to restore healthy, fresh-looking skin.
---
Note: Learn about lymphatic drainage massage, how it can tighten the skin and what are its multiple benefits for the entire body.
---
2. Nutrition
A balanced diet promotes all-around skin tightness. Nutrients that play a crucial role in collagen synthesis include vitamin C, amino acids, omega-3 fatty acids, zinc, and copper.
High-protein foods are vital for skin health as they contain the amino acids that produce collagen – glycine, proline, and hydroxyproline. A diet rich in antioxidants protects the skin from the damage caused by free radicals and contributes to tighter skin.
Promote collagen production by including the following nutrients in your diet:
Vitamin C – Citrus fruit, strawberries, bell peppers, cruciferous vegetables, tomatoes, avocado oil.
Amino acids – Bone broth, meat, gelatin, fish, dairy, legumes, cabbage, asparagus.
Omega-3 fatty acids – Salmon, mackerel, tuna, flaxseed, chia seeds, walnuts, soybeans.
Zinc – Beef, pork, shellfish, legumes, oats, tofu, hemp seeds, nuts, whole grains.
Copper – Shiitake mushrooms, oysters, cashew nuts, beef liver, leafy greens, salmon.
Protein – Meat, eggs, poultry, fish, soy, legumes, dairy.
Antioxidants – Berries, nuts, dark chocolate, kale, cabbage, spinach, beets.
---
Note: IV therapy for skin glow can reverse vitamin and mineral deficiencies to enhance skin radiance.
---
3. Non-Invasive Treatments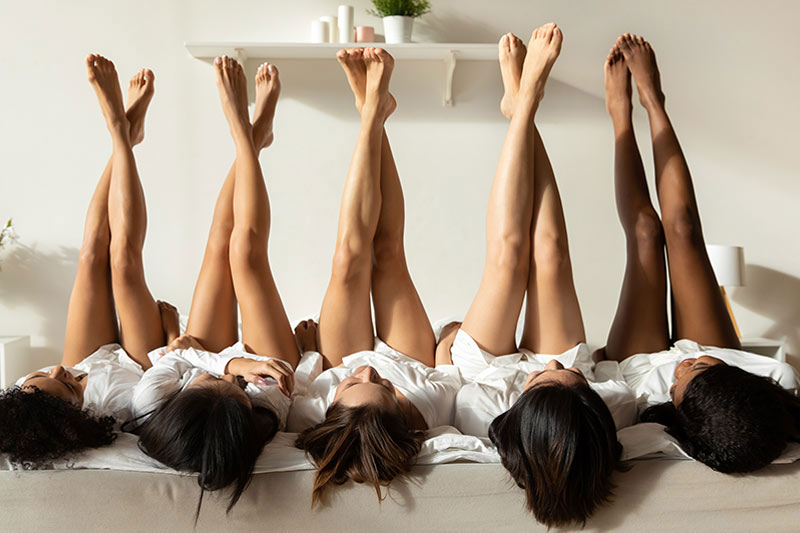 Different non-surgical treatments can prevent or slow down the loss of skin elasticity on the legs. These low-risk procedures provide significant skin-tightening effects and require minimal downtime.
---
Note: Sofwave is typically used to treat the skin on the face and neck. However, Vibrant Vitality Clinic also uses Sofwave for leg skin tightening. If you are interested in getting Sofwave treatment in the Phoenix area and want to learn more about the procedure, don't hesitate to contact us.
---
4. Over-the-Counter Products
Create a healthy skincare routine with OTC products containing collagen-friendly components: retinol, hyaluronic acid, peptides, antioxidants, probiotics, and botanical extracts. Look for these ingredients in topical creams, serums, sunscreen lotions, as well as nutritional supplements.
Our skin experts at Vibrant Skin Bar recommend the following over-the-counter products:
---
Note: Learn about the importance of using antioxidants for skin care.
---
5. Surgery
Most patients tighten the skin on their legs without resorting to more drastic measures. However, if none of the non-invasive treatments produce satisfactory long-term results, surgery remains the best solution.
A leg and thigh lift, also known as "thighplasty", targets excess skin on the buttocks and inner thighs. This surgical procedure reduces loose skin, cellulite, and sagging fat tissue, reshaping the contours and improving leg symmetry. Consult a board-certified surgeon to determine whether you are the right candidate for thighplasty.
Conclusion
You can promote collagen growth and firm up the skin on the legs through different approaches. An experienced dermatologist will recommend collagen-based supplements, skincare products, or treatments depending on the extent of your skin laxity and desired outcome.
Reach out to Vibrant Vitality Clinic, a team of experienced professionals, to find a suitable skin-tightening method and achieve a youthful look.