Is your Insta Explore feed full of #fitspo posts? Are you dreaming about being on there yourself but can't conquer those last bulges of fat? Luckily, new treatments called CoolSculpting and CoolTone can help you take your physique to new levels.
Actually, with hundreds of satisfied patients, they're not that new anymore. Both procedures also come from the same trusted company that also manufactures Botox, so you can rest assured it's a top-quality aesthetic product.
You may have heard about CoolSculpting and CoolTone, but do you know the ins and outs of each? Most people think that they have something to do with ice. However, they don't both involve cold. But both are cool—very cool.
Read on to learn about the differences between CoolSculpt and CoolTone and what they can do for you.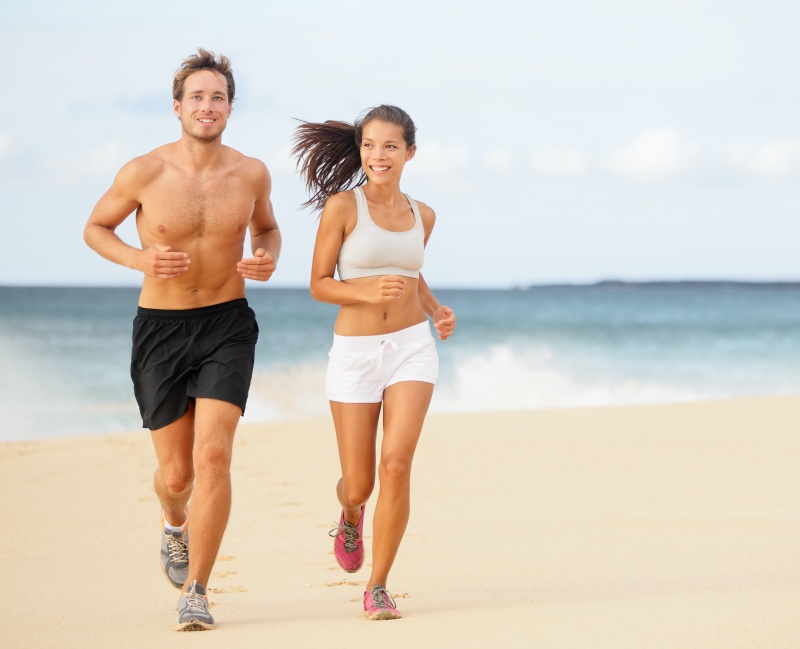 CoolSculpting vs. CoolTone: What's the Difference
CoolTone and CoolSculpting have similar names because they come from the same company, Allergan. However, they are totally different processes with different goals.
CoolSculpting is a cosmetic treatment designed to permanently destroy fat cells. This happens through the process called cryolipolysis, or literally "freezing the fat." It is an advanced technique for average-weight people who wish to get rid of some stubborn extra fat. It's important to remember that CoolSculpting is not a weight-loss treatment.
CoolTone targets muscle tissue. Unlike CoolSculpting, it doesn't use cold temperatures but electromagnetic energy to strengthen and tone the muscles in average-weight individuals.
How Does CoolSculpting Work?
During the treatment, a machine pinches the part of your body where you want the fat to disappear. The machine then delivers freezing temperature to the area. This targets the fat and does not affect other tissues. The frozen fat cells die and are then removed from the body through the lymphatic system.
This does not happen instantly. It usually takes several weeks for the body to remove frozen, dead fat cells. If you have more fat, or if your body has a poor response to CoolSculpting, it may take several treatments to reach your desired results.
Learn more about CoolSculpting in our article on how does CoolSculpting work.
How Does CoolTone Work?
Using its magnetic muscle stimulation technology, the CoolTone machine shoots electromagnetic energy into the muscle tissue, causing the muscle fibers to contract, relax, and then repeat thousands of times. Doing this, muscles strengthen and become tighter and more toned—hence the name CoolTone. People say that CoolTone enables you to do thousands of crunches or squats in half an hour. That's basically what it does!
---
Note: Read our article to find out more information about what is CoolTone.
---
What Areas Do They Target?
CoolSculpting targets fat cells, while CoolTone works on muscle fibers.
CoolSculpting is FDA-approved for:
Double chin
Upper arms
Back and bra areas
Flanks/love handles
Upper and lower abdominal fat
Inner and outer thighs
FDA-approved areas for treatment with CoolTone are:
Who Is an Ideal Candidate?
Both treatments favor candidates who are already leading a healthy and balanced lifestyle. CoolSculpting works best on small, stubborn bulges of fat in people who are generally fit. CoolTone is ideal for busy people who don't have the time to spend hours in the gym for months to end.
You can't use these treatments if you have an implantable device, such as cochlear implants, cardiac implants, neurostimulators, or drug pumps in the treatment area. If you've recently had surgery, or have a visible scar, hernia, tumor, or open sore in the treatment area, talk this through with your provider, as these are contraindications to receiving these treatments.
If you're generally happy with your appearance but just need an extra boost, these two treatments are perfect to do before a big event, such as vacation, wedding, or honeymoon.
Can I Combine CoolSculpting and CoolTone?
Yes, you can do both CoolSculpting and CoolTone together. These treatments achieve excellent results when combined. Consult with your providers, and they'll tell you whether this approach could work for you. We believe that the combination works for most people who have some stubborn fat (for example, on their bellies), and would like to remove it and tone the area.
It is possible to have both CoolSculpting and CoolTone on the same day. Having them done consecutively can speed up the fat freezing process.
It's not written in stone which one should go first, but CoolSculpting and CoolTone providers suggest CoolSculpting treatment first, followed by CoolTone. CoolTone essentially does a form of massage, which can help remove the dead fat cells after CoolSculpt.
How Long Do Treatments Take for CoolScultping vs. CoolTone?
A single CoolSculpting session on one area takes about an hour. A CoolTone session takes about half an hour. Bring in magazines, Kindle, or a charged tablet!
Depending on your initial physique and your body's response to the treatments, you many need more than one treatment.
Most people see results from one to two CoolSculpting treatments taken four to six weeks apart.
CoolTone patients usually undergo a series of four treatments or more. These are scheduled several days apart. After the initial series, monthly CoolTone sessions are required to maintain muscle mass.
Are There Any Preparations?
There are no extensive preparations required for CoolSculpting and CoolTone as there are for surgery. They are nonsurgical, noninvasive treatments that may have few side effects and now downtime.
Still, it is good to know what to expect. You'll find all the necessary information in our post on how to prepare for CoolSculpting.
What Results Can I Expect?
You will achieve the best results from these two treatments if you already have a fit body that you only want to improve.
Unfortunately, neither CoolSculpting nor CoolTone can offer magical solutions that will rid you of 30 pounds of fat. If you're looking for that, you will have to look to other treatments and then perhaps return to these options when you're nearing the end of your fitness journey.
CoolSculpting: Before and After
CoolSculpting can eliminate up to 24 percent of fat in the targeted area.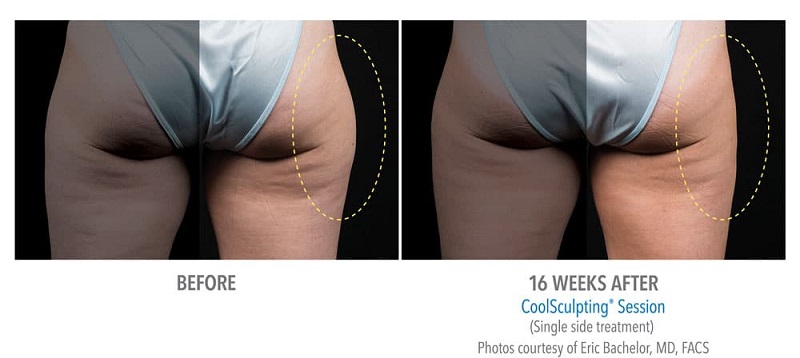 CoolTone: Before and After
CoolTone tones muscles and creates a firmer, more sculpted physique. CoolTone can't give you bigger muscles. Muscles grow when they are damaged and then built up with an increase in protein intake. This happens mostly with lifting heavy weights. CoolTone does not tear the muscle fibers. What it does is strengthen them. So, ultimately, CoolTone won't increase your muscles, but it will strengthen them and tone them. This definitely improves their physical shape, but doesn't change their size.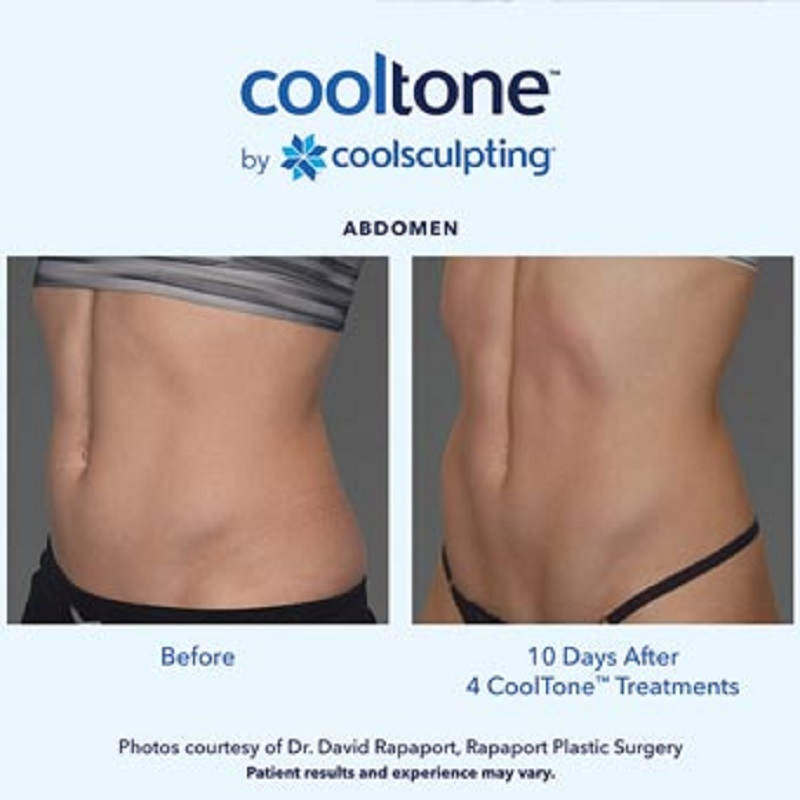 Are CoolSculpting and CoolTone Results Permanent?
The short answer is: it depends.
CoolSculpting kills off and removes fat cells, and there is no chance of them coming back. When you work out or diet, you will only decrease their size, but they're still here. If you don't maintain a healthy diet and lifestyle, or if you consume more calories than you can spend, fat will be stored in other fat cells that are still there. If you want to maintain your results, you need to be wary of what you take in. Check out our article on how long does CoolSculpting lasts to learn more.
CoolTone results will remain as long as you use the treated muscle. This means that a large portion of maintaining these results is your responsibility.
Are There Side Effects of CoolSculpting and CoolTone Treatments?
There may be, but they're not serious. You can experience tenderness, minor swelling, and redness after CoolSculpting. Temporary muscle spasm or joint or tendon tenderness can be side effects of CoolTone. They will, however, subside quickly.
Which Treatment Is Right for Me?
You now know what each treatment does and how. Chances are you also know whether you want to remove some fat from your body or tone your muscles — or both! Either way, initial consultation with a provider is necessary. They will answer any questions and tailor a treatment plan for your specific wishes and desired results.
Conclusion
CoolSculpting and CoolTone are cool new body contouring treatments. They are not magical weight-loss treatments, but advanced technological solutions for extra fat removal and muscle toning. If you have realistic expectations (and close to your ideal weight!), you will enjoy the treatments and your new, finely sculpted figure.
If you want to compare CoolSculpting to other treatments as well, make sure to check our article CoolSculpting vs. Liposuction.