Acne most commonly affect teenagers and adolescents, though no age group is immune to this medical condition.
The main factors that trigger acne are hormones, genetics, certain medications, and oil-based cosmetics. They cause the sebaceous glands to secrete excess sebum, an oily substance that serves to lubricate our skin. Once sebum mixes with dead skin cells, it clogs the pores, resulting in acne.
Teenage acne can be particularly difficult to treat, but there are a number of options to deal with this unpleasant condition. Read on to find out how to treat teenage acne and which treatment would work best for you.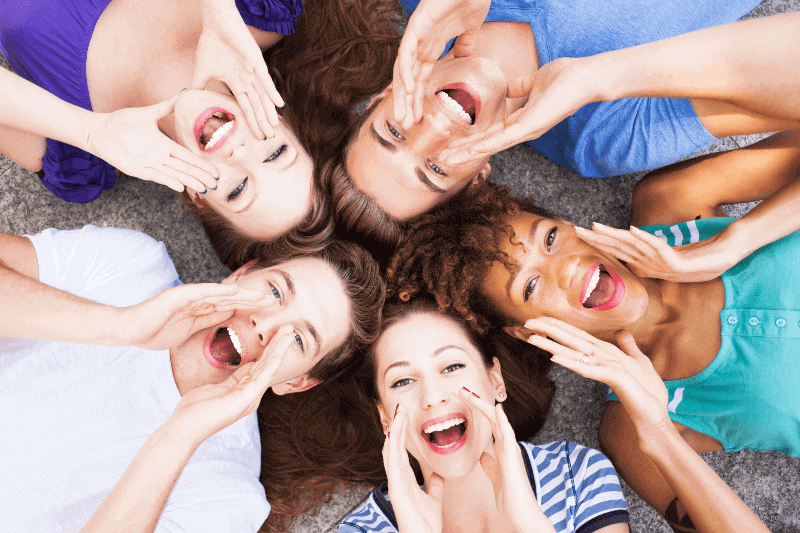 14 Acne Treatments for Teens
There are several types of teenage acne treatments, depending on the type of acne (whitehead, blackhead, cyst, etc.) and their severity. They help heal existing acne, prevent new breakouts, and prevent scarring. All acne treatments take time, so it is important to be dedicated and consistent with medications.
1. Over-The-Counter Topical Solutions
Over-the-counter or OTC topical solutions are products applied to the surface of the skin that you can buy without a doctor's prescription.
OTC topicals for acne usually contain one or more of the following ingredients:
Benzoyl peroxide is an ingredient in some cleansers, lotions, gels, and creams. It fights off bacteria, exfoliates the top skin layer (removing dead skin cells and excess sebum), and unclogs the pores.
Salicylic acid is an ingredient in some face and body washes, astringents, and moisturizes. It helps remove dead skin cells.
Sulfur and resorcinol often appear together in OTC lotions and creams. They remove the buildup of dead cells and excess sebum.
They should be listed on the product's ingredients label.
If after four-six weeks of using OTC topicals your acne condition doesn't improve, it's time to visit a doctor and get prescription medication.
2. Prescription Topical Solutions
Prescription topicals are used in the treatment of more persistent mild and moderate acne. Doctors most commonly prescribe the following topicals for teenage acne:
Topical retinoids. Contain retinoic acids or tretinoin. They function as exfoliators, removing dead skin cells to prevent buildup and the formation of cysts and nodules. They are used if benzoyl peroxide and salicylic acid show no results. Topical retinoids are available as gels, creams, and lotions and are usually applied before bedtime. They are sensitive to UV exposure.
Topical antibiotics. They kill acne bacteria to prevent more serious infection to spread underneath the skin's surface. They are usually found in the form of a gel or lotion and should be used once or twice a day. To reduce the risk of bacteria building resistance to the antibiotic, use the topical up to eight weeks. Topical antibiotics can also be used in combination with benzoyl peroxide, which reduces bacterial resistance to the medication.
Azelaic acid. This is a yeast acid with antibacterial properties. It is used in creams and gels to remove dead skin cells and fight off bacteria.
Dapsone. A newer type of acne treatment, it is usually used as a gel twice daily for inflammatory acne (papules and pustules).
---
Note: Inflammatory acne is one of many forms of skin inflammation. Read our guide on skin inflammation and discover the best topical solutions and other treatments.
---
3. Prescription Oral Drugs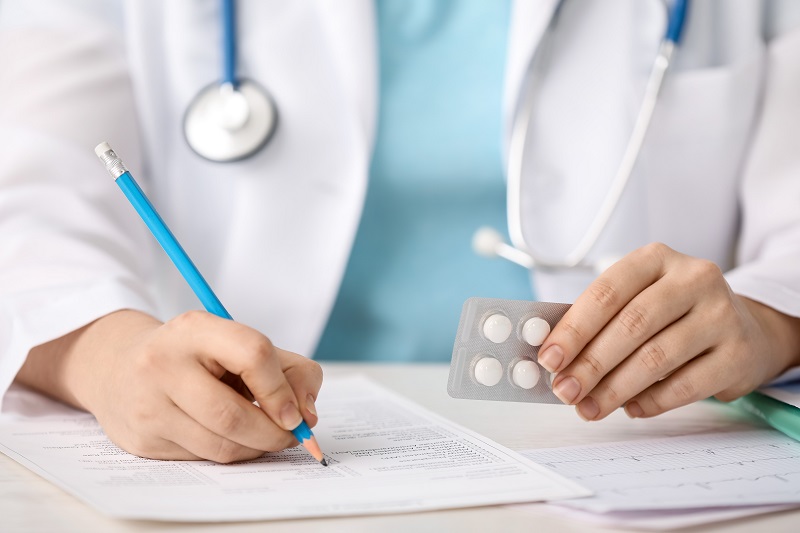 To treat persistent or severe acne, dermatologists prescribe oral drugs alone or in combination with prescription topicals.
Prescription oral drugs for teenage acne are:
Oral antibiotics. Commonly prescribed oral antibiotics for teenage acne are tetracyclines or macrolides. They kill bacteria and prevent the spread of infection underneath the skin. You should not overuse them, because bacteria can build resistance to antibiotics. Oral antibiotics are best used in combination with benzoyl peroxide, to prevent antibiotic resistance.
Oral retinoids. A very potent oral retinoid, isotretinoin is taken in the form of a pill. It is used for severe cysts or nodules to prevent further infection and scarring. Doctors recommend it when other forms of treatment fail.
4. Corticosteroid Injections
Corticosteroid injections are a quick and effective therapy for painful nodules and cysts deeply rooted in the pore. The medical provider injects the steroid drug into the clogged pore, immediately reducing pain and improving the condition. Potential side effects of steroid injections include skin thinning and discoloration.
5. Hormone Treatments
Hormone treatments are a good option for teenage girls with hormonal imbalance acne. These drugs combine progestin and estrogen and should be used for a few months to show results.
---
Note: Learn more about what causes acne.
---
6. Acne Facials
There are excellent acne facials for mild and moderate acne (whiteheads, blackheads, and occasional papules or pustules). The Acne Eraser Facial at Vibrant Skin Bar is a four-step treatment that includes cleansing, extraction, exfoliation, and a serum treatment to deeply cleanse the pores and prevent breakouts. Patients are also given detailed instructions on how to care for the skin to maintain results.
7. Light Therapy
Light therapy helps treat current and prevent future breakouts. Blue and red-light therapy are the two main types of phototherapy. They can be used separately or in combination. Blue light therapy is especially effective in killing acne-causing bacteria and soothing irritated skin. For the best results, patients need to undergo 1-2 weekly treatments for several weeks.
8. Photodynamic Therapy (PDT)
Photodynamic therapy is an emerging acne treatment that uses a photosensitizer in combination with oxygen and a light source, usually red or intense pulsed light. The therapy is used for both inflammatory and non-inflammatory acne, effectively clearing inflamed lesions.
9. Laser Therapy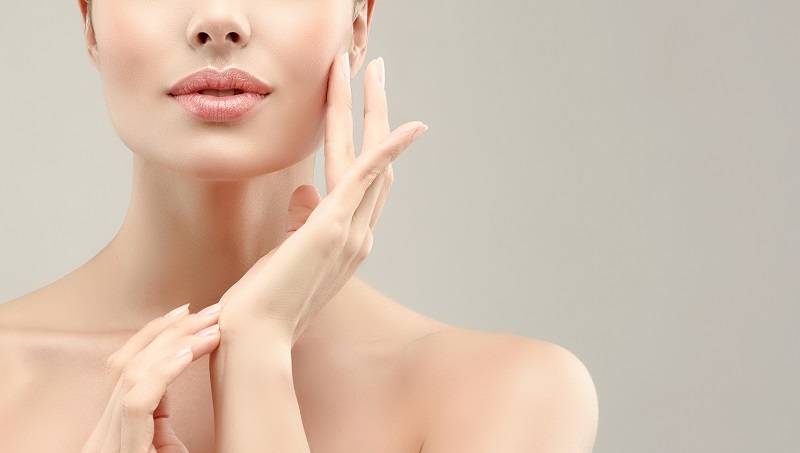 Laser therapy is an efficient acne bacteria killer. Laser beams destroy the outer layer of the skin and cause new skin to form. It is popular because it is quick and clean, especially the new painless laser methods. Lasers are often combined with other acne treatments such as phototherapy or cryotherapy for best results.
---
Note: BBL laser can help improve various skin conditions, including acne. Learn how it works.
---
10. Microdermabrasion
Microdermabrasion speeds up the process of acne healing. A dermatologist uses a device that blows crystals onto the skin which remove surface cells. The therapy requires several sessions.
11. Microneedling
Microneedling is a more invasive cosmetic treatment than microdermabrasion, requiring a numbing cream on the treatment area. The provider uses a handheld device with tiny needles to cause controlled injury on the skin and stimulate collagen production. The results appear gradually, as the new, blemish-free skin resurfaces.
---
Note: Learn how microneedling and microdermabrasion differ.
---
12. Chemical Peels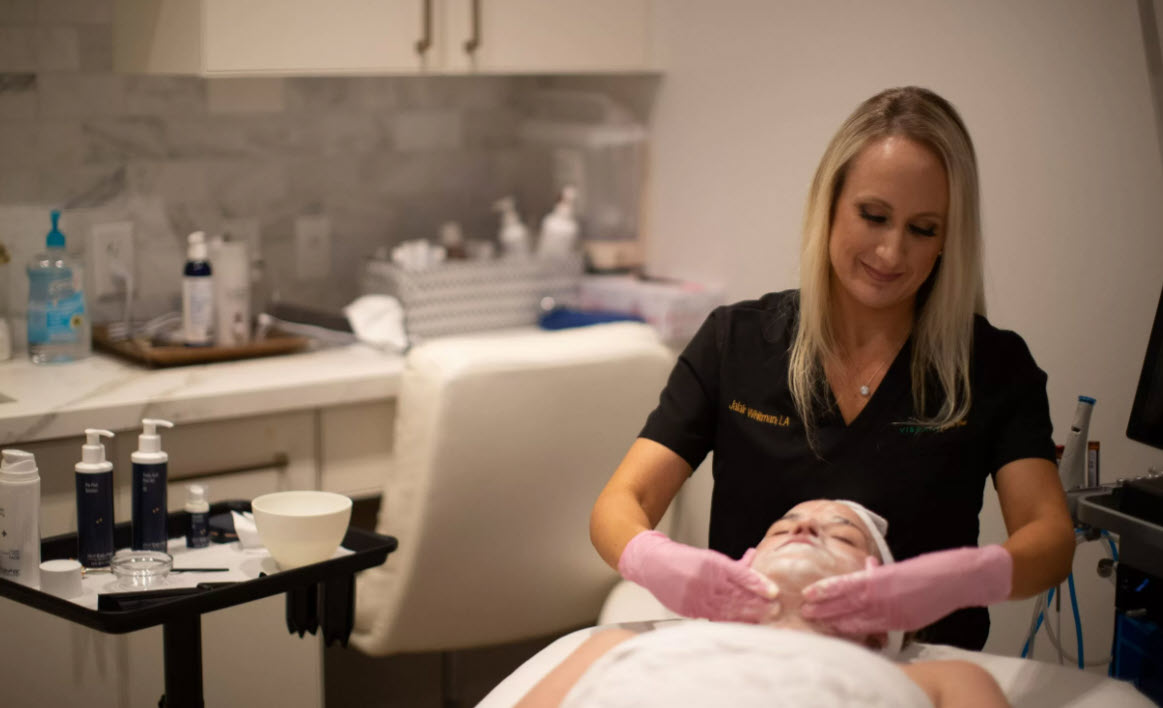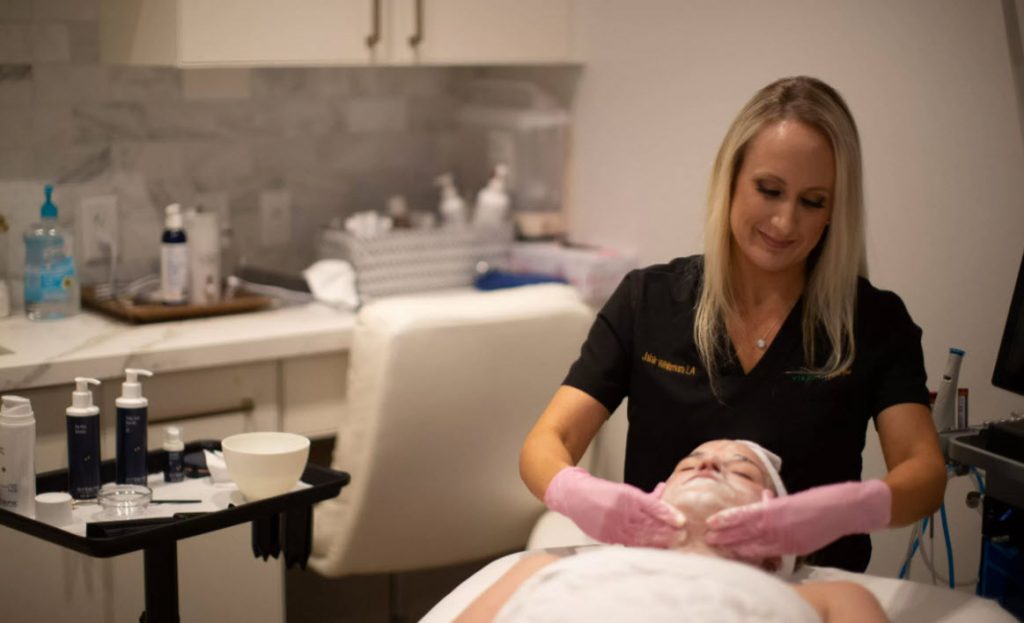 Chemical peels are popular treatments for decreasing the spread of lesions and improving the appearance of acne-prone skin. The treatment involves using different chemicals (salicylic acid, glycolic acid, etc.) to exfoliate the top skin layer, removing dead cells and unclogging pores.
13. Extractions
An extraction is acne-popping done by professionals. Dermatologists use sterile instruments to clean clogged pores, extracting sebum and skin debris. Extractions are mostly used for treating blackheads and whiteheads.
Never squeeze, pop, or try to extract pimples on your own. This may push bacteria deeper into the skin and make your acne worse.
14. Medical-Grade Skincare Products
Finally, incorporating a daily skincare regimen using medical-grade, non-comedogenic products can help manage acne long term. iS Clinical, SkinMedica and Osmosis MD are companies focusing on clean ingredients and formulations that improve skin conditions without causing irritation.
In addition to a regular skincare regimen, tend to your hygiene - avoid touching your face, keep hair off your face, and wash off dirt and sweat from the skin after sports.
---
Note: This medical-grade acne mask by Vibrant Skin Bar calms and hydrates the skin, reducing redness and inflammation in acne-prone skin.
---
When Should You Visit a Dermatologist?
Acne can be mild, moderate, and severe, but sometimes it is difficult to evaluate their condition without a doctor. Mild acne patients can usually mitigate their skin condition with topical skincare products and OTC medications. However, large, painful nodules, infections, oozing cysts, and persistent breakouts require medical attention.
Conclusion
Acne typically appear during the life phase when we are most sensitive about our appearance – during the teenage years. Even moderate breakouts can make teenagers feel depressed, self-conscious, and cause them to retreat socially.
There is no permanent cure for acne, but there are very effective treatments and most of us eventually grow out of teenage acne.
With your parents' support, doctor's professional help, and the right combination of medical therapies, you are well equipped to keep your acne problem under control.