Non-invasive cosmetic procedures that promote youthful-looking skin and natural beauty are taking precedence over plastic surgery. One of the more recent trends in skin rejuvenation involves using lasers and pulsed light to stimulate the growth of fresh new skin.
This article focuses on the BBL laser treatment and explains how the device's intense light and heat energy improve a range of cosmetic issues, from acne and blemishes to wrinkles and lax skin.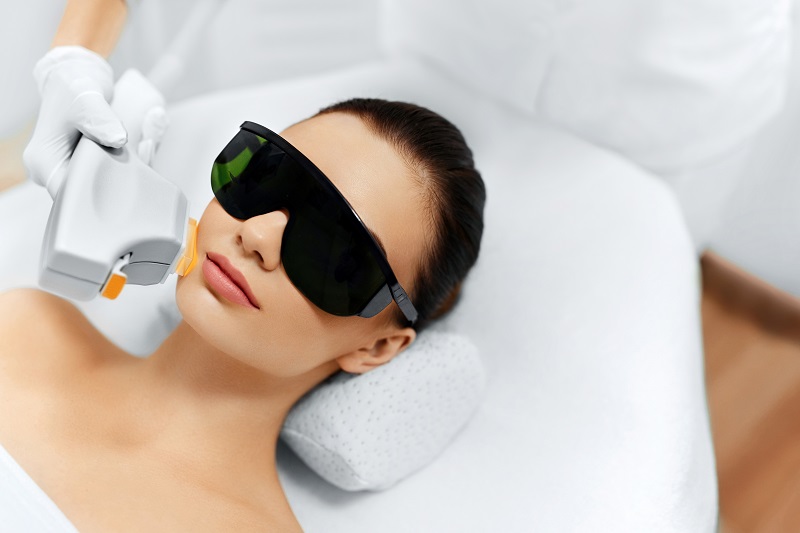 What Is the BBL Laser Treatment?
The BBL™ or BroadBand Light is a technology developed by Sciton and is a next-generation version of the IPL photofacial treatment. The BBL device sends light energy in a wide range of wavelengths and durations, achieving a variety of effects on the skin.
---
Note: Read our article to find out what are the differences between IPL and BBL.
---
The BBL laser reaches deep skin layers, destroying the dark pigment (melanin), increasing collagen production, and improving cell regeneration. The result is a brighter, smoother, tighter, and glowing complexion.
The BBL device is precise and can target any area, but it primarily treats sun-damaged skin. The areas most exposed to sunlight include the face, neck, chest, arms, and shoulders.
What Conditions Does BBL Laser Treat?
BBL laser therapy can treat a wide range of skin issues, thanks to the broad spectrum of wavelengths delivered. The treatable conditions include:
Freckles
Blemishes
Hyperpigmentation
Uneven skin tone and texture
Sagging skin
Rosacea
Fine lines and wrinkles
Large pores
---
Note: Learn how laser compares to chemical peels, another versatile cosmetic treatment.
---
How to Prepare for a BBL Laser Treatment?
To ensure the safety and effectiveness of the BBL procedure, skin experts recommend the following:
Avoid tanning for four to six weeks.
Don't use tanning lotions for four weeks.
Avoid smoking for 24-48 hours.
Avoid alcohol for 24-48 hours.
Consult your doctor about pausing medications that cause photosensitivity.
Consult your doctor about taking antiviral medication if you are prone to cold sores.
Stop taking retinoids for one week.
Avoid other facial treatments (chemical peels, microdermabrasion) for two weeks.
What to Expect During a BBL Laser Treatment?
The medical provider first cleanses the treatment area. They may apply a topical numbing cream 30-60 minutes before the procedure. The provider then applies a cooling gel and puts safety goggles or glasses on the patient's eyes to protect them from the laser beam.
The provider passes a handheld BBL device over the patient's skin, making sure it has close contact with the skin. The device emits intense pulsed light, manifesting as interrupted flashes. The patient may feel a hot or tingling sensation. The procedure takes 15-30 minutes, after which the patient can resume their daily activities.
---
Note: Learn how laser works for permanent hair removal.
---
BBL Laser Treatment Results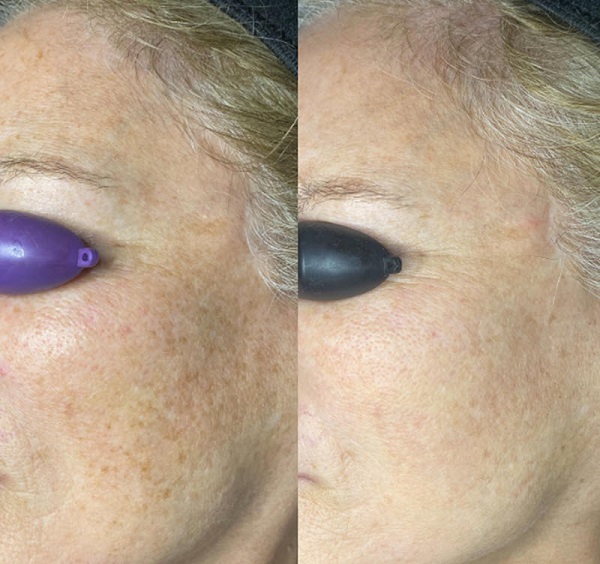 BBL patients typically notice improvements in skin tone and texture within one week. The results show differently for each patient, depending on what they are treating.
Patients with hyperpigmentation should note that they will experience a worsening in their condition before things get better. This is because the dark pigment becomes darker and rises to the surface of the skin. The dark flecks peel off after a few days.
Most patients need several treatments spaced a few weeks apart to achieve desired results and maintenance treatments every six months.
BBL Laser Side Effects
BBL is a safe, FDA-approved treatment for healthy adults. It doesn't require downtime, but can cause mild side effects that typically last up to one week and include:
Redness
Bruising
Swelling
Warmth in the treated area
Discomfort
BBL Laser Aftercare
Follow these aftercare best practices to ensure a quick recovery and optimal results:
Avoid tanning for four weeks.
Use sunscreen with SPF 30+.
Use gentle skincare products for several days.
Avoid saunas and other sources of heat for several days.
Avoid high-intensity workouts for several days.
Don't rub or apply pressure on the treated area.
Use lukewarm water to wash the treated area.
To minimize swelling, apply a cold compress on the treated area.
Avoid alcohol for 24-48 hours.
BBL Laser Treatment Cost
At Vibrant Skin Bar, one BBL laser treatment costs $349.
We strongly recommend choosing a reputable, experienced medical provider for your BBL session to avoid any health risks and undesired outcomes.
If you are in the Phoenix, Arizona area, visit us at Vibrant Skin Bar. Our dedicated and experienced team of skincare professionals will evaluate your skin issues and create a personalized plan to restore your skin's natural glow.