When we talk about skin care, the focus is often on facial skin. However, the skin on our bodies needs just as much nurturing.
Coffee is recognized in the beauty industry as an amazingly beneficial ingredient in skin care products for the body. We all know how a morning cup helps kickstart the day, but these brilliant beans also help reinvigorate the body when applied to the skin.
Let's see what benefits you can expect from coffee body scrubs and how often to use them for the best results.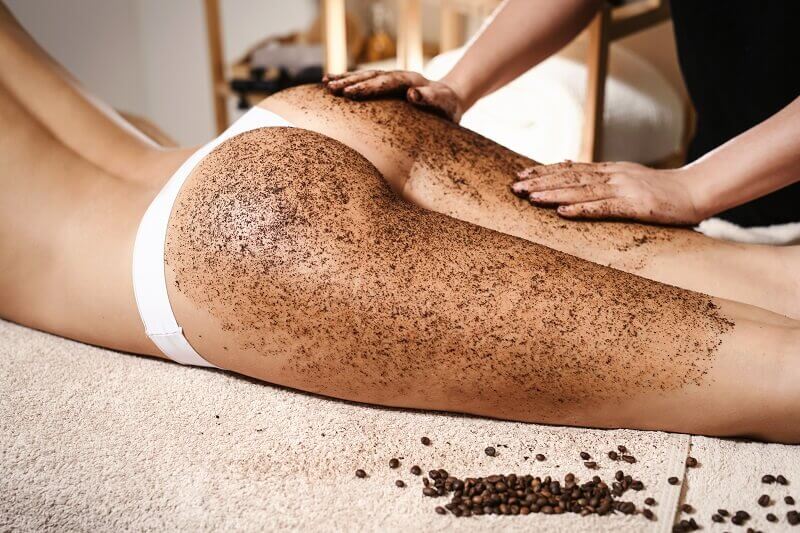 7 Benefits of Coffee Scrubs
Body skin exfoliation is an essential step in body skin care, and coffee scrubs are among the most popular products for that purpose. Apart from exfoliation, they bring many other benefits, especially if combined with other helpful ingredients.
Vibrant Skin Bar has formulated a fantastic coffee scrub with cinnamon. The spice boosts the product's antioxidative properties while avocado and jojoba oils infuse the skin with moisture.
Read on to learn how a coffee scrub helps our body rejuvenate.
1. It Reduces Inflammation
Coffee contains polyphenols such as hydrocinnamic and chlorogenic acids, which reduce oxidative stress from free radicals, protecting the body's tissues and skin from inflammation.
---
Note: Learn more about how to reduce inflammation and which anti-inflammatory skincare products and ingredients to look out for.
---
2. It Improves Blood Circulation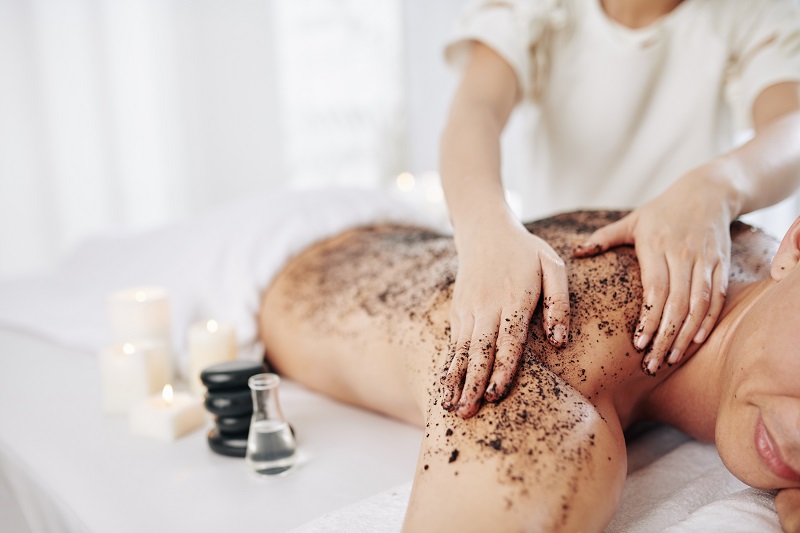 Coffee body scrubs involve mechanically rubbing the skin. This stimulates blood flow and improves circulation.
3. It Removes Dead Skin Cells
Large coffee particles used in coffee body scrubs work as a physical exfoliant, peeling dead skin cells and impurities off the skin's surface. The antioxidants in coffee promote new skin cell growth, improving skin texture by smoothing and rejuvenating it.
---
Note: Read about some amazing homemade cellulite scrubs in our article 10 Best DIY Cellulite Scrubs.
---
4. It Prevents Premature Aging
Antioxidants in coffee help repair UV damage and premature skin aging signs, including:
Freckles
Fine lines and wrinkles
Dull skin
Large pores
Scars
Stretch marks
5. It Reduces the Appearance of Cellulite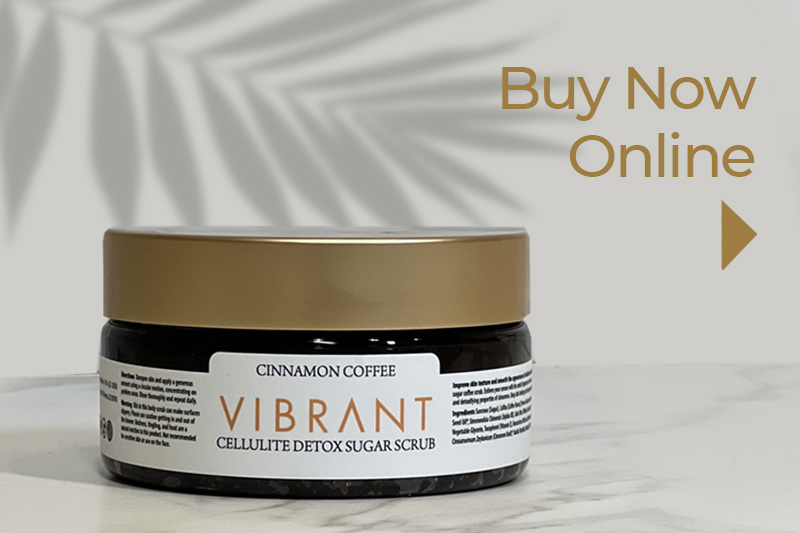 Massaging a coffee scrub in the direction of lymphatic flow (upwards towards the heart) improves circulation and removes excess water from the skin. The skin becomes firmer, reducing the appearance of cellulite or fat deposits underneath the skin.
---
Note: Learn how innovative QWO injections help reduce cellulite.
---
6. It Depuffs Swollen Areas
Coffee is a well-known diuretic. Massaging the skin with a coffee scrub helps remove moisture and toxins from areas that retain fluids, such as the lower legs and ankles.
7. It Helps Reduce Body Acne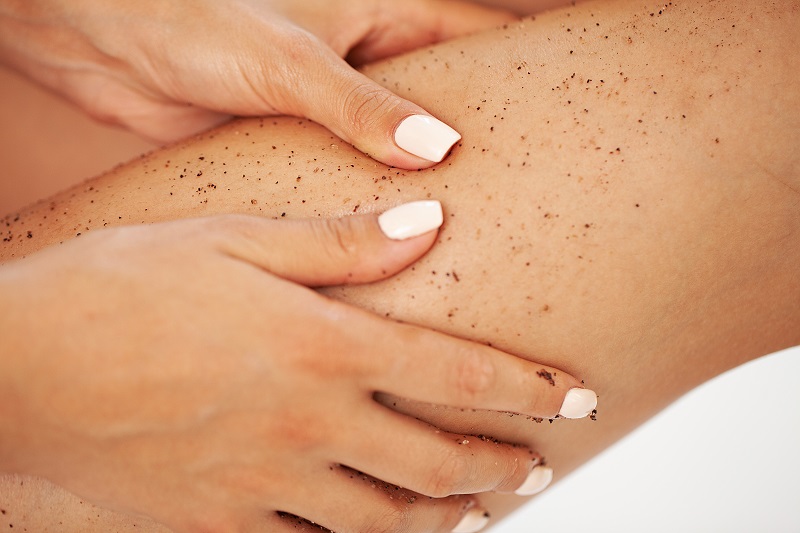 Coffee's anti-inflammatory and anti-bacterial ingredients (e.g., chlorogenic acid), as well as its pore-unclogging properties help minimize breakouts, reduce redness, soothe the skin, and keep it clear.
How Often Should You Exfoliate?
To experience the benefits of coffee body scrubs, you should incorporate them into your regular body skin care routine. The optimal frequency for using coffee scrubs depends on the person's age, skin type, specific skin issues, etc. If you have dry skin, start with once a week, and monitor the results. People with oily and combination skin may benefit from coffee scrubs two or three times per week.
---
Note: Read our articles to find out more about the best skin care routine for dry skin and how to treat oily skin.
---
It's essential to use a moisturizer after scrubbing (unless the product includes hydrating agents) because coffee draws moisture from the skin.
Conclusion
In the race against aging signs, many people focus only on the face and neglect their bodies.
It's never too late to start taking care of the skin on your body. Include a coffee body scrub in your skin care regimen and enjoy the transformative effects of this powerful ingredient. If you are not sure about the proper way to use it, you might find helpful our article on how to use a body scrub correctly.
Read our article and learn if you can use a body scrub on your face.