Botox is the most popular injectable cosmetic procedure for reducing facial wrinkles and fine lines. Side effects are occasional, usually mild, and can include bruising, swelling, and bumps.
Let's see why bruising after Botox happens and what you can do to avoid or alleviate it.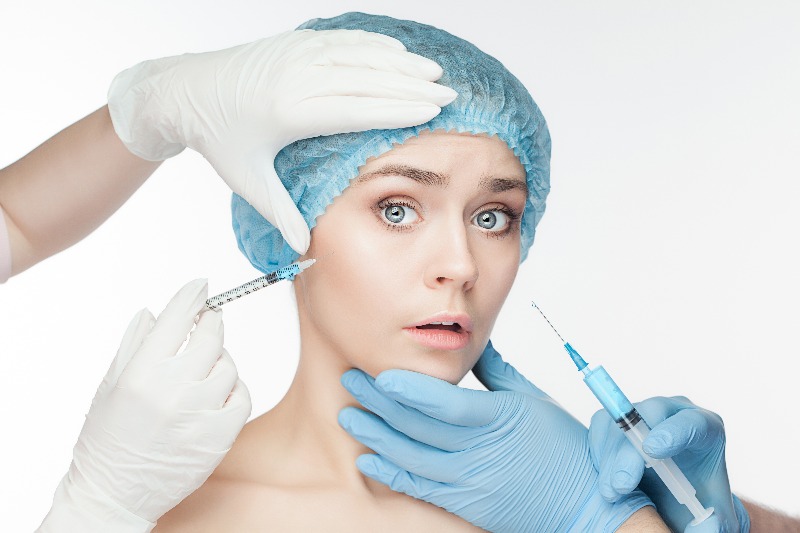 What Causes Botox Bruising?
Botox bruising is a consequence of blood extravasation, or blood leaking from a blood vessel into the surrounding tissue. This may happen if the Botox needle accidentally punctures the blood vessel. Both experienced and novice medical practitioners can cause bruising because blood vessels are numerous and sometimes difficult to see.
Other causes of blood extravasation include:
Using blood-thinning medications and supplements before the Botox procedure
Consuming alcohol before or after the procedure
Exercising immediately before or after the procedure
---
Note: Another cause of bruising after the treatment is laying down too soon. Find out how long after Botox can you lay down.
---
How Long Does Botox Bruising Last?
Bruising after Botox usually lasts a few days or up to two weeks. It may appear immediately or a day or two after the procedure, depending on the patient's physical predispositions and activities.
If potential bruising after Botox treatment is not something you can deal with you may want to consider some other Botox alternatives.
What Helps with Botox Bruising?
There are several ways to prevent or minimize bruising after Botox. They are all free or low-cost and easy to employ.
Avoid Certain Supplements Before the Treatment
Over-the-counter herbal and vitamin supplements that affect clotting time may lead to bruising after Botox. Some of these supplements are fish oils, ginkgo biloba, St. John's wort, omega-3 fatty acids, high-dose Vitamin E, garlic, and turmeric. It is recommended that you stop taking them two weeks before the procedure and it is important to always consult with your medical practitioner before doing so.
Avoid Certain Medications Before the Treatment
Certain blood-thinning drugs may cause bruising after Botox. Some of these medications are:
Aspirin
Clopidogrel
Warfarin
Non-Vitamin K-dependent oral anticoagulants
Heparin
Non-steroidal anti-inflammatory medications like ibuprofen and naproxen
You shouldn't stop taking prescription medications without consulting your doctor. If your condition allows it, the doctor will advise you to discontinue use of the medications one week before the Botox procedure.
Avoid Alcohol Before and After the Treatment
Alcohol consumption 24 hours before and after treatment increases the chances of bruising after Botox. Alcohol thins the blood and increases clotting time.
---
Note: Find out more on what happens if you drink alcohol after Botox.
---
Apply Ice Packs
Ice packs are commonly used to stop swelling and bruising. The cold narrows blood vessels, slowing the blood flow to the injured spot. Hence, applying ice packs before and after the Botox treatment minimizes the chances of bruising. Your medical practitioner may apply ice packs as standard procedure before injecting Botox. The day of the procedure, you may apply cold packs at home for 10-15 minutes every hour.
Use Elevation
For the first few days after the procedure, keep your head elevated higher than your heart during sleep. This position prevents blood pooling and reduces the risk of bruising.
Avoid Exercising
Exercising increases the heart rate and blood flow, which is the opposite of what you need before or after a Botox procedure. Avoid vigorous physical activity for two or three hours before and 24 hours after the treatment.
---
Learn everything you need to know about exercise after Botox.
---
Take Vitamin C
Vitamin C deficiency may increase the chance of bruising after Botox. Before and after the procedure, increase Vitamin C intake through supplements and foods high in this antioxidant. Such foods include citrus fruits, blackcurrants, broccoli, peppers.
Consider Taking Anti-Bruising Supplements
If you're prone to bruising, taking anti-bruising supplements a few days before and after the procedure may help your blood vessels heal.
Arnica is a natural remedy popularly used by Botox patients. Take this supplement three to four days before the Botox procedure to minimize the chance of bruising, or as advised by your medical practitioner.
Vitamin K is effective at reducing swelling and bruising. Consult your medical practitioner on which Vitamin K supplements to use. Take them five days before the treatment or as advised by your medical practitioner.
Bromelain supplements are another anti-bruising option. Bromelain is an enzyme extract from pineapple known to reduce swelling. You can find it in most grocery and health stores. Consult your medical practitioner about exact usage for preventing bruising after Botox.
Conclusion
Bruising is a common side effect of Botox that usually settles after a few days. You can employ several tactics to minimize the chances of post-Botox bruising. Whichever anti-bruising strategy you choose, discuss it with your medical practitioner to make sure it's the best and safest course of action for you.
Botox has many advantages and disadvantages, bruising is one of them. Learn about other botox pros and cons in our article.