Melasma is a harmless skin condition that is caused by an overproduction of skin pigment. It is manifested by dark spots usually on the face, but it can also affect the neck, arms, and back.
Treating melasma is a gradual process with no guarantees. It is best to consult a skin professional to determine the cause of your skin concern and maximize the prescribed treatment's results.
This article explains how to recognize melasma and which products and treatments help improve skin tone.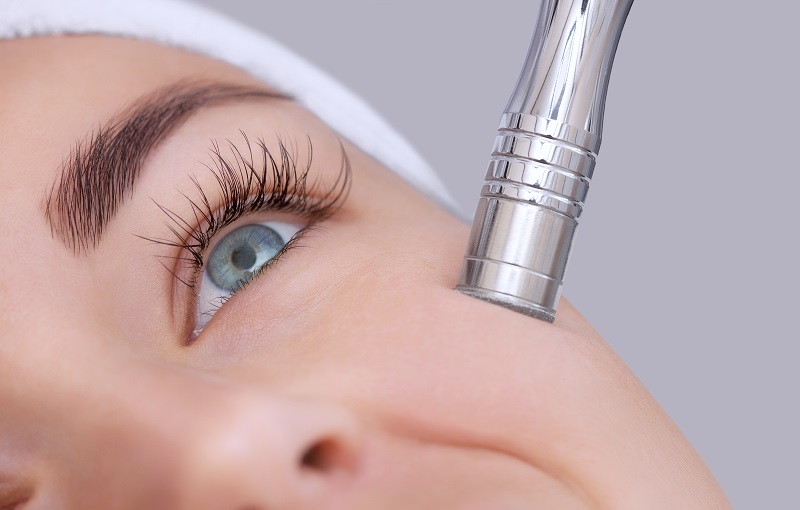 How Is Melasma Diagnosed?
Dermatologists visually examine the patient's skin and, if needed, use specialized tools and procedures such as a Wood's lamp and biopsy to determine whether the patient suffers from melasma or some other skin disorder.
Doctors ask questions about the patient's lifestyle habits and family history to discover the cause of melasma and prescribe an adequate treatment. The two main causes of melasma are UV radiation and hormonal changes (usually during pregnancy).
The cause of melasma and pigment depth determine the treatment's effectiveness.
Best Melasma Treatments and Products
Melasma can last for months, years, or quickly go away on its own. It is often triggered by pregnancy or hormonal medication and disappears after the root cause is gone.
The following products and treatments effectively treat melasma, especially in the case of epidermal melasma, which is manifested by higher concentrations of melanin in the superficial skin layers.
Skincare Products
If you have melasma, it's important to avoid skincare products with ingredients that can worsen the pigmentation issues. Use only products that are safe for melasma.
The following ingredients help with pigmentation issues:
Vitamin C – An effective tyrosinase inhibitor. Simply put, it inhibits the enzyme that helps make melanin. Vitamin C is often used in skincare products as a skin brightening agent.
Retinol and Retin-A – Two forms of vitamin A that stimulate cell turnover, help shed damaged skin cells and resurface a smoother, regenerated skin.
Growth factors – Stimulate the skin's regeneration and healing processes, help brighten the skin and even the skin tone.
Mandelic and glycolic acid – Alpha-hydroxy acids (AHA) used in chemical peels to exfoliate dead skin cells and regenerate the skin, reducing redness and hyperpigmentation.
Niacinamide – A form of vitamin B3 with anti-inflammatory, antioxidant properties that help reduce hyperpigmentation and brighten the skin.
We recommend the following products specially formulated for melasma.
Osmosis MD Purify Enzyme Cleanser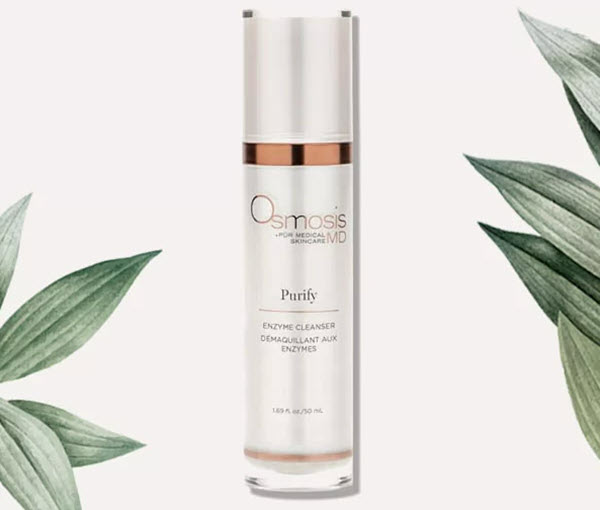 Cleanse and exfoliate your skin daily with this gentle enzyme cleanser to remove dead skin cells and surface impurities. The process helps the active ingredients in the products that follow to penetrate deeper into the skin.
iS Clinical Brightening Complex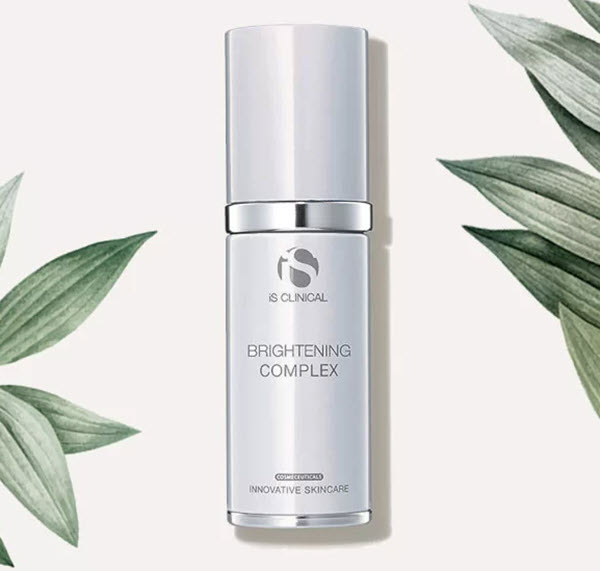 iS Clinical Brightening Complex is a powerful formula with vitamin C that improves uneven skin tone and provides deep hydration. It is infused with pharmaceutical-grade botanicals that exfoliate, hydrate, and rejuvenate the skin.
Osmosis MD Rescue Epidermal Repair Serum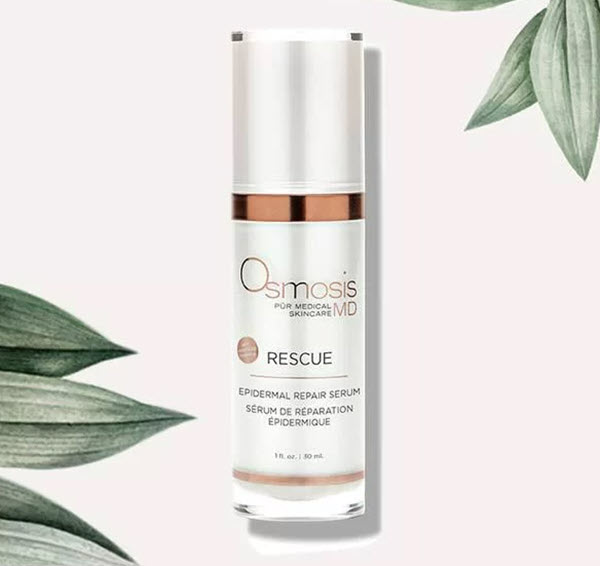 Rescue Epidermal Repair Serum has incredible skin repair capabilities thanks to the patented technology that produces Trioxolane. This stable oxygen molecule helps improve pigmentation and texture issues, boost skin's immunity, and reduce inflammation.
Sunscreen
Our bodies react to UV rays by producing more melanin to protect the skin. If you have melasma, exposure to sun rays only aggravates the condition. Use sunscreen products every day, even during cloudy and cold weather.
We recommend products with zinc oxide and titanium dioxide, which work as physical sun blockers and provide antioxidant protection. Make sure that the sunscreen product you use has an SPF protection of at least 30.
Suntegrity 5 in 1 Natural Moisturizing Face Sunscreen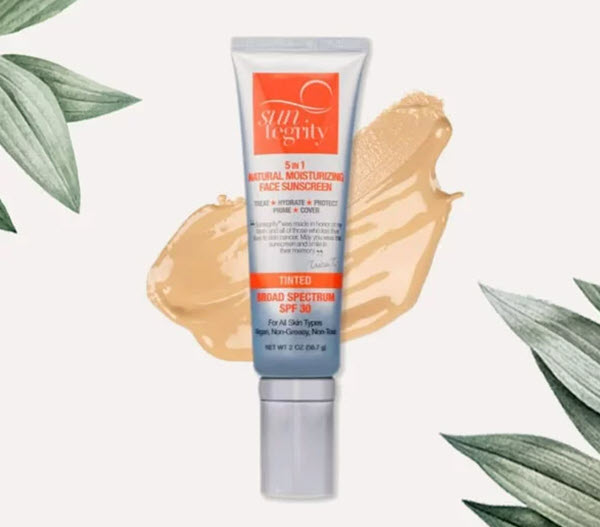 Free from skin irritants, the Suntegrity 5 in 1non-greasy formula provides mineral protection against UVA and UVB rays and reduces redness. It's also infused with powerful hydrating ingredients such as aloe vera, jojoba, hyaluronic acid, cucumber, and pomegranate to rejuvenate the skin.
It has a golden light tint that additionally minimizes the appearance of skin blemishes.
Cosmetic Procedures
If skincare products don't resolve your skin condition, consider undergoing cosmetic treatments commonly used to treat melasma.
Laser therapy
Laser therapy targets the melanin in the skin, heating and destroying excess pigment. Intense pulsed light (IPL) is the best laser option for melasma. Patients usually need several treatments within three to six months to see results.
Chemical peels
Chemical peels involve exfoliating the skin's top layer to resurface smooth, even skin. Like laser therapy, this treatment usually requires several sessions to fade dark patches of skin.
---
Note: Learn whether a chemical peel or laser is a better treatment for you.
---
Dermaplaning
Dermaplaning involves manual skin exfoliation using a surgical scalpel. Patients with melasma who undergo a dermaplaning session after a chemical peel may experience quicker results because the treatment speeds up cell turnover and enhances the effectiveness of a chemical peel.
Microdermabrasion
Microdermabrasion helps stimulate collagen production and regenerate the skin using a device with tiny crystals that scrape away the skin's top layer. Medical providers who treat melasma typically perform microdermabrasion in combination with lightning serums.
Apart from using cosmetic products and treatments for melasma, avoid products and circumstances that can aggravate the skin condition. Protect yourself from UV radiant and LED light, avoid birth control pills and hormone treatments, and don't use irritating skincare products.
Medication
Dermatologists usually prescribe creams with hydroquinone, tretinoin, mild corticosteroids, or a combination of these ingredients to treat melasma. Doctors also prescribe creams or pills with tranexamic acid when other forms of medication and treatments fail to produce desired effects.
When Should You See a Doctor
Melasma is a harmless condition, and people usually seek treatments for aesthetic reasons. However, the longer you have it, the longer it may take to remove dark patches. Also, skin cancer sometimes looks like melasma.
If you suspect your pigmentation issues are caused by a medical condition or the products you use don't show improvement in your complexion, visit your dermatologist for an expert opinion.
Conclusion
Many people experiencing melasma wish to remove dark patches of skin for cosmetic reasons. To set you on the right course, we've listed products and treatments for melasma that we found effective.
Contact Vibrant Skin Bar skin experts for more guidance on how to resolve your skin issue.