The last thing oily skin needs is high heat and humidity that cause more sebum production. Knowing that the skin gets oilier in the summer, stock up on the right skin care products before the hot season starts.
Here are eight tips for oily skin that will help you get through the summer without too much shine on your face.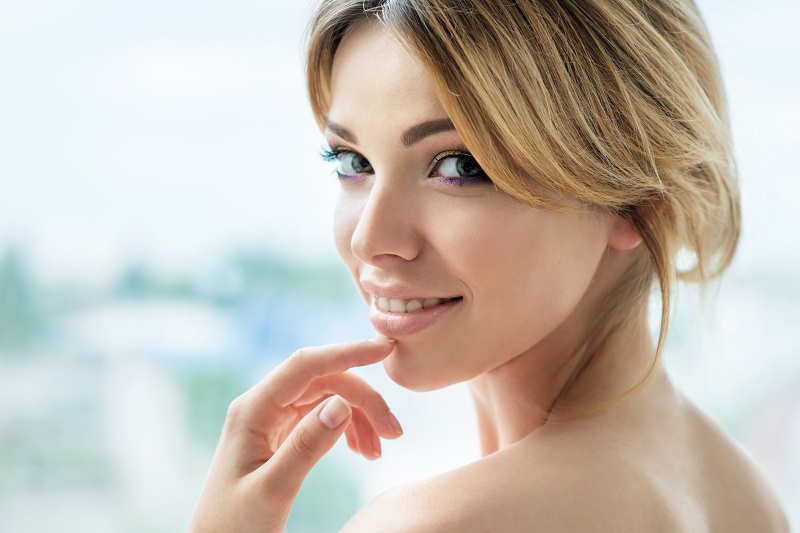 How to Treat Oily Skin in Summer
The main challenge in caring for oily skin in the summer is balancing between proper hydration and removing excess oils. You don't want to use products that strip the skin of too much natural oil or products that stimulate sebum overproduction. Does oily skin even need moisturizing? Let's find out.
1. Cleanse
Every skin care routine starts the same way—with cleansing. Regardless of your skin type, you need to remove dirt, sweat, makeup, sunscreen, and other impurities that may clog the pores.
However, if you have oily skin, use cleansers with non-comedogenic ingredients. They help prevent breakouts caused by excess sebum.
Choose cleansers with glycolic or salicylic acid that successfully penetrate the skin and remove excess oils without drying out the skin. Cleansers containing clay are also a good solution for oily skin during the summer because they absorb oil and prevent breakouts.
2. Gently Exfoliate
Cleansing is necessary, but it doesn't remove all the dead skin cell buildup that accumulates during the day. Use gentle exfoliating masks once or twice a week to remove impurities and increase your skin's receptivity to other skincare products you use to nourish and repair skin. Lactic acid is the gentlest exfoliating ingredient, and it won't overdry your skin.
3. Use Hydrating Facial Masks
Facial masks are a great way to give the skin what it lacks.
In the summertime, the skin tends to dehydrate due to sweating. Though it appears greasy on the surface, the deeper layers of the skin may actually lack moisture. Use facial masks with hydrating ingredients like cucumber, aloe vera, and hyaluronic acid to balance sebum production and help the skin absorb moisture.
4. Tone Your Skin
Toners are the answer to oily skin prone to breakouts. They control sebum production, prevent pore clogging, and even out the skin tone.
Look for toners with exfoliating ingredients like beta hydroxy acids (BHA) that gently clean pores or niacinamide that control sebum production and reduce redness and inflammation. Toners also better prepare the skin for moisturizers.
5. Use Lightweight Moisturizers or Lotions
People with oily skin should also use a hydrating product. If the skin is dehydrated, it may overproduce sebum.
In summer, opt for lightweight, oil-free moisturizers or lotions that provide the necessary hydration and allow the skin to breathe. Use a simple gel formula with any of these ingredients: hyaluronic acid, ceramides, green tea, aloe vera, niacinamide, or botanical extracts. The best moisturizers for oily skin are fast-absorbing, which helps the skin retain moisture and prevents shine.
---
Note: Check out our selection of the 5 best moisturizers for oily skin.
---
6. Switch to Lightweight Night Creams
In summer, oily skin needs a light nighttime routine. After cleansing, use a moisturizer without rich oils. Opt for creams with vitamin C and A to fight the damage caused by free radicals and the sun. Vitamin C and A are potent antioxidants that help repair skin while it's resting.
7. Sunscreen Is a Must
Use sunscreen every day to prevent sunburn and long-term damage from UV rays. Sun-blocking products that offer the highest protection are labeled "broad-spectrum" because they block both UVA and UVB rays. Choose a sunscreen with the main ingredient "zinc oxide" to take advantage of its oil-absorbing and healing properties. Also, use products with a sun protection factor (SPF) of at least 30. Reapply the sunscreen every two hours to all exposed areas.
8. Use Blotting Sheets Sparingly
Blotting sheets are a quick, temporary solution to greasy skin. They are paper sheets infused with oil-absorbing ingredients (e.g., rice, cotton, flax seeds) that mattify the skin. Blot your face with one sheet, and it will quickly absorb the excess oil.
Blotting sheets are handy when you are on the go. However, don't use them often because they may push impurities on your face deeper into the pores.
Conclusion
Oily skin needs special care during the summer. Follow our tips for removing excess oils from the skin while balancing its moisture levels and protecting it from free radicals.