Laser hair removal is an excellent solution for people who are tired of shaving, plucking, or waxing unwanted hair. The cosmetic practitioner uses a laser device that emits a focused stream of light. The light and heat from the laser damage hair follicles, delaying or preventing hair growth.
Traditional lasers target melanin (the color pigment) and need clear contrast between the skin and hair colors. Because of this, they achieve the best results in people with light skin and dark hair. However, many modern lasers use a different technology that works for other skin types and colors, even removing light, thin hair.
Patients interested in laser hair removal usually want to know which areas can be treated. This article lists treatable areas and explains how many sessions are required for long-term or permanent hair removal.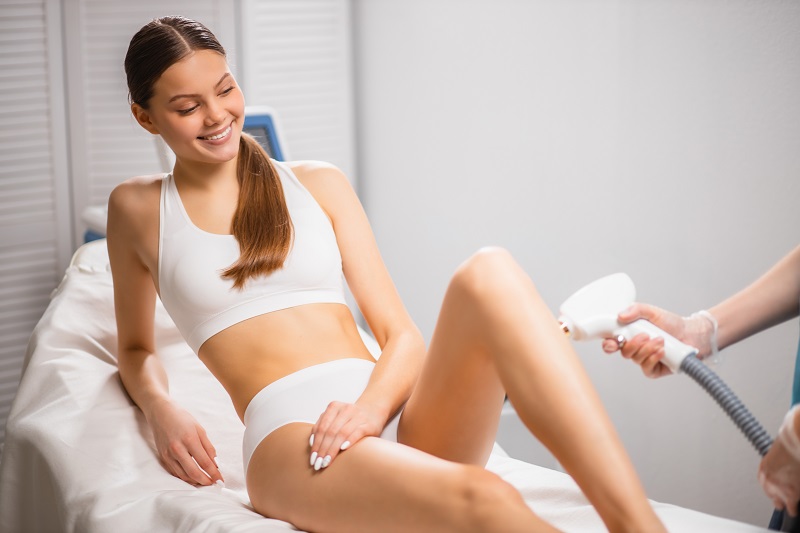 Laser Hair Removal Areas
Laser hair removal is a safe cosmetic treatment for most healthy adults. Patients usually want to eliminate hair on their legs, armpits, and the bikini line, but a laser can be used on any part of the face and body – except the eyelids and around the eyes.
---
Is laser hair removal safe during pregnancy? Read our article to find out.
---
Here are all the areas treatable with a laser:
Face
Upper lips
Chin
Jaw
Sideburns
Nose
Cheeks
Ears
Upper Body
Neck
Shoulders
Back
Chest
Belly line
Arms
Armpits
Hands and fingers
Lower Extremity
Bikini area (bikini line + extended bikini line + Brazilian + inner buttock)
Buttocks
Legs
Knees
Feet
Toes
How Many Sessions for Laser Hair Removal Do You Need?
The hair growth cycle has three phases: growing, regressing, and resting. Laser hair removal is effective only when the hair is in the growing phase. Since the hairs are always at different stages, patients need multiple treatments to ensure the laser reaches all hair at the right time.
Cosmetic providers usually recommend an initial plan of six to ten treatments spaced six weeks apart and maintenance treatments twice a year until the hairs in the treated area stop growing. The total number of required sessions varies from patient to patient, depending on their skin type, hair color, and the treatment area.
Laser Hair Removal Cost
The Vibrant Skin Bar offers laser hair removal services at different prices, depending on the size of the treatment area. For large areas, one treatment costs $350. Laser for medium areas is priced at $250, and treatments for small areas cost $150.
Contact the Vibrant Skin Bar team for more information on the treatment cost for a specific region or multiple regions.
Conclusion
Laser hair removal is one of the best innovative solutions for long-term hair removal. Thanks to advancements in laser technology, and different hair removal methods, most people can eliminate unwanted hair and enjoy smooth, hairless skin in almost any body area.
If you are ready to give the procedure a try, read our blog post on how to prepare for laser hair removal.