Hair removal is an essential part of many modern men and women's hygiene and beauty regimes, the goal being smooth and hairless skin on the legs, arms, chin, chest, and other areas.
Until recently, shaving and waxing were the most common hair removal techniques. However, people are showing more interest in long-lasting results which can be provided by laser hair removal.
What is laser hair removal, and why is it replacing shaving and waxing as a more viable option? Let's find out.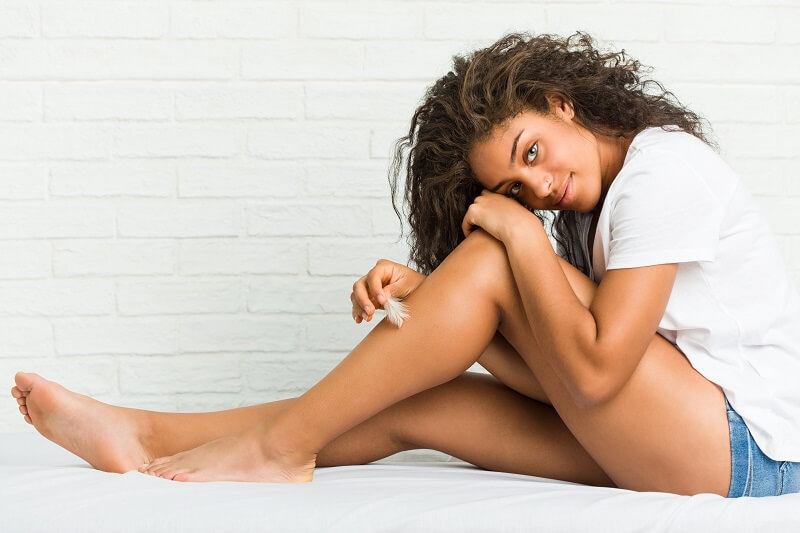 What Is Laser Hair Removal?
Laser hair removal is a cosmetic procedure that involves using a laser beam to heat and damage the hair follicle, inhibiting hair growth. Several treatment sessions are required for effective results.
How Does Laser Hair Removal Work?
During the treatment, the medical provider uses a laser device that sends a beam of light to the hair follicle. Melanin, a pigment in the hair, absorbs the light emitted by the laser. This light turns into heat and burns the hair follicle. The damage caused to the hair follicle by the burning delays or permanently stops hair growth.
---
Note: Read our article to learn how laser hair removal for men works.
---
What Areas Can Be Treated?
Commonly treated areas include:
Legs
Bikini line
Armpits
Upper lip
Chin
Chest
Back
Shoulders
You shouldn't get laser hair removal around the eyes because the laser can cause eye injury. Also, avoid laser hair removal on tattooed areas because your skin can get damaged.
Does Skin or Hair Color Matter?
Laser hair removal is used on all skin types, but it is most effective on fair skin with dark hair.
The pigment melanin in the hair absorbs light emitted by the laser. The light turns into heat and damages or destroys the hair follicle. Since lighter hair has less melanin than dark hair, laser hair removal technology works best for dark hair.
If you have dark skin and dark hair, the low contrast may cause the laser treatment to affect the melanin in the skin and damage the treated area. The good news is that laser hair removal technology is rapidly evolving to provide more effective results for darker skin tones.
---
Note: Read our article and find out if laser hair removal for blonde hair works.
---
Is Laser Hair Removal Permanent?
Laser hair removal usually isn't permanent, but it can last for years.
For long-term results, complete an initial series of four to eight treatments spaced one to three months apart and have maintenance treatments once or twice a year for a few years.
Laser Hair Removal: The Procedure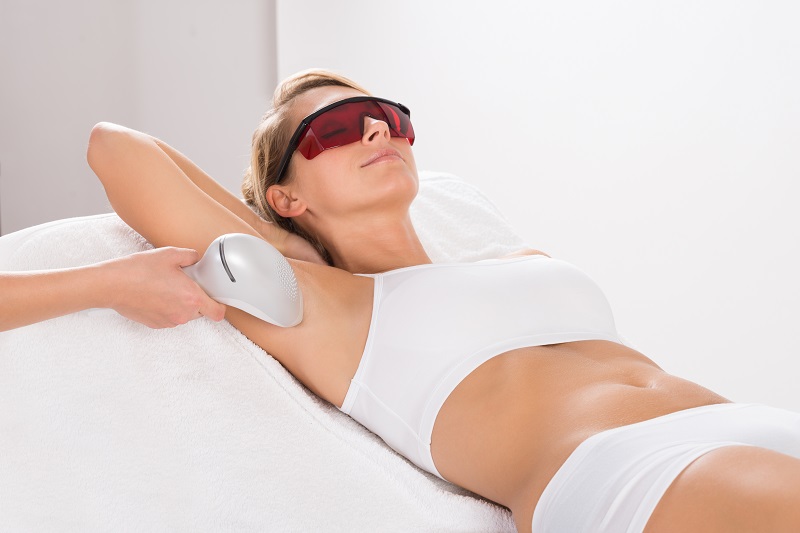 Before the procedure, your medical provider will discuss your goals, expectations, medical history, and previous hair removal experiences to determine the best laser hair removal plan for you.
During the procedure, the medical provider applies a numbing cream to the treatment area in order to minimize pain and discomfort.
Then, they use a hand-held laser device to direct light to the hair follicles in the target area. During the treatment, you'll be wearing goggles to protect you from the emitted beam of light.
The laser causes damage to the follicle but shouldn't affect the surrounding skin. You may feel a slight burning sensation, like a pinprick, especially in the areas where your skin is thinner, or the hair follicles are more densely spaced.
The length of the process ranges from a few minutes for the upper lip area to an hour for legs or the back and shoulders.
How to Prepare for The Procedure?
Follow these tips to prepare for laser hair removal properly:
Stop using blood-thinning medications, as advised by your medical provider.
Avoid tanning a few weeks before the procedure.
Don't wax, pluck, or use other hair removal techniques (except shaving) for several weeks before the procedure.
Shave the target area a day or two before the procedure.
---
Note: For more tips read our article on how to prepare for laser hair removal.
---
The Results
After the laser hair removal procedure, your hairs will shed gradually for several days. Some hairs will grow back after a few weeks, and you'll need follow up treatments. The number of required treatments varies from person to person depending on their type of hair, skin, and the medical provider's expertise.
Most patients find that hair growth in the treated area is significantly reduced or completely eliminated after an initial series of four to eight laser hair removal treatments and a few years of maintenance treatments. Hair growth, if it happens, is sporadic and the hairs are light, and thin.
Laser Hair Removal: Risks and Side Effects
Laser hair removal is a safe procedure when performed in a reputed med spa by an experienced, board-certified medical provider.
Nevertheless, the procedure may cause mild side effects in the treated area. These include:
Redness
Swelling
Discomfort
These side effects usually disappear after several hours.
Very rare and more severe side effects include:
Skin discoloration
Blistering
Scarring
Excessive hair growth
The risks of side effects are reduced with proper pre-treatment and after-treatment care.
---
Note: Make sure to read our article and learn about the safety of laser hair removal during pregnancy.
---
Procedure Aftercare
Proper aftercare minimizes the chances of negative side effects and enhances the effectiveness of the laser hair removal procedure.
Medical providers recommend the following:
Apply ice to the treated area to minimize the chances of swelling.
Avoid direct sun exposure and other tanning solutions.
Use sunscreen with an SPF 30+ whenever you go outside.
Avoid the gym for 24 hours after the procedure.
Avoid saunas and hot baths 24 hours after the procedure.
For facial laser hair removal, avoid chemical peels for two weeks after the procedure.
Laser Hair Removal Cost
The cost of one laser hair removal treatment depends on the size of the treated area and your medical provider's expertise and location. The treatments range from $150 for armpits to $400+ for legs or the back.
Conclusion
Traditional hair removal techniques like shaving and waxing are tedious and time-consuming. For this reason, many men and women embrace the modern laser hair removal option as they find that the longer lasting and more effective results fully justify the higher cost of the procedure.
If you want to find out more about laser comparing to more traditional hair removal techniques, make sure to read our articles laser vs. waxing and electrolysis vs. laser hair removal.