People, mostly women, spend a lot of time shaping the small strips of hair above their eyes. When we factor in the power of eyebrows to convey emotion and contribute to a person's appearance and identity, it makes sense to want our eyebrows to look fantastic.
Trends are changing, and women have gone from plucking their eyebrows pencil-thin to letting them grow to their natural, full thickness. However, there's always unwanted hair beneath and above the brows. What to say of the dreaded unibrow – something only Frida Kahlo could get away with.
Tiresome tweezers and waxing appointments are no longer necessary because now we have an excellent new method for eyebrow shaping – laser treatment.
This article explains how eyebrow laser hair removal works and why you should consider investing in this quick, painless, and permanent solution.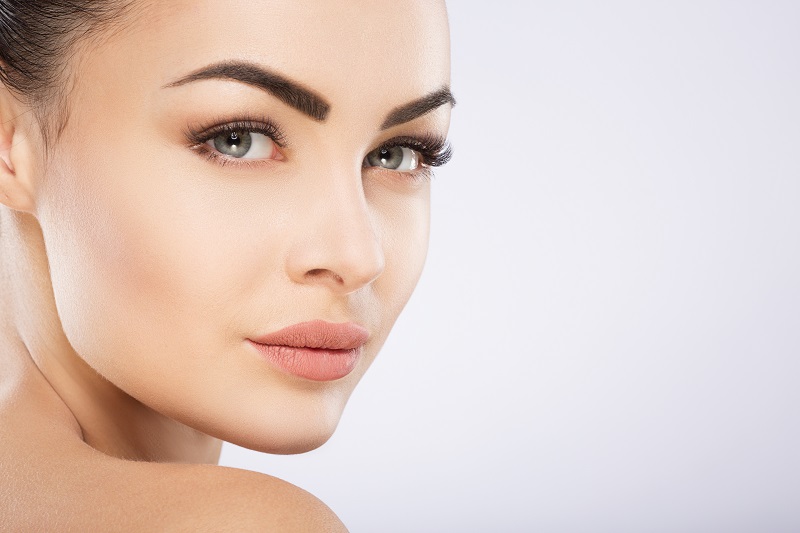 What Is Eyebrow Laser Hair Removal?
Eyebrow laser hair removal is an in-office procedure in which a trained laser technician uses a handheld device to send high-intensity light pulses into the patient's skin, permanently damaging targeted hair follicles. The pigment in the hair, melanin, absorbs the heat and light from the laser, while the surrounding skin and tissue are left unharmed.
Since hair goes through three stages of growth and each strand is in a different stage at any moment, patients need to undergo a series of sessions to reach all hairs at the proper growth stage.
Types of Eyebrow Laser Hair Removal Treatments
Laser hair removal is ideal for people with more eyebrow hair than they want. Patients essentially book the treatment for the following reasons:
1. Laser Eyebrow Shaping
Many people shape their eyebrows using tweezers and scissors. In their attempt to remove baby hairs beneath the brows or trim longer hairs above the brow line, they sometimes go overboard and end up drawing in portions of the eyebrows with a pencil. Laser hair removal is a precise procedure that targets unwanted hairs and shapes the eyebrows according to the patient's wishes.
2. Unibrow Removal
Some men and women have connected eyebrows, which we call a unibrow. This unconventional look is not to everyone's liking. A laser can quickly remove a small patch of hair in the middle to separate the eyebrows and give the patient a cleaner, more attractive appearance.
How to Prepare for Eyebrow Laser Hair Removal Treatment?
Patients need to follow certain guidelines in the days and weeks before eyebrow laser hair removal to ensure the success of the treatment.
Stop tweezing, plucking, and waxing the eyebrows six weeks before the session because hair needs to be intact for the laser to target the pigment.
Avoid the sun and tanning beds for four weeks and tanning lotions for two weeks before the treatment. Tanned skin can disrupt the device's accuracy and result in burned skin.
Stop taking NSAIDs, antibiotics, acne products, and other medications that can increase skin sensitivity, as advised by your chosen cosmetic provider.
Don't drink alcohol and coffee 24h before the treatment.
---
Note: Read our detailed instructions on how to prepare for laser hair removal.
---
What Can You Expect During the Procedure?
Eyebrow laser hair removal is a quick procedure. The whole session, including cleansing and prepping the skin, usually takes less than 30 minutes.
The cosmetic provider first cleans the skin and marks the area around the eyebrows. Then they apply a cooling gel on the target area and place goggles on the patient's eyes to protect them from the high-intensity light.
The provider holds a laser device against the patient's skin in short sessions during which blasts of light penetrate the skin. The patient usually feels no pain but only a mildly uncomfortable sensation described as rubber bands snapping against the skin.
Patients can resume their daily activities right after the session.
Since the laser comes very close to the eyes, patients should only work with trained, reputable medical providers with years of experience using laser devices.
The Results of Eyebrow Laser Hair Removal
Patients typically need four to six sessions spaced at least four weeks apart to target all hairs at the right growth stage.
The number of maintenance treatments after the initial set depends on the patient's hair and skin type. Patients with blonde hair or a dark complexion may require more treatments than patients with dark hair and light skin.
---
Note: Learn more on how laser hair removal for blonde hair works.
---
Most patients have permanent results or a few stray hairs that appear sporadically. These are usually destroyed after a few years of biannual maintenance treatments.
Eyebrow Laser Hair Removal Aftercare
To ensure safe and effective results, follow these aftercare tips:
Avoid UV exposure for several days.
Use lukewarm water to wash your face.
Use gentle skincare products for several days.
Don't apply pressure to the treated area.
Avoid swimming pools and saunas.
---
Note: For more information, refer to our complete list of laser hair removal aftercare tips.
---
Eyebrow Laser Hair Removal Cost
At Vibrant Skin Bar, one laser hair removal for a small area costs $150. The price may vary depending on the size of the treatment area.
Get one session free by purchasing a package of six sessions for $750!
Conclusion
Laser hair removal is the most effective hair removal method today. It is safe, painless, and, most importantly – it provides permanent results.
Contact our trained medical professionals at Vibrant Skin Bar today to style your eyebrows just how you want them, once and for all!