In most cases, sunken eyes are an aesthetic, not a medical concern. They give a tired, fatigued look, causing people to feel self-conscious about their appearance.
This article explains what causes sunken eyes and gives tips on how to get rid of them through lifestyle changes, cosmetic treatments, or surgery.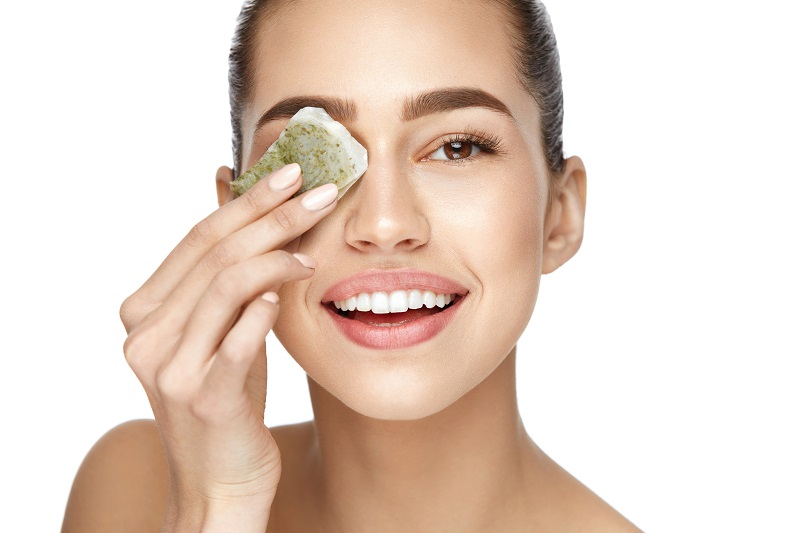 What Are Sunken Eyes?
Sunken eyes or tear trough hollows is a condition characterized by one or a combination of these symptoms:
Dark under-eye circles
Shadows under the lower lids
Hollowness in the under-eye area
Deep-set eye sockets
Sagging lower lids
Thin, transparent skin and visible blood vessels under the eyes
What Causes Sunken Eyes?
Common causes of sunken eyes are medically harmless and include:
Genetics - Genes determine the position of our eyes in the sockets, so the sunken-eye look can run in families.
Aging - As we age, we lose collagen and elastin, the proteins that keep the skin plump and firm. The loss of collagen and elastin is the main reason our skin thins, sags, and the eye socket bones recede, appearing hollow.
Nutritional deficiencies - Undernourishment and a poor diet cause vitamin and mineral deficiencies, contributing to collagen loss and the appearance of sunken eyes. This is especially true for people who lack vitamin C, K, E, and iron.
Dehydration - Low water intake causes collagen loss, thin and dry skin, and potentially sunken eyes.
Sun exposure - UV rays accelerate collagen degradation, contributing to many premature aging signs, including sunken eyes.
Sleep issues - Insufficient and interrupted sleep often causes dark circles and hollowness under the eyes.
Weight loss - The face is one of the first areas to lose volume when we lose weight. This can emphasize the hollowness in the under-eye area, especially when weight-loss happens quickly.
Smoking - Nicotine degrades collagen and elastin, causing sagging skin, dark circles, and a hollow under-eye area.
Allergies - Seasonal and other allergies cause nasal congestion, leading to dark under-eye shadows and hollowing.
Sinus infection - Like allergies, sinus infections can affect the skin under the eyes, making them appear sunken.
How to Get Rid of Sunken Eyes? 7 Tips
There are several ways to eliminate or reduce sunken eyes, depending on what caused them. We recommend starting with things you can do at home, such as targeted skin care and a change in lifestyle habits.
1. Use a Sunscreen
Sunscreen is the best preventative measure for all skin concerns related to sun damage, including sunken eyes. Use a broad-spectrum SPF 30+ sunscreen as the last step of your morning skincare routine. Elta MD UV Daily is on many beauty magazines' "best sunscreen" lists because it provides powerful protection and hydration.
---
Note: Read our guide to choosing the best sunscreen.
---
2. Use a Moisturizing Eye Cream
Daily skin care is necessary to ward off aging signs and keep your skin supple. If you have sunken eyes, introduce a moisturizing eye cream into your skin care. Use ingredients that hydrate and reduce dark circles, puffiness, and wrinkles:
Hyaluronic acid
Vitamin C
Vitamin E
Retinol
Caffeine
Alastin Restorative Eye Treatment is an excellent product for the delicate under-eye area that targets the cosmetic issues associated with sunken eyes.
3. Change Your Lifestyle
Dedicated skin care shows the best results when combined with lifestyle changes. Try to eliminate or reduce harmful habits and introduce healthy ones to see an improvement in your skin and overall health.
Stay hydrated - Health experts agree that drinking about eight glasses of water daily is optimal. Hydration from within combined with a moisturizing eye cream rejuvenates the skin around the eyes and relieves the tired, sunken-eye look.
Eat nutritionally rich foods - Nutritionally rich foods promote collagen production, help remove toxins, and improve skin tone and texture. Make sure to eat at least four portions of vegetables every day, especially leafy greens such as broccoli, cabbage, celery, and lettuce.
Get enough sleep - During sleep, the body gets rid of toxins, reduces inflammation, and heals itself. Scientists recommend getting between seven and nine hours of uninterrupted sleep every night for general well-being and a rested look.
Quit smoking - Tobacco smoke causes collagen and elastin degradation. When you stop smoking, you will quickly see an improvement in your skin tone. Eliminating this harmful habit helps reduce sunken eyes, besides decreasing your chances of lung cancer and other serious illnesses.
4. Use Home Remedies
User experience shows that some home remedies can refresh the under-eye area and reduce the sunken appearance.
Tea bags – Boil two tea bags for five minutes and place them under your eyes once they've cooled. Tea contains antioxidants and flavonoids, which improve blood circulation and can briefly refresh the under-eye area.
Cucumber slices – Place a cucumber slice under each eye to cool the area and minimize the appearance of dark, puffy eye bags.
5. Explore Non-Surgical Treatments
If targeted skin care and lifestyle changes don't improve your condition, consult a medical cosmetic professional about non-surgical options for sunken eyes. The Vibrant Skin Bar team recommends dermal fillers, laser, or microneedling for your cosmetic concern.
Dermal fillers - Dermal fillers are injectables that fill sunken facial features with a gel-like substance to restore lost volume. Under-eye fillers typically contain hyaluronic acid, which hydrates, plumps, and rejuvenates the under-eye area. The treatment is minimally invasive, quick, and requires no downtime.
Laser treatment - A laser delivers light energy to the skin, stimulating collagen production, regenerating cells, and improving various skin conditions. Laser treatment for sunken eyes helps replace lost volume in the under-eye region and smooth out the area.
Microneedling - Microneedling is another popular cosmetic treatment for the under-eye area. It uses tiny needles to create micro-wounds on the skin, increasing collagen production. Microneedling effectively reduces under-eye shadows, puffiness, and other aging signs.
PRF and EZGel injections – A new generation of anti-aging injectables, PRF and EZGel are made from your own blood and contain a high concentration of platelets and growth factors that are slowly released within the tissue to rejuvenate the skin. They are excellent tear trough correction treatments.
6. Try Cosmetic Surgery
Cosmetic surgery is the best option for patients who want long-term results for their sunken eyes. It involves more risk and recovery time than non-invasive cosmetic treatments, but the results are more dramatic. The types of surgery used for sunken eyes include:
Eyelid surgery (blepharoplasty) – removes excess skin and fat around the eyelids.
Fat transfer injection – involves harvesting fat from a different body part and injecting it into the under-eye area.
Tear trough implant – involves inserting silicone implants into the tear trough hollows.
7. Use Medications
If allergies or a sinus infection are giving you dark circles and a tired look, your condition will improve with medication such as antihistamines or antibiotics, which treat the underlying cause. Consult your medical provider for the best solution.
When Should You See a Doctor?
On occasion, sunken eyes are a sign of a serious medical condition that needs attention. If dark circles and under-eye hollowness don't disappear after months of applying the tips above, or if they are accompanied by other symptoms, visit your doctor. They will assess your general health and perform lab tests to discover the cause of your condition.
Conclusion
Sunken eyes often lower self-esteem and occasionally lead to anxiety and depression. There are many ways to improve the condition on your own, but if you don't get results, we can help!
Our fantastic team at Vibrant Skin Bar is always happy to discuss quick, safe, and effective solutions to your aesthetic concerns. Contact us today to get started on a journey to younger, glowing skin!