Lasers are narrow, focused beams of light that have been used for decades for cutting and welding, scanning barcodes, carrying internet signals, and many other things. Their clinical application began in the 1980s, marking a breakthrough in the treatment of various medical conditions.
This article explains how laser therapy is used in medicine and the cosmetics industry and how patients can benefit from the procedure.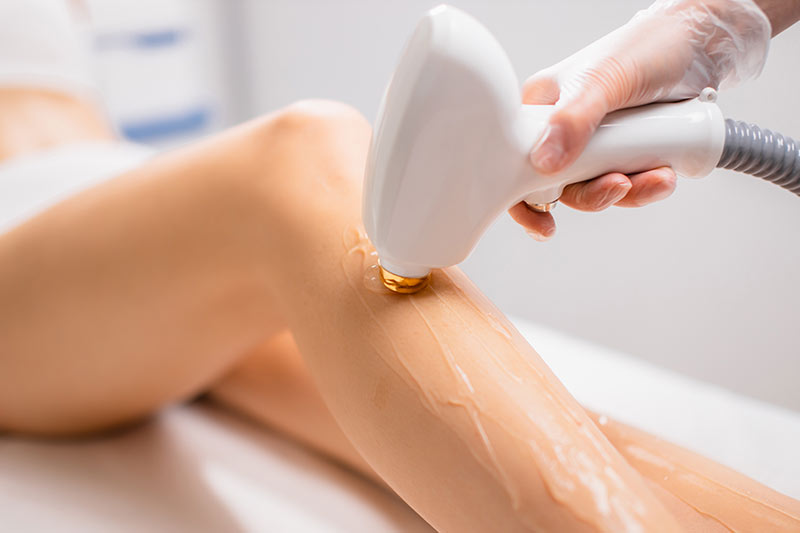 What Is Laser Therapy?
Laser therapy is a procedure in which a beam of light penetrates the skin to treat damaged tissue. It is a very precise and intense beam, that converts to heat when absorbed by water, melanin, or hemoglobin in the treatment area. This heat energy makes structural changes to tissues and cells.
Laser light consists of waves with similar wavelengths. These specific wavelengths in medical lasers range from approximately 400 to 10,600 nm, depending on the treatment and how deep the light needs to penetrate.
What Is Laser Therapy Used For?
Laser therapy has many applications in medicine and cosmetics.
Medical lasers are used for diagnostic and therapeutic purposes in almost all medical disciplines, including dermatology, ophthalmology, dentistry, gastroenterology, urology, neurosurgery, cardiology, etc.
Some laser therapy indications include:
Vascular lesions
Pigmented lesions
Urological and genital lesions
Bening and malignant tumors
Eye conditions (e.g., glaucoma)
Musculoskeletal pain
Kidney stones
Wound healing
Burn scars
Psoriasis
Eczema
Actinic keratosis
Bowen's disease
Caries and other dental issues
Lasers are also used to address aesthetic skin concerns. Laser resurfacing is a type of laser therapy that helps improve the following conditions:
Wrinkles
Uneven skin tone
Types of Laser Therapy
Laser therapy types include:
Photodynamic therapy (PDT) – Combines a laser with a photosensitizing drug that only works when activated by a light source. PDT helps destroy cancerous cells, improve skin conditions, and treat some other health concerns.
Laser surgery – A less invasive type of surgery that employs light instead of surgical instruments to make bloodless cuts, remove or shrink tumors, seal blood vessels, and reshape tissues (e.g., cornea).
Laser resurfacing – Uses laser light to remove damaged tissue and remodel the skin, reducing wrinkles, age spots, scars, and other aging signs.
Laser therapy can also be classified by the types of laser devices. The most commonly used medical lasers include:
CO2 – Removes a thin layer of skin without affecting deeper layers. It is used for tumors on the surface of the skin or tissue.
Argon – Typically used for PDT procedures. It can go through thin layers of skin and tissue.
Nd:YAG – Reaches deeper layers and hard-to-reach areas. It helps treat cancers and stop bleeding.
LITT – Used for areas between organs, helping to heat the space near a tumor and shrink it.
Benefits of Laser Therapy
The benefits of laser therapy include:
A wide range of medical uses
Reducing premature aging signs
More precise than a surgical knife
Generally safe and well-tolerated
Shorter recovery time than with traditional surgery
Reduces the risk of side effects (e.g., pain, swelling, and scarring)
Laser Therapy Risks
Like any medical procedure, laser therapy comes with risks of certain side effects. They vary depending on the laser therapy type, device, the treated condition, and the patient's medical status.
Common side effects include:
Bleeding
Swelling
Scarring
Pain
Infection
Fever
Pigmentation
Laser Therapy: Procedure
Depending on the laser therapy type, the procedure is performed in a med spa, clinic, or a hospital.
In the case of a PDT procedure, the patient first receives photosensitizers as a drink, injection, or topical drug and returns to the clinic after a few hours to activate the medication with a laser that heats the target area.
In laser surgery on an internal organ, a small tube (endoscope) is inserted in the body to find abnormal cells and treat them with a laser beam. In eye surgery, the laser focuses on the cornea to cut and remove damaged tissue.
With laser resurfacing, the laser light is applied directly on the skin to treat the skin concern.
Medical providers use numbing creams, sedatives, local anesthetics, or general anesthesia for laser therapy. The procedure can last between 15 minutes and several hours (for more complicated tumor surgeries).
How to Prepare for Laser Therapy
During the consultation, the medical provider explains to the patient how to prepare for a laser treatment. Patients usually need to stop taking blood-thinning medications and supplements, such as aspirin, vitamin E, ibuprofen, fish oil, etc. Sometimes, they are advised to take antibiotics to prevent infection or to use other medications.
Medical providers recommend refraining from smoking and alcohol for several days before the treatment to reduce the risk of side effects.
Laser Therapy Aftercare
Laser therapy aftercare varies with different laser treatments. The following are some general aftercare guidelines:
Avoid strenuous sports.
Avoid alcohol and nicotine.
Don't use harsh skincare products and makeup.
Take painkillers if needed.
Use cold compresses if needed.
Avoid high heat and UV exposure.
Who Can Get Laser Therapy?
The decision whether laser therapy is the best treatment option is made on a case-by-case basis. The medical provider assesses the patient's medical history and health status to determine if laser treatment is an adequate solution.
For example, potential laser eye surgery candidates need to have good eye and overall health and be at least 21 years old. Many patients with pre-cancer and early cancer are candidates for laser cancer therapy.
Patients need to be in good health and at least 18 years of age for all laser treatments.
Who Should Not Undergo Laser Therapy?
Contraindications for therapeutic and cosmetic laser treatments are relative to the type of therapy.
Generally, the following conditions increase the risk of complications:
Pregnancy
Autoimmune diseases
Certain blood disorders
Meningitis
Epilepsy
Neuropathy
Steroid use
Skin abnormalities
Lasers shouldn't be applied over tattoos, the thyroid gland, the gravid uterus, and directly over the eyes.
Conclusion
Lasers are powerful devices with an expanding list of medical and cosmetic uses. However, they may cause harm if used incorrectly. Always seek licensed and experienced medical professionals to reduce the risk of adverse effects and ensure effective laser therapy.