Our skin goes through many changes throughout life, naturally transitioning as we age from smooth to wrinkled. However, many external and internal factors cause premature aging and other unwelcome skin issues. Hyperpigmentation is one of the more common premature aging signs.
This article explains what hyperpigmentation is and recommends preventative measures and treatments.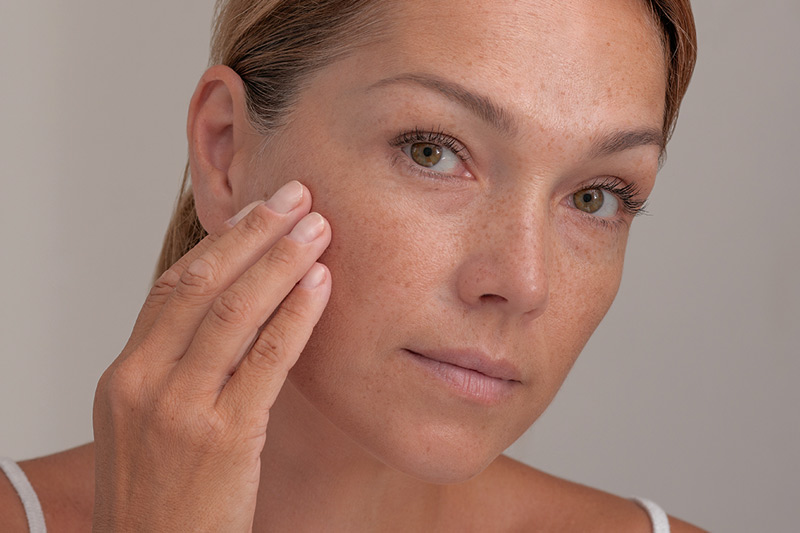 What Is Hyperpigmentation?
Hyperpigmentation is a skin condition manifesting as dark spots or patches usually on the face, neck, shoulders, and arms. It occurs when the body makes too much melanin (skin pigment) as a reaction to an environmental or internal perceived threat.
Hyperpigmentation is a cosmetic, rather than medical, concern.
Types of Hyperpigmentation and Their Symptoms
The following table presents the three common types of hyperpigmentation and their symptoms and causes.
| | Age spots | Melasma | Post-inflammatory trauma |
| --- | --- | --- | --- |
| Symptoms | Small, flat, dark spots | Dark, blotchy patches of skin and freckle-like spots | Dark spots or patches of skin |
| Common causes | Extended sun exposure, aging | UV radiation, hormonal changes (most commonly pregnancy) | Skin injury (cuts, burns), inflammatory condition (acne, eczema) |
| Where it usually appears | Face and hands | Cheeks, forehead, chin, above upper lip | Anywhere on the body |
What Causes Hyperpigmentation?
Sun exposure is the most frequent cause of hyperpigmentation. It triggers melanin overproduction as the body attempts to protect itself from harmful UV rays.
Other causes of hyperpigmentation include:
Aging
Family history of hyperpigmentation
Hormonal changes (puberty, pregnancy)
Medications (antibiotics, birth control pills)
Vitamin B12 deficiency
Thyroid disorders
How Is Hyperpigmentation Diagnosed?
A skin doctor diagnoses hyperpigmentation during a skin exam. They may use tools such as a Wood's lamp or order lab tests to determine the patient's vitamin and hormonal status. Sometimes, the medical provider does a biopsy to rule out skin cancer.
If you have dark spots, visit your doctor, who will evaluate your skin condition and suggest treatments.
How to Treat Hyperpigmentation
Hyperpigmentation is a lifelong condition without a permanent cure, but patients can successfully manage symptoms with topical and cosmetic treatments, such as:
Prescription tretinoin – Dermatologists prescribe medications with tretinoin, a concentrated version of retinol (vitamin A). It speeds up cell turnover and helps exfoliate the skin's surface layer to reveal a more even skin tone.
OTC topical products – Over-the-counter creams and serums can be effective for milder cases of hyperpigmentation. They contain brightening, exfoliating, and antioxidant ingredients, such as vitamin C, niacinamide, retinol, azelaic, kojic, glycolic, and salicylic acids.
Laser resurfacing – This cosmetic treatment uses a laser to heat dermal layers, inducing collagen production, remodeling the skin, and reducing dark spots.
Chemical peels – They use chemical agents, such as alpha- and beta-hydroxy acids, to dissolve superficial skin layers and help with pigmentation concerns.
Holistic facials – They deeply cleanse and exfoliate the skin, and infuse it with potent hydrating and skin-strengthening ingredients, helping with various skin conditions, including hyperpigmentation.
---
Note: Learn how a pumpkin facial benefits hyperpigmented skin thanks to high beta-carotene concentrations.
---
Can Hyperpigmentation Be Treated at Home?
Patients can treat hyperpigmentation at home with topical products for that purpose. For the safest course of action, consult a dermatologist before starting any treatment for dark spots.
Home remedies with claimed skin-lightening effects, such as lemon juice and apple cider vinegar, may cause more damage than good. Skin experts don't recommend using them.
How to Prevent Hyperpigmentation
Limiting sun exposure is the best way to reduce pigmentation issues. Protect the skin from UV radiation by using sunscreen with broad-spectrum ingredients, such as zinc oxide and titanium dioxide, and SPF of at least 30. Wear wide-brimmed hats and protective clothing during peak hours in the summer.
When Should You See a Doctor About Skin Spots?
Hyperpigmentation is not a health concern and doesn't require medical attention. You may want to consult your doctor about effective solutions if you've tried OTC products and haven't noticed an improvement.
However, visit a dermatologist immediately if alongside hyperpigmentation you notice your skin is red, painful, leaking pus, or bleeding.
Conclusion
Hyperpigmentation is a widespread aesthetic issue. It is harmless but can affect people's self-esteem. Though there isn't a cure for dark spots, patients have several options for alleviating the unflattering symptoms.
If you want the quickest and most effective route to even, blemish-free skin, contact our skin professionals at Vibrant Skin Bar. They'll recommend a product or service that best fits your budget and expectations.