Botox is the most effective non-surgical treatment for wrinkles that form due to muscle movement in the upper facial area. It is FDA-approved to treat lines and wrinkles on the forehead, between the brows (glabellar lines), and around the eyes (crow's feet).
This article explains how Botox for crow's feet works and what to expect from the treatment.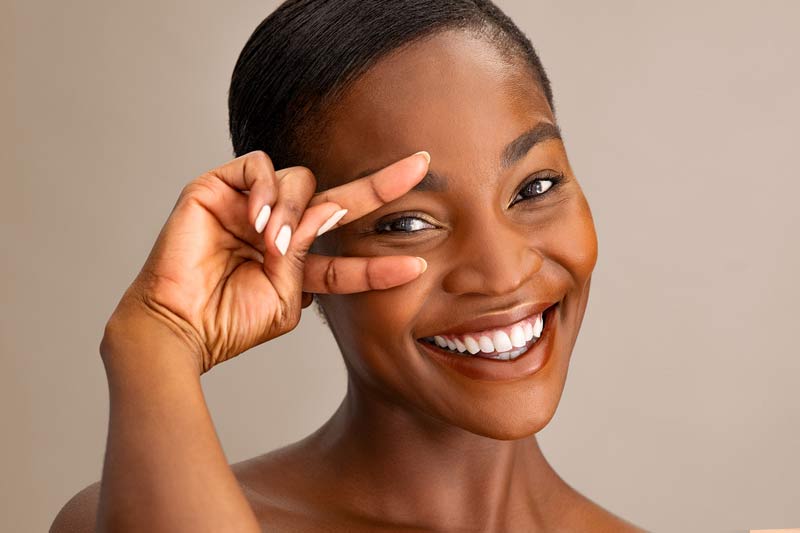 What Are Crow's Feet?
Crow's feet are pronounced lines at the outer corner of the eyes, appearing as early as in our 20s. They are one of the first signs of premature aging skin because the skin around the eyes is the thinnest.
Causes of Wrinkles Around the Eyes
Crow's feet appear due to the activity of dynamic muscles around the eyes, which move when we laugh, smile, squint, etc.
When the skin is young, the wrinkles are visible only when we make these facial expressions. Healthy collagen and elastin enable the skin to bounce back to its original, smooth appearance. However, as we age, the levels of collagen and elastin decline, and wrinkles remain visible even after the muscles stop contracting.
---
Note: Learn more about the differences between collagen and elastin and why it's important to maintain optimal levels of these proteins.
---
Several factors accelerate collagen decline and the formation of crow's feet. They include:
Sun exposure
Smoking
Alcohol
Lack of sleep
Chronic stress
High sugar intake
Inadequate skin care
---
Note: Learn how to establish a skincare routine tailored to your skin type, skin conditions, and desired results. Check out our ultimate skin care guide.
---
Does Botox Really Work for Crow's Feet?
Botox is the patients' top choice for the cosmetic treatment of crow's feet. It is a neurotoxin that blocks nerve signals traveling from the brain to the muscles, telling them to contract. When Botox is injected around the eyes, it paralyzes the muscles and smooths the wrinkles around them.
---
Note: Besides treating crow's feet, Botox can be used to delay their formation. Learn more about preventative Botox treatments.
---
Botox for Crow's Feet: The Procedure
Botox for crow's feet is a quick, in-office procedure.
The medical provider disinfects the patient's skin using rubbing alcohol and numbs the treatment area with an ice pack or a numbing cream. They inject Botox in the orbicularis oculi muscle in the outer eye corners and apply ice again to reduce the risk of bruising and swelling.
The procedure takes up to 30 minutes and requires no downtime.
---
Note: Learn how to prepare for Botox to ensure the best results.
---
Results of Botox for Crow's Feet: Before and After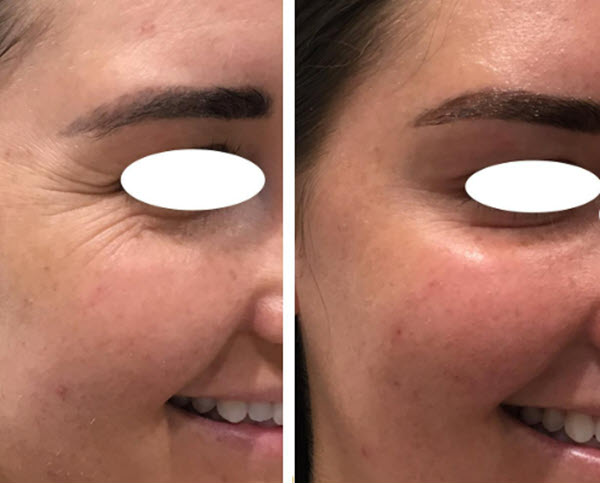 The skin around the eyes after Botox is smooth, tight, and rejuvenated. Crow's feet are visible only when the patient makes an expression that causes them to appear. Even then, they are less pronounced.
How Long Does Botox Last in Crow's Feet?
Botox for crow's feet is a temporary treatment. The neurotoxin is active for about three to six months, after which the patient needs another treatment to maintain the wrinkle-free look.
Benefits of Botox for Crow's Feet
Botox for crow's feet owes its popularity to the following benefits:
The most effective wrinkle-erasing treatment
FDA-approved
Well-tolerated
No downtime
Low risk of severe side effects
Relatively low cost
Risks and Side Effects of Botox for Crow's Feet
The risks of side effects after Botox for crow's feet are low. Patients usually experience mild swelling, bruising, and redness that last for three to seven days.
More severe side effects typically develop when a non-medical or inexperienced injector performs the treatment. They include:
Droopy mouth
Asymmetrical look (potentially due to too much botox on one side)
Infection at the treatment site
Headaches
Tearing eyes
Dry eyes
Vision problems
Muscle weakness
---
Note: Risks and side effects can also be minimized with proper aftercare. Learn more about Botox aftercare, including whether you can bend, exercise, drink alcohol, or wash your face after Botox.
---
Who Is a Good Candidate for Botox for Crow's Feet?
Botox for crow's feet is a good solution for healthy adults with visible lines around the eyes. The medical provider determines the patient's suitability during a consultation before the treatment.
Who Should Not Get Botox for Crow's Feet
Botox is not suitable for people with the following conditions:
Pregnancy or breastfeeding
Neurological diseases
Muscular diseases
Allergy to botulinum toxin
Bleeding issues
How Much Does Botox for Crow's Feet Cost?
At Vibrant Skin Bar, Botox costs $12.5 per unit.
The total price of Botox for crow's feet depends on the severity of the patient's wrinkles and how many Botox units they need.
How Many Units of Botox Do You Need for Crow's Feet?
The FDA-recommended dose is 20 units or 10 units per side. Medical providers usually inject 5-12 units per side (eye corner) or 10-24 units in total. The number of Botox units for crow's feet varies from patient to patient. People who come in for their first treatment may receive fewer units initially to ensure natural results and reduce the risk of side effects.
---
Note: Find out how many units of Botox are typically used for other Botox treatment areas.
---
Conclusion
No cosmetic procedure is as effective for crow's feet as Botox. It ranks high on the popularity scale of beauty treatments because it eliminates wrinkles quickly, safely, and without any downtime.
If you're interested in getting Botox in the Phoenix area, contact our licensed medical professionals – they will turn your dream of a youthful, wrinkle-free face into reality.
If you're hesitant to try Botox for crow's feet, discover Botox alternatives.