Aging is a process that starts from birth, but we associate it with wrinkles and other unflattering changes on our skin. Genetics decide when our cells slow down their processes and make aging visible.
However, exterior factors (environment and lifestyle choices) may cause our skin to show signs of aging earlier than what our genes dictate.
This article identifies the telltale signs that our skin is starting to age.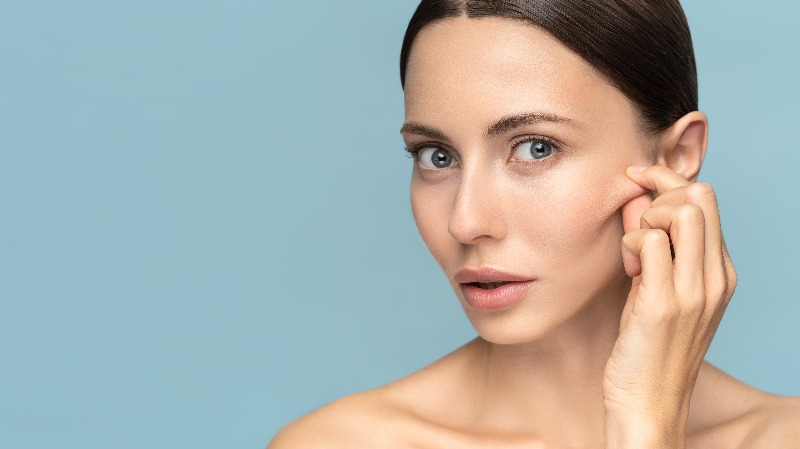 When Does Your Skin Start to Age?
Usually, the first fine lines appear in the twenties. The loss of face elasticity starts in the thirties. Our face becomes dry and more pronounced wrinkles appear in our forties. These are some general timelines for different stages of the aging process, though aging signs appear differently for everyone.
At the cellular level, we start to age around the age of 25. If we factor in external influences, such as sun exposure, smoking, sugar intake, and messy sleep, we may develop aging signs much earlier than we're meant to.
How Does Aging Affect the Skin?
The slower cell turnover that happens around the age of 25 means that our body starts taking longer to shed dead cells on the surface of the skin, and to make new cells.
This is also the time when our body slows down the production of collagen, elastin, and hyaluronic acid—substances that keep our skin firm, elastic, and hydrated.
Changes that bring about aging signs happen in all layers of the skin: epidermal, dermal, and subcutaneous. The effects are the following:
The skin loses its glow and becomes dull due to slower cell turnover, slower production of natural oils, lower production of estrogen.
The skin loses firmness and elasticity due to loss of collagen and elastin.
The skin becomes dry due to the slower production of hyaluronic acid and less collagen. Lower estrogen levels, especially in menopause, cause the skin to lose moisture.
The skin becomes more easily bruised because it loses fatty layers that protect the skin from injury.
The skin becomes thinner, more transparent, and more susceptible to premature skin aging because of inner skin layers thinning out with age.
The skin becomes loose, and the face appears bony and skeletal because of the loss of fat in the inner skin layers.
The skin develops acne and lesions because of hormonal changes.
Lower antioxidants levels make it difficult for our body to neutralize free radicals—the harmful compounds released through sun exposure, pollution, smoking, alcohol, unhealthy diet, and other environmental and lifestyle factors. Free radicals break down our collagen, elastin, and hyaluronic acid, causing premature skin aging.
Signs of Aging Skin
Some of the most common signs of aging skin are:
1. Fine lines and wrinkles
Fine lines or "motor wrinkles" appear in mid-to-late 20s or early 30s. They first appear on the forehead and in the corners of the eyes. Extreme sun exposure and smoking can cause fine lines to appear much earlier. More pronounced wrinkles on the forehead, around the eyes, and above the lips appear in the 30s and 40s as our collagen and elastin degrade more. There are many things that can postpone premature aging, such as regular use of sunscreen and moisturizers, antioxidants-rich diet, quitting smoking, and 7-8 hours of uninterrupted sleep every night.
2. Loss of skin radiance (luminosity, glow)
When collagen levels decrease, our skin loses its ability to moisturize itself and becomes tired and less radiant. The slower cell turnover time also contributes to a dull-looking skin. This becomes more apparent in our 30s. One way to combat dry skin is to exfoliate regularly and use rejuvenation skin care products that hydrate and moisturize the skin.
3. Loss of volume
Lower hormone production, especially estrogen, contributes to lower levels of fat cells which results in the loss of face volume. Youthful plump cheeks become flat, and the area under our eyes becomes hollow. Loss of face volume leads to sagging skin, neck laxity (or "turkey neck"), and the appearance of our face drooping. These changes usually start happening in our 40s, unless lifestyle and environmental factors accelerate the process. Dermal fillers are popular treatments that bring back facial volume and help treats signs of aging.
4. Loss of elasticity
As collagen and elastin degrade, our skin loses elasticity. This usually starts happening in our 30s or 40s, but sun exposure, smoking, and repetitive facial movements can greatly speed up the process. Minimizing these factors and using cosmetic products with the right combination of ingredients (e.g., hyaluronic acid) can postpone the loss of skin elasticity.
5. Hyperpigmentation (sunspots, melasma)
Hyperpigmentation is when patches of skin become darker than the rest of the skin. A common form of hyperpigmentation are sunspots or age spots that appear when the skin is damaged by too much sun exposure. You may notice sunspots as early as in your 20s if you've overexposed your skin to UV rays. Melasma are bigger patches of darker skin, and they usually appear because of hormonal changes. Chemical peels are a good option for treating age spots.
Conclusion
As young as we may feel, we can't avoid the changes on our skin that remind us of aging. The process happens earlier than we might want. Fortunately, for every aging sign on our skin there is a solution that minimizes it or postpones its appearance.
Unless we start taking care of our skin and adopt a healthy lifestyle on time, we may end up looking much older than we are. We recommend learning more about how you can rejuvenate aging skin in our article and whether preventative Botox can prevent wrinkles.