Our skin is our first line of defense against harmful environmental factors, but it's not invincible. The buildup of dirt, dead cells, and pollutants in the skin, combined with the harmful effects of sun exposure cause the first aging signs to appear as early as our 20s.
Fortunately, there is a solution. This article explains how chemical peels work to transform sun-damaged skin and leave you with a rejuvenated complexion.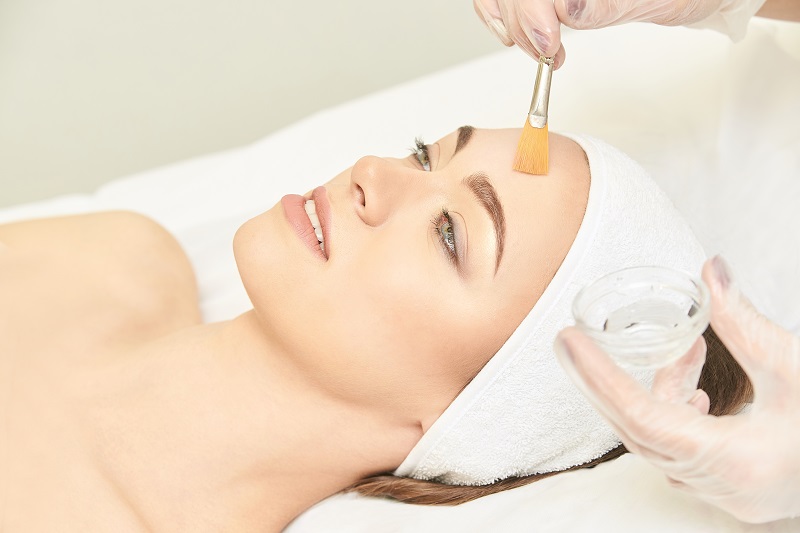 What Is a Chemical Peel?
A chemical peel is a skin resurfacing treatment for the face, neck, and hands. The treatment involves the application of a chemical solution to the treated area, causing controlled damage to the skin. The damaged skin gradually peels off and is replaced by new, smoother, brighter skin.
Types of Chemical Peels
Chemical peel types differ based on the chemical solution used, how deeply it penetrates the skin, and what conditions it treats. Your chosen medical provider will help you choose a chemical peel for your specific skin issue and goals.
1. Light Chemical Peel
Light chemical peels typically use gentle exfoliating agents like alpha and beta hydroxy acids that penetrate the skin's top layer. They treat:
Skin discoloration
Uneven skin texture
Dryness
Fine wrinkles
Acne
For full results with this type of chemical peel, patients usually need a series of treatments. There is little to no downtime after light peels.
2. Medium Chemical Peel
Medium chemical peels use trichloroacetic acid, glycolic acid, and Jessner's solution that penetrate top and middle skin layers. They are effective for:
Dead skin cell removal
Fine lines and wrinkles
Age spots
Skin discoloration
Acne scars
Patients need downtime after medium chemical peels and usually recover within one week.
---
Note: Find out what is the best chemical peel for acne scars.
---
3. Deep Chemical Peel
Deep chemical peels use trichloroacetic or carbolic acid (phenol) that deeply penetrates the middle skin layers. They are effective for:
Dead skin cell removal
Deeper wrinkles
Age spots
Skin discoloration
Scars
Precancerous growths (actinic keratosis)
The patient is given a sedative, local anesthetic, or in rare cases, general anesthesia. Deep chemical peels provide the most dramatic results with only one treatment, but they also require the longest recovery and two months of pre-treatment preparation.
---
Note: If you want to explore other options for dark spots as well, check out our article and find out how to remove age spots and what might work best for your skin type.
---
Who Is a Good Candidate for Chemical Peel?
The best candidates for chemical peels are people with fair skin because people with darker pigmentation often experience a condition called post-inflammatory hyperpigmentation. That's when the newly grown skin differs in color from the rest of the patient's skin.
Chemical peels are best used in people who wish to treat aging signs caused by too much sun exposure.
What Conditions Can Chemical Peel Treat?
Chemical solutions used in chemical peels stimulate the body's natural healing processes to grow new, rejuvenated skin and treat numerous skin issues. Chemical peels eliminate or improve:
Uneven skin texture
Skin discoloration
Dull complexion
Age spots
Fine wrinkles
Thinning skin
Some types of acne
Actinic keratosis
How to Prepare for a Chemical Peel?
Preparing for a chemical peel is an important step that determines the treatment's safety and effectiveness. The preparation steps and duration are individual and depend on the patient's skin issue and type of chemical peel.
Your medical provider will instruct you on what to do for the best results. Preparation may involve some of the following:
Taking antiviral medication for one week before the treatment
Avoid using a retinoid cream for 3-7 days prior to the treatment
Using hydroquinone for several days before the treatment
Avoiding the sun, tanning beds, and saunas for several weeks
Avoiding certain cosmetic treatments (hair removal, facial masks, laser resurfacing, etc.)
What to Expect During a Chemical Peel Treatment?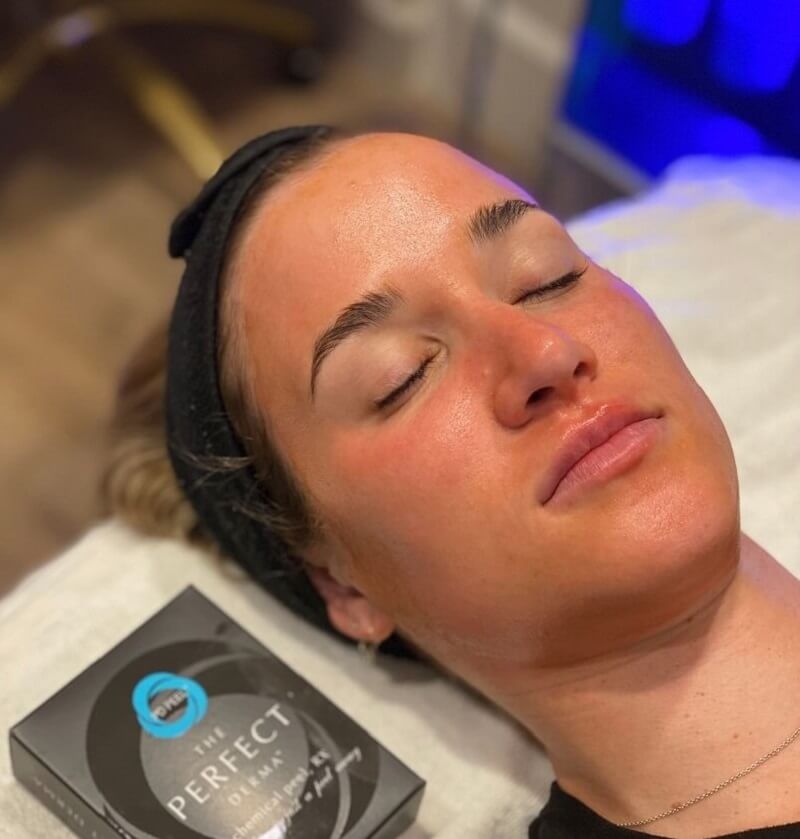 A chemical peel treatment starts with a consultation with your chosen medical provider, who determines the optimal type of peel depending on your skin issue, desired goals, and budget.
Deep chemical peels require sedation and local or general anesthesia before the treatment.
The medical provider cleans your face with rubbing alcohol and dabs a chemical solution onto the treatment area with gauze, a cotton ball, brush, or special applicator.
You may feel stinging and burning during the treatment. The solution is left on the skin for several minutes. The medical provider then washes and neutralizes the chemicals with water and a saline compress.
The treatment lasts between 30 and 90 minutes.
The Results of Chemical Peel
Chemical peels improve the skin's tone and texture. After the top skin layer peels off, the newly grown skin is brighter and smoother. The treatment reduces the appearance of wrinkles around the mouth and eyes, scars, age spots, and other skin imperfections.
Light chemical peels provide subtle results and require repeated treatments. Medium chemical peels leave more visible results but also require a series of treatments. Deep chemical peels involve one treatment and provide dramatic results that may last for years.
Chemical Peel Risks and Side Effects
Some health conditions increase the chance of unwanted results after chemical peels. They include:
Pregnancy
Taking oral birth control
Taking certain acne medication
A history of scarring
A history of severe outbreaks of cold sores
A history of skin discoloration
Most of these risks can be reduced with the right pre-treatment regimen as instructed by your chosen medical provider.
Depending on the type of chemical peel, you may experience the following side effects:
Redness
Swelling
Stinging
Skin flaking
Skin irritation
Peeling
Blisters and crusting
Dryness
Discomfort
Light chemical peels cause minimal side effects, while redness from deep chemical peels may last for three months.
More severe risks of chemical peel treatments include:
Scarring
Infection
Reactivation of cold sores
Hyperpigmentation
Heart, kidney, or liver damage from deep chemical peels
Chemical Peel Aftercare
Aftercare tips provided by your medical provider will help you speed up the recovery after a chemical peel. Different chemical peel types require different aftercare regimes. The following general tips apply to all chemical peels:
Avoid the sun
Apply cold compresses
Take pain relief medication (e.g., ibuprofen)
Use a broad-spectrum sunscreen with SPF 30+
Apply ointment prescribed by your medical provider
Avoid picking, rubbing, and scratching your skin
---
Note: For more chemical peel aftercare tips read our article to find out the 11 universal dos and don'ts.
---
Chemical Peel Price
The American Society of Plastic Surgeons estimates the average chemical peel cost to be $673.
Vibrant Skin Bar skin experts offer light and medium chemical peels. Light peels cost $99 per session, and medium peels cost $125 per session. Deep peels may cost up to a few thousand dollars because they require anesthesia and carry more risk.
Conclusion
Chemical peels rank highly among cosmetic treatments. Patients love them, especially the less invasive light and medium peels, because they provide long-lasting results with low risk and without needles.
To enjoy a youthful, glowing skin and a smooth complexion once again, consider having a chemical peel. However, make sure you choose a licensed medical professional to ensure you get the desired results.
If you want to want to find out how effective are chemical peels compared to other cosmetic treatments, read our articles chemical peel vs. laser and microneedling vs. chemical peel and find out how to choose the treatment that best suits your needs.