Each person's unique combination of genes and lifestyle affects how they age. Some people are lucky to have smooth skin without much effort, even in their 40s and 50s, while others develop visible signs of aging earlier than expected.
Signs of aging also have different levels of severity and can be treated in different ways. For example, the puffy under-eye area can be treated with skin care products, but saggy skin and prominent marionette lines require more invasive treatments.
Dermal fillers are an excellent solution for marionette lines. Read on to learn what causes marionette lines, how dermal fillers help, and what benefits to expect from the procedure.
What Are Marionette Lines?
Marionette lines are deep folds in the skin that run from the corners of the mouth to below the chin. They make the lower part of the face look like a marionette doll's mouth and contribute to a sad or tired look.
Fun trivia: Marionette lines got their name due to their resemblance to a string puppet (marionette).
What Causes Them
Marionette lines form when we lose collagen and elastin in the skin due to aging. Without collagen and elastin to resist the pull of gravity, the skin becomes saggy along the jawline and wrinkled around the mouth and chin.
Genetics plays a great part in how our skin resists signs of aging. Frequent sun exposure and an unhealthy lifestyle act against maintaining a youthful look.
Who Is a Good Candidate Dermal Fillers for Marionette Lines?
Dermal fillers are a good solution for people with pronounced marionette lines as they reduce them and tighten a sagging jawline.
Patients need to be healthy and preferably within their optimal weight to receive a filler.
The medical provider evaluates the patient's medical condition before the filler treatment to rule out any potential risks to the procedure. Patients that suffer from severe allergies or have bleeding issues should avoid the treatment.
Marionette Lines Filler Treatment
The medical provider first cleans your skin with rubbing alcohol. They mark the injection site with a white marker and inject a dermal filler along the marionette line. After the injection, the medical provider gently massages the treated area to evenly distribute the filler and prevent the formation of lumps. The treatment typically lasts under 30 minutes.
Depending on the filler brand, the active ingredients of fillers are hyaluronic acid, poly-L-lactic acid, or calcium hydroxylapatite. HA-based fillers reduce wrinkles by instantly restoring volume in the skin, while other fillers stimulate collagen production in the target area and gradually smooth out the skin.
All fillers dissolve gradually. The marionette lines appear again after 6-18 months unless you maintain the results with regular filler treatments.
The Benefits of Marionette Lines Filler Treatment
Dermal filler treatment is a popular solution for marionette lines because it provides a range of benefits.
Benefits include:
Minimal invasiveness of the treatment
Smoothing of marionette lines
Adding volume in the lower face area
Rejuvenation of skin the lower face area
Rebuilding the jawline's natural curve
Restoring youthful features
Immediate, natural-looking results
Is It Painful?
Patients typically don't feel pain during the treatment. Most filler injections include lidocaine, a numbing agent, or the medical provider applies a numbing cream on the target area. You may feel slight pricking during the injection process.
The Results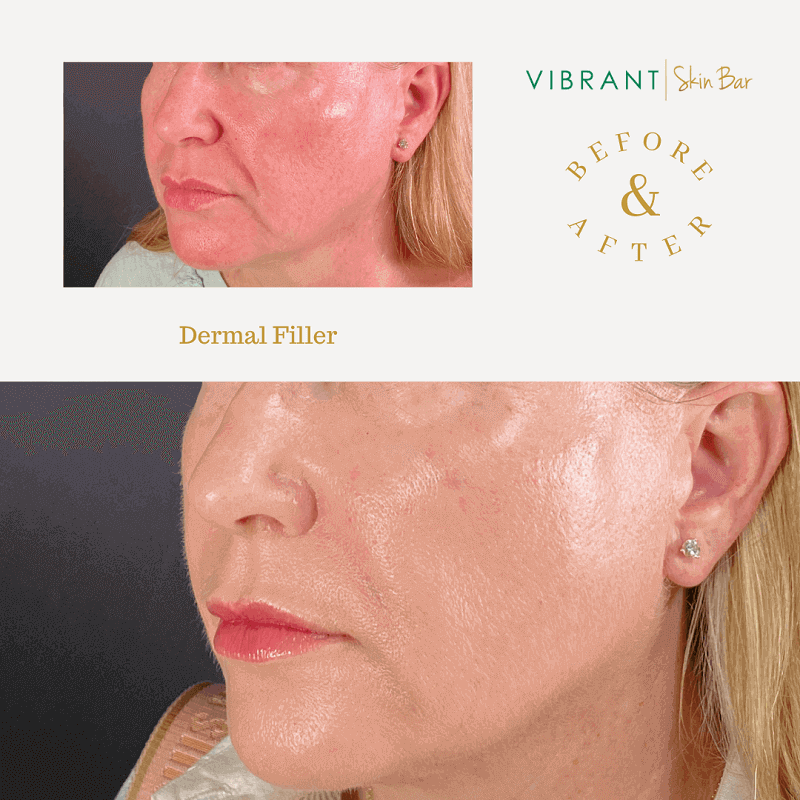 All fillers effectively reduce marionette lines, restore volume in the lower part of the face, tighten jowls, and rejuvenate skin in the treated area.
Possible Risks and Complications
Dermal fillers for marionette lines are considered safe for healthy individuals. If you are pregnant, breastfeeding, or suffer from allergies or bleeding issues, you may not be eligible for the treatment.
Patients usually experience mild side effects after the treatment.
Common side effects include:
Bruising
Swelling
Redness
Tenderness
Swelling and redness subside within several days while bruising gradually disappears within two weeks.
More severe but very rare side effects include:
Allergies
Infection
Asymmetrical features
Scarring
To minimize the chance of severe side effects, choose an experienced, reputable dermal filler provider.
Aftercare
Follow these aftercare tips to speed up the recovery process and reduce bruising, swelling, and other common side effects:
Apply cold compresses to ease swelling and pain
Don't rub or pick on the treated area
Avoid alcohol for 24 hours to minimize bruising
Avoid strenuous physical activity for 24-48 hours
Avoid sun and heat exposure
Sleep on your back for a few days
How Much Does It Cost?
At Vibrant Skin Bar, dermal fillers for marionette lines cost from $549 per syringe of Juvéderm to $900 per vial of Sculptra. The final cost depends on the filler type and amount required for the treatment.
Marionette Lines Filler Alternatives
Treating marionette lines with dermal fillers is the best option, but not the only one. Botox is a good alternative.
Botox relaxes the muscles that cause the formation of marionette lines. Hence, using Botox in conjunction with dermal fillers may help you get the best possible results.
Conclusion
Marionette lines can make you look sad, angry, and older. If you are considering making a positive change to your appearance with dermal fillers, rest assured that the treatment is minimally invasive, painless, and produces natural-looking effects. The benefits this treatment provides prompt most first-time patients to continue enjoying the results.