Juvéderm is a broad-spectrum dermal filler brand that offers six unique, long-lasting formulas to improve the signs of premature skin aging.
Each type targets specific facial areas, including the lips, cheeks, chin, jawline, and undereye area. These non-invasive treatments can restore volume, correct asymmetries, and smooth out fine lines and static wrinkles.
This article delves into Juvéderm filler types and explains what to expect from the procedure, its duration, cost, and side effects.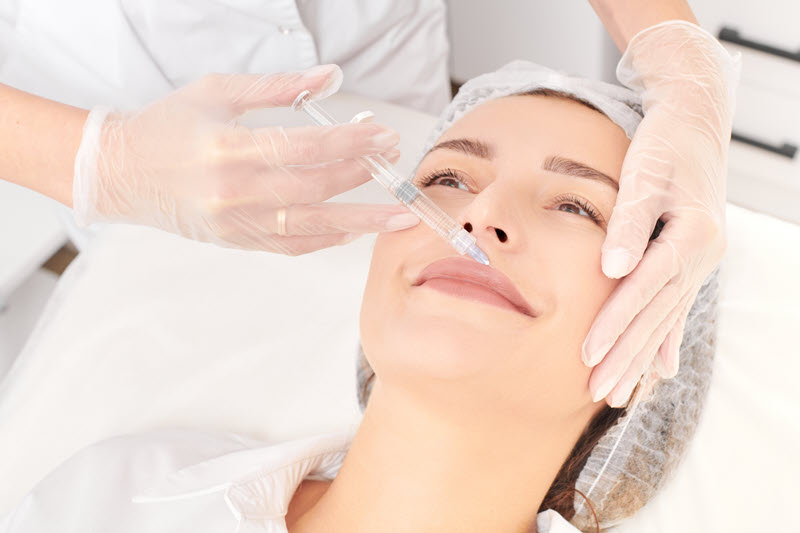 What Is Juvéderm Filler?
Juvéderm dermal fillers are injectables that are administered in a non-surgical cosmetic procedure. The fillers augment, reshape, and restructure different facial areas, including the lips, cheek and chin area, jawline, and undereye hollows.
Juvéderm fillers effectively remove or minimize fine lines, moderate to severe wrinkles and folds, such as nasolabial folds and perioral lines.
The injectables contain a modified form of hyaluronic acid, a naturally occurring substance that has an exceptional ability to attract and retain water. A Juvéderm treatment provides natural-looking results and gives patients a well-hydrated, plump, and rejuvenated look.
---
Note: Read about hyaluronic acid lip fillers to learn about HA-based filler procedures, results, and aftercare.
---
Juvéderm Filler Types
The Juvéderm product line offers a versatile collection of injectables that vary in consistency, intended use, and outcome. Each type has a uniquely designed formulation that addresses a specific aesthetic concern.
Juvéderm Ultra XC
This filler's smooth, thin consistency is ideal for reducing small wrinkles and minor creases. It provides a subtle, plumping effect to thin lips, adds lip definition, and smooths out fine lines around the mouth.
It contains a local anesthetic called lidocaine to reduce discomfort at the injection site. Its effects last up to a year with optimal treatment.
Juvéderm Ultra Plus XC
Ultra Plus is the preferred lip enhancement solution due to its thicker, more stable consistency. It targets moderate to severe facial wrinkles and folds, corrects mid-face volume loss, and restores volume to thin lips. It is also used to reduce nasolabial folds, also known as "smile lines".
Its formula contains lidocaine to reduce the sensation of pain. The results are visible for up to one year with optimal care. Juvéderm Ultra Plus may last longer than Juvéderm Ultra due to its thicker consistency.
---
Note: Find out more about the Juvéderm lip filler procedure and lip filler aftercare.
---
Juvéderm Voluma
Voluma has an exceptional lifting capacity due to its thick, cross-linked HA formulation achieved through the Vycross technology. It improves the chin profile by adding volume to increase or reshape the contours of the chin.
As a cheek filler, it produces prominent volumizing effects and corrects age-related midface volume loss. Voluma lifts, contours, and augments the cheek area to temporarily reverse the signs of aging.
Some medical providers use Voluma in off-label procedures to address deep nasolabial folds, marionette lines, and a poorly defined jawline.
The injection contains lidocaine to minimize the discomfort. Voluma has one of the most durable formulas and can last up to 2 years with optimal aftercare.
---
Note: Discover the best cheek fillers and learn what to do if you get too much cheek filler.
---
Juvéderm Volbella XC
Volbella is a powerful lip enhancer that utilizes the Vycross technology to achieve soft, subtle, and long-lasting results. Its innovative formulation minimizes swelling, enhances smoothness, and extends filler duration. Juvéderm Volbella plumps thin lips and corrects perioral lines - the vertical mouth lines created by repetitive pursing movements.
Volbella is the only FDA-approved undereye filler in the Juvéderm camp. Its soft consistency rejuvenates the undereye area, filling up sunken hollows that create a tired look.
The addition of lidocaine numbs the injection site to make the procedure more comfortable. Results from lip augmentation and undereye treatment last up to a year with optimal care.
---
Note: Read about the best fillers for the undereye area before making your final decision.
---
Juvéderm Vollure XC
Vollure fills in moderate to severe facial wrinkles and folds to temporarily restore volume loss. Its smooth, medium-consistency formulation effectively reduces nasolabial folds and marionette lines that run vertically from mouth corners to the chin.
Vollure's off-label application relies on cutting-edge Vycross technology to achieve bold volume and soft, plump lips.
Lidocaine provides quick pain relief to numb the injection site. Juvéderm Vollure can last up to 18 months with regular follow-up sessions.
Juvéderm Volux XC
Volux has a dense consistency formulation, which makes it the ideal type of Juvéderm filler for jawline definition enhancements. Volux contours the chin and tightens the jowls. It firms up and reshapes the lower face to extend the jawline and correct any facial asymmetries.
Juvéderm Volux XC contains lidocaine. The results last up to a year with optimal treatment.
---
Note: Read about alternative jawline contouring solutions and check out the best jawline fillers.
---
How Do Juvéderm Fillers Work?
Juvéderm filler administrators inject the clear, smooth gel into the soft-tissue dermis to reduce wrinkles, folds, and creases or augment different facial features. These non-surgical cosmetic enhancements provide temporary yet natural-looking results.
Each Juvéderm product has a unique concentration of hyaluronic acid that binds water molecules to retain the skin's natural elasticity. Medical providers make recommendations on which Juvéderm filler to use based on the products' thickness, technology, and the patient's desired outcome.
The filler gradually breaks down, and the effects slowly wear off. You can prolong filler longevity with regular touch-up treatments.
---
Note: Learn to distinguish between two popular anti-aging injectables - Botox and Juvéderm.
---
Is Juvéderm Filler FDA Approved?
The Juvéderm filler brand is FDA-approved for adults aged 22 and older. It has an established safety profile, and numerous clinical studies worldwide confirm its effectiveness.
The U.S. FDA approved Juvéderm products and treatment areas in the following order:
| | | |
| --- | --- | --- |
| Filler Name | Year of Approval | Approved Treatment Area |
| Juvéderm Allergan, Inc. | 2006 | Treatment for facial wrinkles and folds. |
| Juvéderm XC | 2010 | Facial wrinkles and folds, lidocaine included. |
| Juvéderm Voluma XC | 2013 | Restoring age-related volume loss in cheek area. |
| Juvéderm Ultra XC | 2015 | Lip augmentation treatment. |
| Juvéderm Volbella XC | 2016 | For lips and perioral rhytids. |
| Juvéderm Vollure XC | 2017 | Correction of facial wrinkles and folds. |
| Juvéderm Voluma XC | 2019 | Mid-face injection treatment with cannula. |
| Juvéderm Volbella XC | 2022 | Undereye hollows treatment. |
| Juvéderm Volux XC | 2022 | Treatment for jawline definition. |
The FDA warns against non-approved Juvéderm products Ultra 2, 3, and 4, needle-free devices, such as the hyaluron pen, and fillers sold directly to the public.
The U.S. Food and Drugs Administration strongly recommends choosing a licensed filler provider experienced in dermatology or plastic surgery and trained for dermal injectables.
How to Prepare for Juvéderm Filler Procedure?
A Juvéderm filler treatment is a minimally invasive, walk-in procedure that doesn't require much preparation. Nonetheless, you can take several precautionary steps to prevent bruising and ensure optimal results.
Refrain from the following activities several days up to a week before the treatment:
Smoking
Drinking alcohol
Blood-thinning medication (e.g., aspirin)
Non-steroidal anti-inflammatory drugs, NSAIDs (e.g., ibuprofen)
Taking vitamin E
Using fish oil
Discuss your aesthetic goals to set your expectations and inform your medical provider about any existing allergies, sensitivities, prescribed medication, or therapy.
What Can You Expect During a Juvéderm Filler Procedure?
The filler specialist first disinfects the skin, then marks the injection sites. After inserting the soft, malleable gel-like substance, the provider gently massages the treated area to prevent lumps and ensure even distribution.
A Juvéderm filler procedure takes 15 minutes to an hour, depending on the area treated. Most patients achieve the desired look with one or two syringes per treatment. The number of administered syringes depends on their age and cosmetic goals.
Most Juvéderm formulation contains a local anesthetic, lidocaine, to minimize the discomfort. The provider can also apply some topical numbing cream if the patient's pain threshold is low.
Juvéderm Filler Results
The results are immediate but become fully visible once the bruising and swelling subside.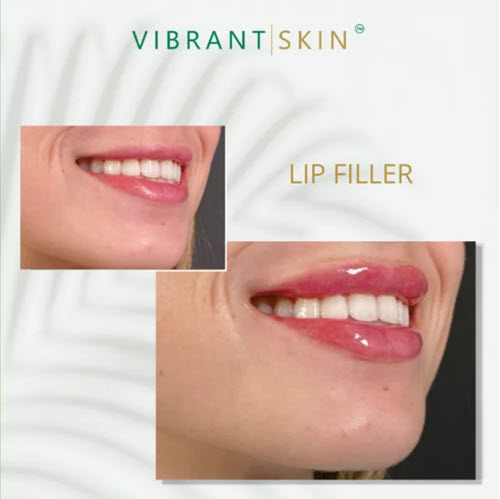 How Long Do Juvéderm Fillers Last?
Juvéderm Ultra, Ultra Plus, Volbella, and Volux have a 12-month lifespan with optimal aftercare. The most enduring fillers in the Juvéderm camp are Vollure (up to 18 months) and Voluma (up to 2 years).
The results fade slowly as the body breaks down and absorbs the substance. You also have the option to dissolve the filler with hyaluronidase injections if you are not happy with the look.
---
Note: Find out how long Juvéderm lasts in lips and how to dissolve lip filler if you're not satisfied with your results.
---
Juvéderm Filler Aftercare
Follow these tips 24 hours after the treatment to prevent undesired outcomes, speed up recovery, and secure long-lasting results.
Refrain from strenuous exercise
Avoid alcohol consumption
Reduce direct sun exposure
Do not apply makeup or harsh cosmetics
Refrain from touching or pressing the treated area
Avoid blood-thinning medication (e.g., aspirin, ibuprofen)
Apply ice or cold packs
Use anti-bruising supplements and products
Vibrant Skin Bar recommends Alastin Skincare Post-Injection Serum to alleviate post-procedure swelling and bruising and to boost collagen and elastin production.
---
Note: For more post-procedure best practices, read our in-depth guide to dermal filler aftercare.
---
Juvéderm Filler Side Effects
Recovery time is minimal, allowing you to return to your regular activities by the end of the day.
Most filler side effects wear off within two to four weeks. They include:
Bruising
Swelling
Itching
Redness
Tenderness
Soreness
Long-term side effects are rare. Seek professional medical help if any of the following occurs:
Scarring
Numbness
Tissue death
Allergic reaction
Infections
Vision problems
---
Note: Find out what happens if fillers go wrong and what to do about it.
---
Juvéderm Filler Price
Vibrant Skin Bar offers all the Juvéderm filler injectables mentioned in this article at the following prices:
Conclusion
Juvéderm fillers can be a powerful anti-aging ally, helping us to restore lost volume, reduce wrinkles, and regain a youthful, rejuvenated appearance. Their safety, effectiveness, and consistent results have given them a strong worldwide reputation among dermal fillers.
Schedule an appointment at Vibrant Skin Bar for Juvéderm and other dermal fillers in Phoenix.