Advancements in the cosmetics industry have brought us closer to the centuries-old dream of eternal youth. People can choose between many treatments to address their aesthetic concerns based on the treatment's technology, effects, the duration of results, and risk factors.
In this article we'll focus on two of the most popular rejuvenation treatments – microneedling and chemical peels – and explain how they differ, so you can choose the treatment that best suits your needs.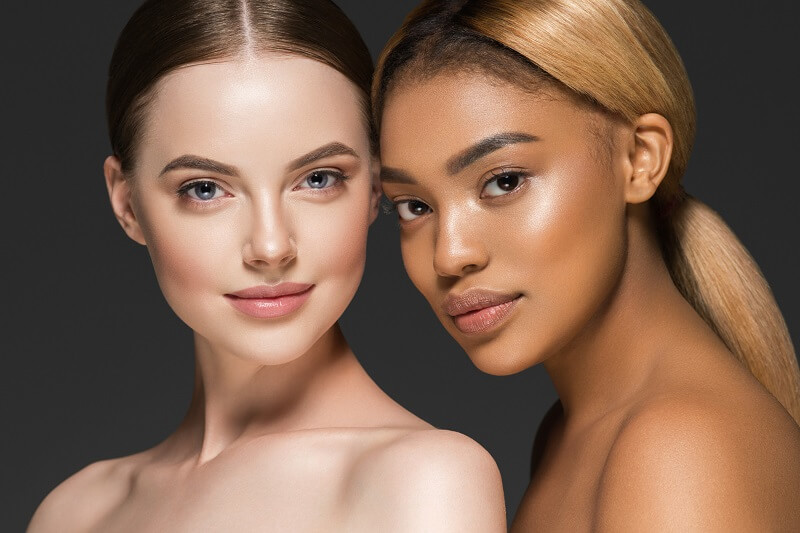 What Is Microneedling and How Does It Work?
Microneedling is an anti-aging cosmetic treatment that involves using an FDA-approved device with short needles to create tiny wounds on the skin's surface. This controlled injury stimulates the body's healing mechanisms, producing more collagen and elastin, and rebuilding the skin.
Benefits
Collagen and elastin are essential in keeping the skin firm and even. Increased production of the skin's building blocks results in a range of benefits:
Reduced age spots, dark spots, freckles, and blemishes
Fewer wrinkles and fine lines
Tighter, firmer skin
Even and bright skin tone
Reduced acne scars and burn scars
Reduced hair loss
Improved wound healing
Reduced stretch marks
---
Note: Learn more how microneedling helps reduce stretch marks.
---
Procedure
Microneedling is a safe procedure when licensed medical professionals perform it in a medical setting – a clinic or med spa.
First, the medical provider applies a topical anesthetic on the patient's skin. When the cream takes effect, the provider moves a hand-held microneedling device across the treatment area, creating tiny, superficial wounds to induce collagen synthesis in the skin's deeper layers. The process lasts about 20 minutes.
Finally, the provider applies a serum with anti-aging ingredients, such as hyaluronic acid and growth factors, to enhance the rejuvenating effects of the treatment.
---
Note: Read more on how to rejuvenate skin, and what are the best skin care products for rejuvenation.
---
Recovery
Microneedling causes mild side effects such as redness and swelling, which typically disappear after two or three days. The procedure requires minimal or no downtime.
Cost
Our medical experts at the Vibrant Skin Bar offer microneedling at $300 per session. The total cost of the treatment depends on the severity of the patient's cosmetic issue and the number of recommended sessions.
What Is a Chemical Peel and How Does It Work?
A chemical peel is a skin resurfacing treatment in which a medical provider applies a chemical solution to the skin's surface layer to remove it, revealing a smoother, rejuvenated complexion. Based on the solution's strength and depth of penetration, chemical peels are divided into light, medium, and deep peels.
Benefits
Like microneedling, chemical peels improve many cosmetic issues and provide the following benefits:
Reduced age spots, dark spots, freckles, and blemishes
Fewer wrinkles and fine lines
Plumper, rehydrated skin
More even skin tone
Reduced acne and acne scars
---
Note: Learn which is the best chemical peel for acne scars.
---
Procedure
During a professional chemical peel, the medical provider first cleans the patient's treatment area with rubbing alcohol. In the case of a deep peel, the patient receives sedation and local or general anesthesia.
The provider applies the chemical solution and leaves it on the patient's skin for several minutes. Patients usually feel a stinging sensation. Finally, the provider removes the solution with water and a saline compress.
Recovery
Recovery time after a chemical peel depends on the type of peel. There is no downtime after light peels. Medium peels cause redness, swelling, and skin peeling and require a week or two of downtime. Recovery after a deep peel can take months, during which patients take antiviral medication and wear bandages on the treated area.
Cost
The medical experts at the Vibrant Skin Bar provide light and medium chemical peels. Light peels cost $99 per session, and medium peels cost $125 per session. Most patients need several sessions to achieve the desired results.
Pros and Cons of Microneedling
Microneedling addresses various cosmetic issues and requires no downtime, making it a popular option among patients. However, it isn't suitable for everyone. Consult this table of microneedling pros and cons to see whether the procedure is right for you.
| Microneedling PROS | Microneedling CONS |
| --- | --- |
| Long-lasting results. User experience shows that the skin tightening effects of microneedling can last for years. | Gradual results. It takes time for collagen to rebuild the skin and improve cosmetic concerns. |
| Addresses sagging skin. Unlike chemical peels, microneedling rebuilds connective tissue and firms the skin. | Cost. Microneedling is more expensive per session than light and medium peels. |
| Suitable for all skin colors. Unlike chemical peels, microneedling is safe for people with darker skin tones. | Not suitable for everyone. People with bacterial infections, skin conditions, bleeding disorders, those taking acne medication with isotretinoin, and pregnant women are not suitable candidates for microneedling. |
Pros and Cons of Chemical Peels
Like microneedling, chemical peels provide a range of benefits but may not be suitable for everyone.
| Chemical Peel PROS | Chemical Peel CONS |
| --- | --- |
| Deeply exfoliates the skin. Chemical peels thoroughly cleanse the skin, removing dead skin cells, dirt, and toxins. | Recommended for people with light skin tone. Chemicals in peels can cause discoloration in people with darker skin tones. |
| No needles used. | Longer recovery period. Medium peels require a week or two of downtime, while recovery from deep peels can take several months. |
| Impressive results with one treatment. After they recover from a deep peel, patients report results that last up to 10 years. | Not suitable for everyone. Pregnant women, and people with a history of scarring and skin conditions are not good candidates for microneedling. |
Microneedling vs. Chemical Peels: How to Choose?
The best way to achieve your beauty goal is to consult an experienced medical professional who will recommend a cosmetic treatment based on your medical condition and skin concern.
Light and medium chemical peels are a great option for patients with skin concerns such as fine lines and hyperpigmentation caused by sun damage. The treatment also cleanses the skin, unclogs pores, and prevents acne. Regular chemical peel sessions provide patients with an even, rejuvenated complexion.
Microneedling is a popular cosmetic procedure for issues caused by collagen decline, such as sagging skin, wrinkles, hair loss, and stretch marks. Patients typically need several sessions to see the effects, but the results are long lasting.
Conclusion
Microneedling and chemical peels are among the most popular minimally invasive cosmetic procedures today. They treat common aesthetic issues using different technologies, and skin experts recommend one or the other based on the patient's needs and expectations.
If you feel you could use a boost of confidence, visit the Vibe Tribe at Vibrant Skin Bar. They will help you achieve a smoother, brighter complexion – and improve your mood!