Oily skin and most types of acne often go together. When excess sebum mixes with dirt and dead skin cells, it clogs the pores and causes a blackhead or a whitehead. If acne-causing bacteria enter the pore, it leads to the formation of inflammatory acne.
Acne lesions most commonly appear on the face but can also show up on the upper back and chest. A proper skin care routine is one of the ways to regulate sebum production and prevent breakouts.
This article explains which skin care ingredients to look for in products if you have oily, acne-prone skin and recommends 8 products that can help you improve your complexion.
Ingredients That Can Help with Acne-Prone, Oily Skin
Skin experts have found that certain ingredients help prevent oily skin and acne. However, every person's skin is unique and reacts differently to skin care products. The success of the topical treatment usually depends on the severity of acne and overall skin health.
The best way to learn whether a product is helpful is to use it for a certain period and monitor how the skin reacts.
To find a suitable skin care product, look for these ingredients:
Niacinamide – This form of vitamin B3 absorbs excess oils and balances moisture levels in the skin, helping to prevent acne breakouts.
Retinols – A type of retinoid, retinols exfoliate the skin, removing impurities and unclogging the pores. Retinol is often used in products for oily, acne-prone skin. Products with 0.1% retinol can be purchased over the counter, while retinol at 0.3% concentration requires a prescription. Retinol can cause irritation and makes the skin prone to sun damage so sunscreen must be worn when using. Retinaldehyde is a sun-safe OTC alternative that can be used on all skin types and is less irritating.
Salicylic acid – This beta-hydroxy acid (BHA) is a potent chemical exfoliator found in many acne products. It removes dead surface skin cells, dissolves sebum, and deeply cleanses the pores, helping to combat inflammation.
Benzoyl peroxide – Experts recommend this popular antiseptic for inflammatory acne because it kills acne-causing bacteria. It is suitable for oily skin because it also removes excess oil. Benzoyl peroxide should only be used for a short period of time since this ingredient strips the skin of healthy bacteria and may accelerate the aging process. Use caution with clothing and your pillow case since this ingredient can bleach and damage fabrics.
Azelaic acid – This acid is derived from yeast, and dermatologists recommend it for acne-prone skin because of its remarkable antibacterial and anti-inflammatory properties. It is suitable for sensitive skin because it is gentler than salicylic acid and retinols.
Vitamin C – Vitamin C is one of the most potent antioxidants. It protects the skin from environmental pollutants, increases hydration, and minimizes pores, effectively treating oily skin. Its anti-inflammatory properties reduce redness and swelling from acne and can help prevent future breakouts.
Activated charcoal and clay – These ingredients absorb excess oil and dirt, helping to clear acne and improve the complexion without dehydrating the skin. Charcoal and clay are often found in cleansers and facial masks.
Always look at skin care product labels. Make sure that the product is oil-free and non-comedogenic.
Products for Acne-Prone, Oily Skin
Topical skin care takes time to show results, and it can only be effective if performed daily. Daily skin care means applying a set of products every morning and evening. The role of these products is to cleanse, hydrate, and protect the skin.
---
Note: Read our ultimate skin care guide to learn how to treat your skin properly.
---
Cleansers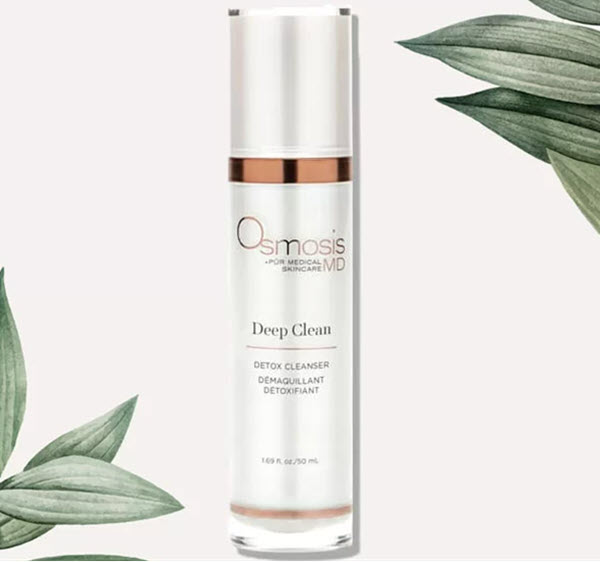 Cleansing is the first step in the morning and evening skin care routine. Cleansers help remove impurities on the skin's surface to allow active ingredients in the products that follow to enter the skin and do their magic.
The Vibrant Skin Bar team recommends two cleansers for oily, acne-prone skin:
Osmosis MD Deep Clean Detox Cleanser deeply cleanses the skin, removing excess sebum without stripping the skin of essential oils. It is gentle and doesn't cause irritation, making it suitable for all skin types.
Purifying Foaming Wash by SkinMedica is specifically designed to help clear acne with 2% salicylic acid. Other ingredients include a combination of soothing botanicals such as tea tree oil, willow, witch hazel, and sage to maintain optimal moisture levels in the skin.
Exfoliators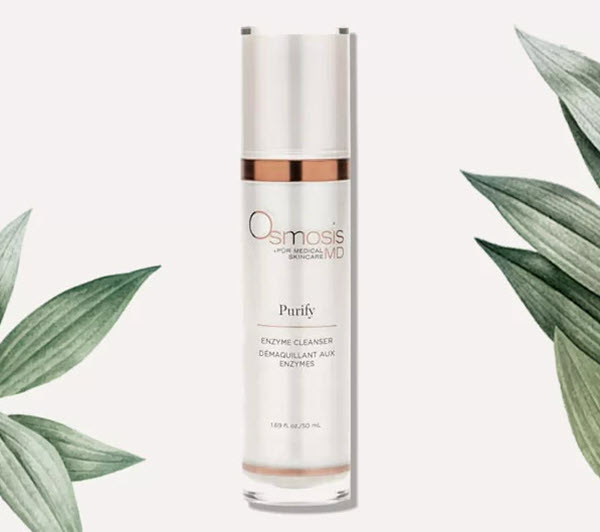 Exfoliators remove the skin's top layer of dead cells, dirt, and excess oil and reveal softer, healthier skin. They are typically used in the evening routine to give the skin time to rest and heal from chemical exfoliation. Skin experts recommend exfoliation up to three times per week for the best results.
Osmosis MD Purify Enzyme Cleanser is a great option for oily, acne-prone skin because citrus enzymes gently get rid of impurities without disrupting the skin's moisture levels. Essential oils in the product ensure a smooth, non-greasy complexion.
Toners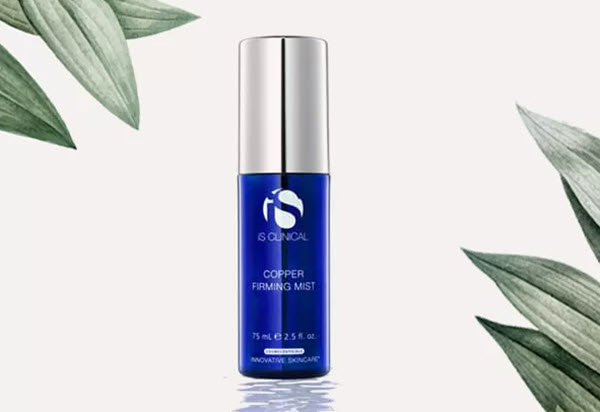 Toning is an optional step in a daily skin care routine. Experts recommend it for people with oily skin to balance moisture, reduce pores, and even tone before applying a moisturizer.
iS Clinical Copper Firming Mist includes copper and botanically sourced PCA that help balance excess oils and improve the skin's firmness. Botanicals and resveratrol provide powerful antioxidant protection and maintain the skin's moisture barrier.
Serums and Moisturizers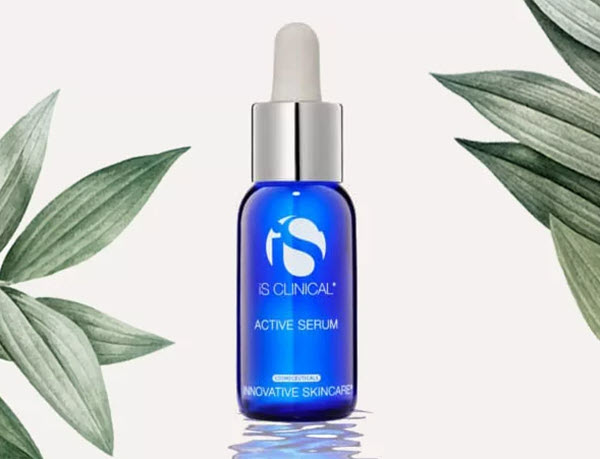 Serums are liquid products that contain high concentrations of active ingredients that target specific skin concerns. Moisturizers are lotions or creams that primarily hydrate the skin but also nourish and protect it from damage by free radicals.
Sometimes, people with oily skin only use a serum and avoid a moisturizer if they feel their skin is well hydrated. However, experts recommend both products. Serum and moisturizer formulations serve different purposes, and both products are needed for a holistic approach to skin care.
If you feel that applying both products feels heavy on your skin, use a serum in the evening and a moisturizer during the day.
Osmosis MD Clarify Blemish Retinal Serum normalizes oil production, reduces inflammation, and helps treat blemishes and cystic acne with retinaldehyde. You can also use it as a spot treatment.
iS Clinical Active Serum is a great solution for acne-prone skin. It gently exfoliates the skin and deeply cleanses the pores while providing powerful hydration and brightening the complexion. Though rich, it has a lightweight texture and doesn't leave a greasy finish.
Facial masks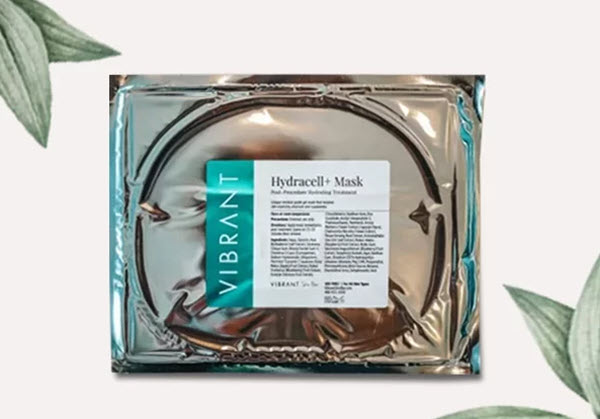 A facial mask is an optional step in skin care. Oily, acne-prone skin can benefit from facial masks with ingredients that absorb excess oil (e.g., charcoal and clay) and anti-inflammatory ingredients.
Vibrant Skin Bar's own Clear Hydracell Mask is a medical-grade mask designed for acne-prone skin. It effectively reduces swelling and redness and restores the skin's moisture levels and suppleness.
Sunscreens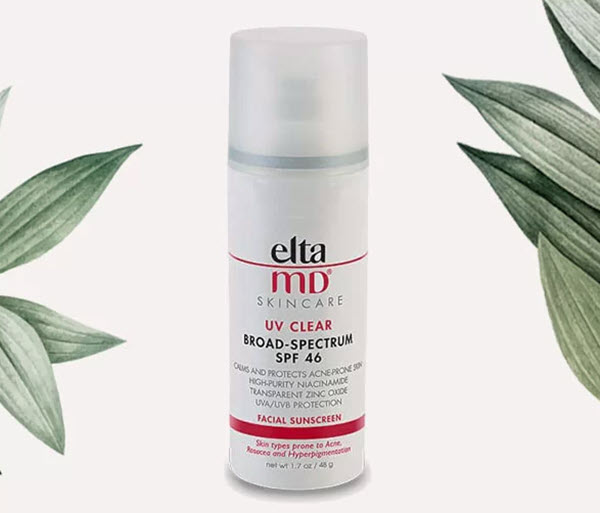 Dermatologists agree that sunscreen is a crucial step in daily skin care. UV radiation is detrimental to the skin's health and is the main cause of premature aging signs and skin cancer. To protect the skin from UV and ensure active ingredients in serums and moisturizers do their job, use sunscreen every day of the year, even in cloudy weather.
Elta MD UV Clear is a sun protection product with zinc oxide, niacinamide, hyaluronic acid, and vitamin E. It is designed to reduce breakouts in acne-prone skin and provide adequate hydration while protecting the skin from UV rays and pollutants. Its lightweight consistency and gentle formula make it suitable for everyday use on all skin types.
Conclusion
People with oily skin who often experience breakouts can alleviate their skin issues with different topical products. Learn which ingredients help balance oil production and prevent acne and follow our recommendation of skin care products to enjoy clear, healthy skin.