A chemical peel is a skin resurfacing procedure that removes the top layer of the skin with a chemical solution. It reduces or eliminates fine wrinkles, skin discoloration, scars, or acne.
Common treatment areas include the face, neck, and hands. However, chemical peels can also be used to treat mild to moderate acne and acne scars on the back.
This article explains the procedure, benefits, and side effects of a back chemical peel.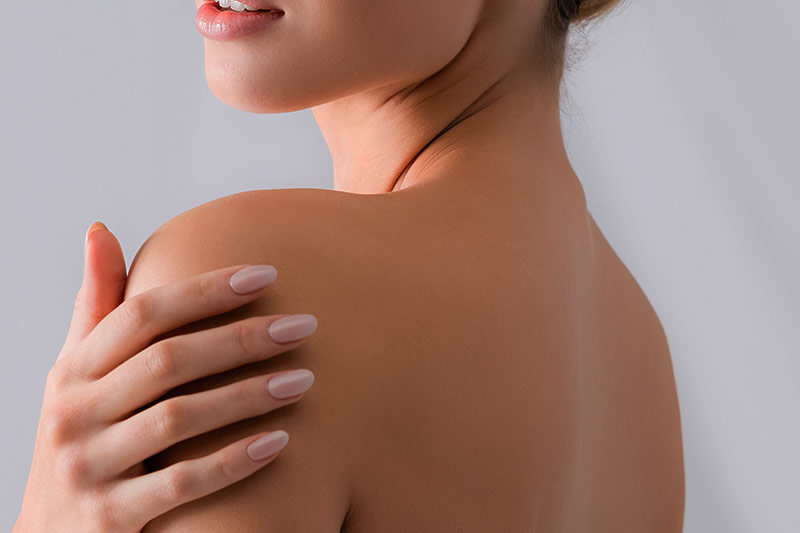 What Is a Back Chemical Peel?
This minimally invasive cosmetic procedure involves the application of a chemical solution to the skin on the back to address acne, scarring, or hyperpigmentation.
A back chemical peel can reduce the appearance of back acne ("bacne") that develop when excess sweat, dirt, and sebum clog the pores. It also lessens the appearance of acne scars and brightens the skin.
Additionally, the treatment promotes collagen production for a more rejuvenated appearance.
---
Note: Learn more about what causes acne and what the common triggers for acne breakouts are.
---
How Does a Back Chemical Peel Work?
A back chemical peel causes controlled damage to the skin on the back to exfoliate the topmost layer and promote skin regrowth and regeneration.
This skin resurfacing method involves the application of chemical exfoliating agents to the treatment area. The damaged skin gradually peels off to be replaced with new, healthier skin.
The dermatologist chooses a suitable chemical peel type based on the severity of the skin condition.
A light chemical peel – Removes the uppermost skin layer with gentle exfoliators, such as glycolic or salicylic acid.
A medium chemical peel – Penetrates epidermal and dermal layers with trichloroacetic acid (TCA) or a combination of chemical solutions.
A deep chemical peel – Penetrates all skin layers with carbolic acid (phenol) and achieves a dramatic transformation. However, this type of peel has a long recovery period and can cause more serious side effects.
---
Note: Read about the differences between chemical peels and laser treatment to decide which is more suitable.
---
Chemical Peel on Back Benefits
Back chemical peels can alleviate moderate acne, improve the appearance of mild scarring, and stimulate skin regeneration.
Benefits of applying a chemical peel on the back include:
Reduced acne breakouts
Even skin tone
Smooth skin texture
Gentle exfoliation
Skin cell turnover
Cleared pores
Stimulated collagen production
Enhanced skin radiance
Diminished scarring
Dark spot removal
Reduced congestion (oiliness)
Who Is a Good Candidate for Back Chemical Peel?
A good candidate for a back chemical peel is a healthy adult seeking to revitalize skin on the back to address hyperpigmentation, moderate acne, or uneven texture.
A pre-peel consultation is necessary to establish the current skin condition, the patient's treatment goals, and skin type.
Back chemical peels are the right choice for you if:
You wish to reduce uneven texture, acne, or dark spots on the back.
You have no skin inflammation, active infections, or ongoing allergic reactions.
Your skin tone is light and less prone to pigment damage or post-inflammatory hyperpigmentation.
You are willing to commit to the post-procedure aftercare tips for optimal results.
In general, chemical peels are suitable for all skin types because the provider tailors the strength of the chemical solution to suit the patient's unique skin type and concern.
---
Note: Find out how to reduce inflammation by discovering its root cause.
---
What Skin Conditions Can a Back Chemical Peel Treat?
Chemical peel treatments are effective in addressing various skin issues on the back.
The most common skin conditions include the following:
Acne – Hormonal acne and non-hormonal pimples, whiteheads, and blackheads.
Scars – Shallow acne scars, skin lesions, and minor textural irregularities.
Hyperpigmentation – Age spots, uneven skin tone, and skin discoloration from acne or sun exposure.
Uneven skin texture – The chemical solution removes the top skin layer by breaking down the dead cells on the skin's surface to restore a smoother, silkier texture.
Dry skin – The treatment removes the outer layer and stimulates cell renewal to achieve healthy, revitalized skin.
Fine lines and wrinkles – Chemical peels can reduce the appearance of fine lines, creases, and wrinkles.
Actinic keratosis – Small, rough, scaly patches and bumps on the skin caused by UV damage.
Melasma – This pigmentation disorder typically appears on the face as gray, brown patches of skin but can also develop on the back.
---
Note: If you are looking for alternative ways to deal with acne scars, an option to consider is microneedling for acne scars. Our post Microneedling vs. Chemical Peel explains the differences between these treatments, and the pros and cons of each.
---
Which Chemical Peel Is Best for Back Acne?
Regular chemical peels are highly effective in eliminating or reducing bacne. The medical provider determines what chemical solution to use based on the patient's skin condition, skin type, and specific skin issues.
Light Chemical Peel
This mild chemical peel procedure involves applying gentle exfoliators, such as alpha and beta hydroxy acids that penetrate the superficial skin layer and unclog the pores. It requires no downtime and does not cause visible peeling.
A light chemical peel requires several sessions to achieve an optimal outcome. It yields subtle yet effective results, reducing mild to moderate acne, such as comedones.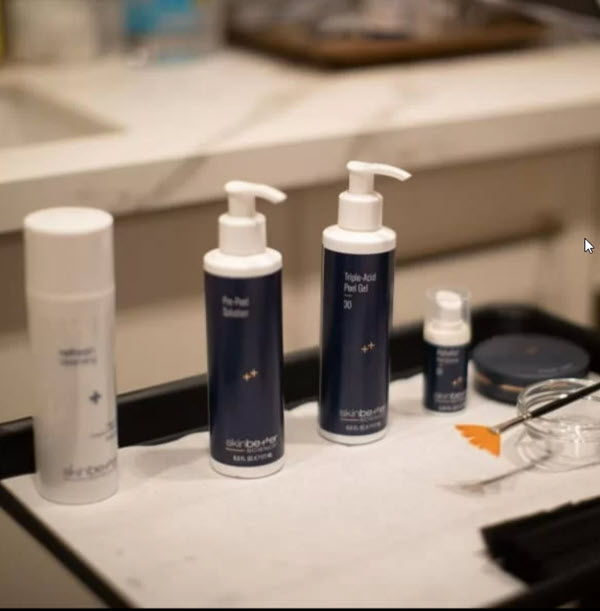 Medium Chemical Peel
The medium-depth peel treatment uses slightly stronger chemical solutions, such as trichloroacetic acid, glycolic acid, and Jessner's solution, to penetrate deeper skin layers towards the dermis and stimulate cell turnover.
Post-procedure recovery typically lasts up to one week and includes sporadic skin flaking. A series of medium chemical peel sessions yield the best results.
This resurfacing method effectively treats mild to moderate bacne, skin discoloration, and acne scars.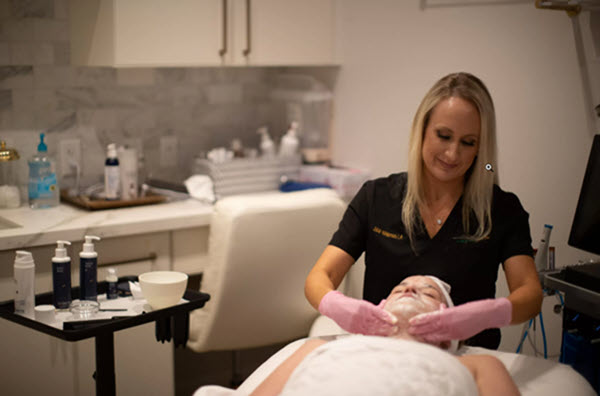 What Can You Expect During Back Chemical Peel?
The dermatologist schedules a pre-treatment consultation to discuss the patient's expectations. They will determine the best chemical peel for acne scars to use based on the patient's specific skin issue, physical features, medical history, and current symptoms.
The treatment typically lasts between 30 and 90 minutes and involves the following steps:
Washing the skin – Thorough cleansing of the treatment area to remove any dirt, oil, debris, or dead skin cells.
Applying the solution – Applying the chemical solution to the designated areas with a brush, cotton ball, gauze, sponge, or a cotton-tipped applicator.
Leaving the solution – The solution dwell time ranges from 3 to 15 minutes, depending on skin sensitivity, the issue being addressed, the chemical formula used, and peel type.
Removing the chemical – The provider removes the chemical and neutralizes it with water and saline compresses to stop exfoliation.
Does a Chemical Peel on Your Back Hurt?
Most patients report sensations of tingling, warmth, stinging, and burning during the procedure.
A light chemical peel does not typically require pain relief. However, medium chemical peel patients with a low pain threshold might benefit from mild painkillers or sedatives.
The Results of Chemical Peel on Back
The results depend on the strength of the chemical solution used, the skin issue type, and the severity of symptoms. According to one study, TCA-based chemical peel solutions offer an improvement in the appearance of acne of up to 90%.
Light-depth chemical peels provide subtle results after several sessions.
Medium back peels yield more visible results but also require several treatments.
How Long Does Back Peeling Last?
Light back peels cause little to no peeling after the procedure. The treated area may be mildly irritated, red, and lighter than usual.
Medium chemical treatments may cause redness, dryness, swelling, and slight peeling 3 to 5 days after the procedure.
How Long Does a Back Chemical Peel Take to Heal?
The recovery takes 7 to 14 days and depends on the individual's skin type, the chemical formula applied, and how diligently the patient follows post-peel aftercare guidelines.
You can speed up the healing process with ALASTIN Procedure Enhancement System, an all-in-one set that gently cleanses and calms the treated area, promotes hydration, provides SPF protection, and reduces recovery time.
---
Note: For more tips, refer to our guide to chemical peel aftercare to maximize the results and avoid potential complications.
---
Chemical Peel on Back Side Effects
This non-invasive cosmetic procedure involves few risks. The expertise and experience of the provider minimize possible complications.
The most common short-term side effects are the following:
Redness
Skin irritations
Edema (swelling)
Flaking
Peeling
Stinging
Dryness
Crusting
Blisters
In rare cases, patients develop some of the following severe conditions:
Scarring
Infection
Allergic reaction
Hyperpigmentation
Heart damage
Kidney damage
Liver damage
Reactivation of cold sores
Back Chemical Peel Cost
Vibrant Skin Bar offers light peels for $99 per session and medium peels for $125 per session. Deep peels are more costly due to anesthesia and more potential risks.
Conclusion
Chemical peels are an effective solution for acne-prone skin, dark spots, or uneven texture on the back. Exfoliation unclogs the pores, triggering skin cell renewal and stimulating collagen production for enhanced skin elasticity.
If you're looking for a medical spa providing chemical peels in Phoenix, Arizona, don't hesitate to contact us. Our staff will be more than happy to talk to you about your skin goals, and ways we can achieve them together.