Long, sunny days are great for our mood, but they pose a challenge for our skin. We need special skin care during the summer to adequately counter the effects of hot air and humidity.
Here are some of the ways the summer weather impacts our skin:
The sun is much stronger during the summer, causing redness and burns and requiring stronger UV protection.
Humidity is higher, requiring lighter moisturizers.
High temperatures and moisture in the air open the pores, making the skin more susceptible to damage from oxidants – hence, the need for a higher concentration of antioxidants.
Higher humidity increases sebum production, leading to greasy skin and acne breakouts and requiring more frequent exfoliation and cleansing.
Warm weather dictates more frequent leg shaving, which can result in irritated skin, ingrown hairs, and razor burns. Laser hair removal may be a better option.
Let's see what kind of summer skin care is necessary to keep your skin healthy and glowing.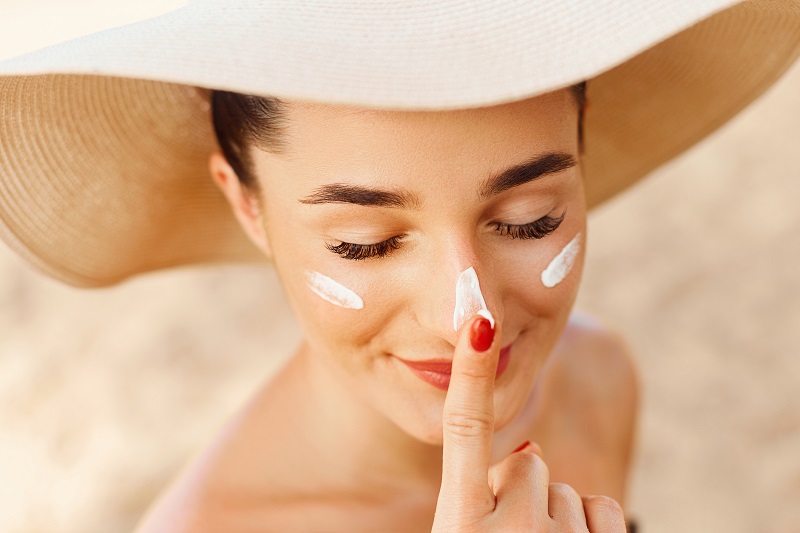 6 Steps Every Summer Skincare Routine Should Include
Cleansing, nourishing, and protecting the skin are the staples of daily skin care. However, the routines differ in the summer and winter. Here we outline the step-by-step process of a summer skincare routine.
1. Cleanser
Cleansing is one of the most important steps in a skincare routine, and doubly so in the summer. Heat and humidity open the pores, while increased sweating and impurities in the air block them. This leads to acne, uneven skin tone, and wrinkles.
Cleansing twice a day is essential for keeping the pores clean. Use gentle, soft, and nourishing cleansers in the summer that dissolve skincare products but don't strip your skin of essential oils.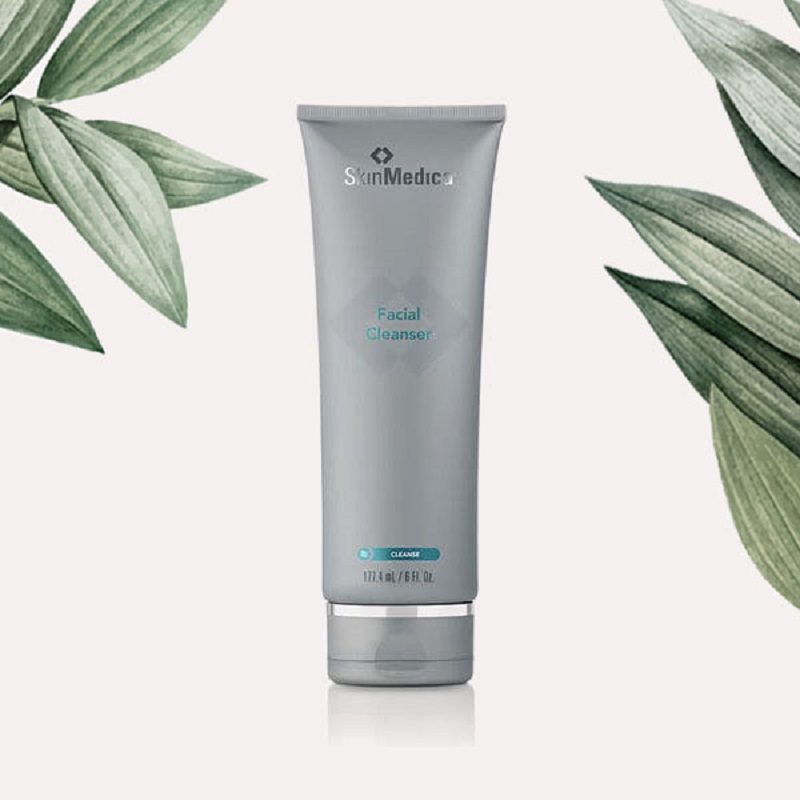 Facial Cleanser by SkinMedica is strong enough to remove excess oil, makeup, environmental pollutants, and night sweat but is also very hydrating and refreshing. It's suitable for all skin types, and you can use it in the morning and evening.
2. Toner
Hot and humid weather opens pores, making the skin more susceptible to the damaging effects of free radicals. If you have oily skin prone to clogged pores and acne, use a gentle toner with refreshing agents (cucumber, green tea) to close the pores and tone your skin.
Toners are lightweight products suitable for morning and evening routines. You can also use it just once during the day, depending on your needs. Make sure you apply the toner after thoroughly cleansing the skin unless the instructions on the product specify a different order.
---
Note: For more information on cleansers and toners, including whether, when, and how to use them and which products to try, refer to our post: Cleanser vs. Toner.
---
3. Antioxidant Skincare Products
Antioxidants in skin care protect the skin from environmental pollutants. Commonly found antioxidants in serums and creams include:
Vitamin C – The most powerful antioxidant in skincare because it offers protection against photodamage, improving melasma, discoloration, and other skin concerns.
Vitamin E – Another great skincare ingredient that helps repair the skin on the cellular level and has a soothing effect on sunburned skin.
Vitamin A (retinol) – An all-time favorite at nighttime because it repairs damaged skin, reduces the appearance of wrinkles, and helps decrease hyperpigmentation and sunspots.
Vitamin B3 (niacinamide) – Commonly found in SPF products because it helps build the skin's natural barrier and prevent UV damage.
Hyaluronic acid – Excellent for immediate hydration and locking in moisture, essential during the summer.
The time to use antioxidant products depends on the product formula and your needs. For example, vitamin A (retinol) products are typically used at night because they increase the skin's sensitivity to the sun. Vitamin C serums are often used during the day to protect the skin from photodamage.
---
Note: For more tips and product recommendations, check out our guide on how to create the best night skincare routine tailored to your skin's unique needs.
---
We recommend Vitamin C+E Complex by SkinMedica because it delivers high concentrations of vitamins C and E for all-day antioxidant protection and skin rejuvenation. Apply it in the morning after cleansing.
4. Moisturizer
There's usually enough moisture in the air during summer to keep the skin hydrated. However, the humidity and heat also increase sweating, so you lose moisture.
Summer skin care requires products that contain humectants—ingredients that lock in moisture. Some of the best humectants are hyaluronic acid, glycerin, urea, aloe vera, etc.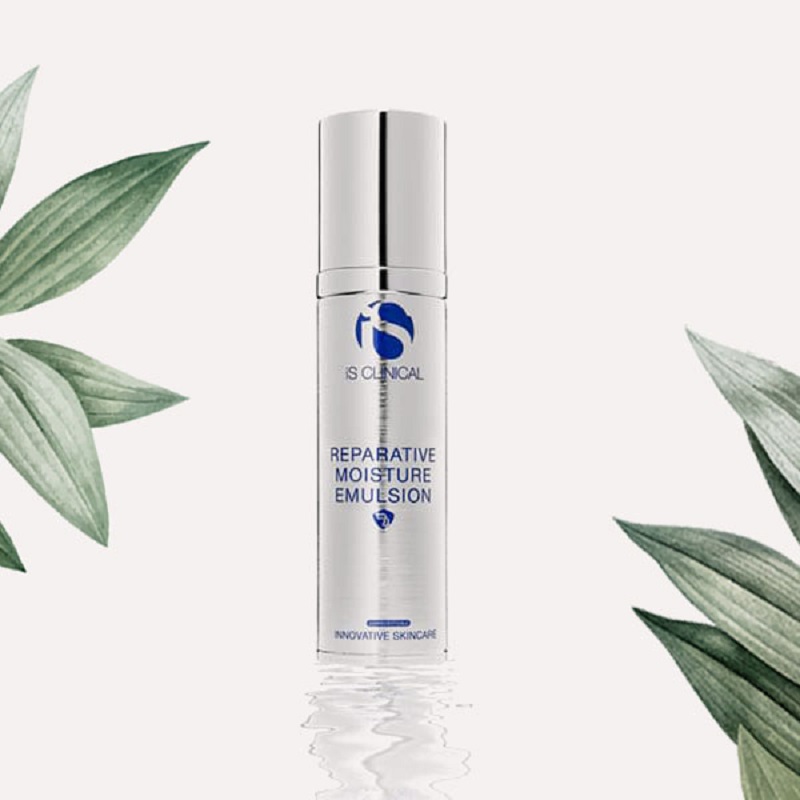 Reparative Moisture Emulsion by iS Clinical is a good choice of moisturizer for the summer because it provides intensive hydration while protecting the skin from photodamage. It's suitable for all skin types. Apply it in the morning after cleansing and applying an antioxidant serum.
5. Exfoliator
Humid air and excessive sweating increase the buildup of dead skin cells and impurities on the skin. Exfoliate at least two or three times a week after cleansing your skin in the morning to keep it clean and well-prepared for products that nourish and protect it.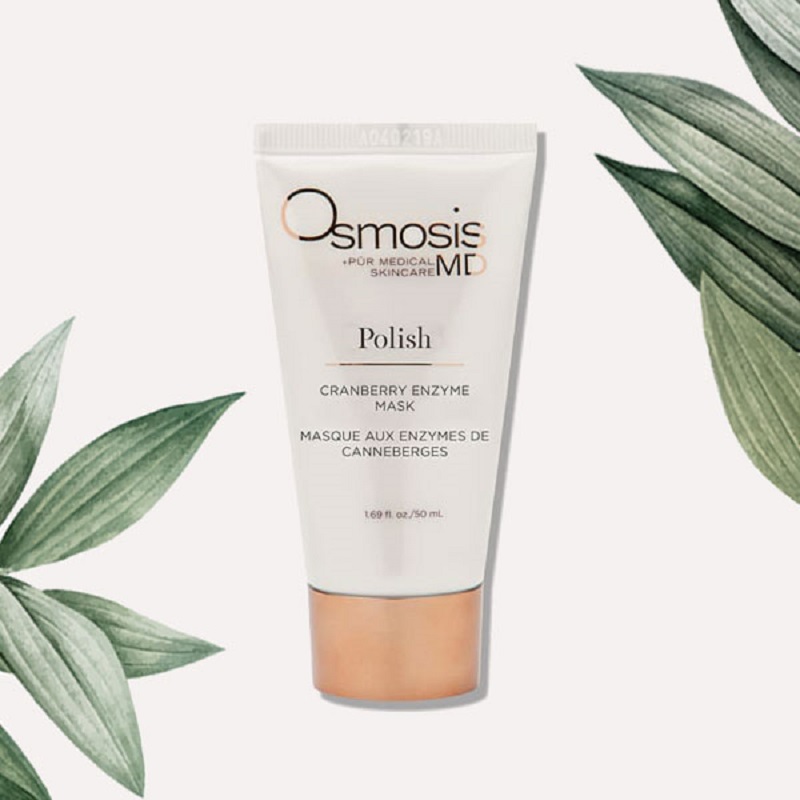 We recommend Osmosis MD Polish Cranberry Enzyme Mask for summer exfoliation – it uses cranberry enzymes to gently exfoliate the skin, while glycerin keeps it well hydrated.
6. Sunscreen
Skin professionals warn that premature aging signs are largely due to excessive sun exposure, especially during the summer. The best way to keep our skin youthful is to protect it with adequate sunscreen – products that provide broad-spectrum (UVA and UVB) and SPF 30+ protection.
Our blog post on how to choose sunscreen will help you find maximum protection against harmful UV radiation. Make sure you use sunscreen products for all exposed areas: the face, lips, and body. Reapply them every two hours when spending time outdoors.
Today, innovative cosmetic solutions offer combined makeup and sun-blocking ingredients. Instead of applying sunscreen as the last step of your skincare routine, you can wear makeup with SPF or other skincare products (e.g., moisturizer) that include sunscreen protection.
---
Note: Review our list of 8 best sunscreen products to choose the best sunscreen product this season.
---
Summer Skin Care: Tips for a Flawless Summer Look
The following are general summer skincare guidelines for all skin types. Where necessary, we modified the tips to include special instructions for dry, sensitive, or oily skin.
1. Seek Products with Light Formulas
The summer air is very humid and makes us sweat more, so we don't need heavy products to further clog our pores. Choose foaming cleansers instead of cleansing creams and oils because they are lightweight and gentler on the skin.
During the day, use serums that lock in moisture and bring immediate hydration to the skin, such as products with humectants (hyaluronic acid, glycerin) and ceramides.
For the nighttime, look for lightweight serums that provide deep nourishment to the skin. Avoid a moisturizer at night if your skin is too oily.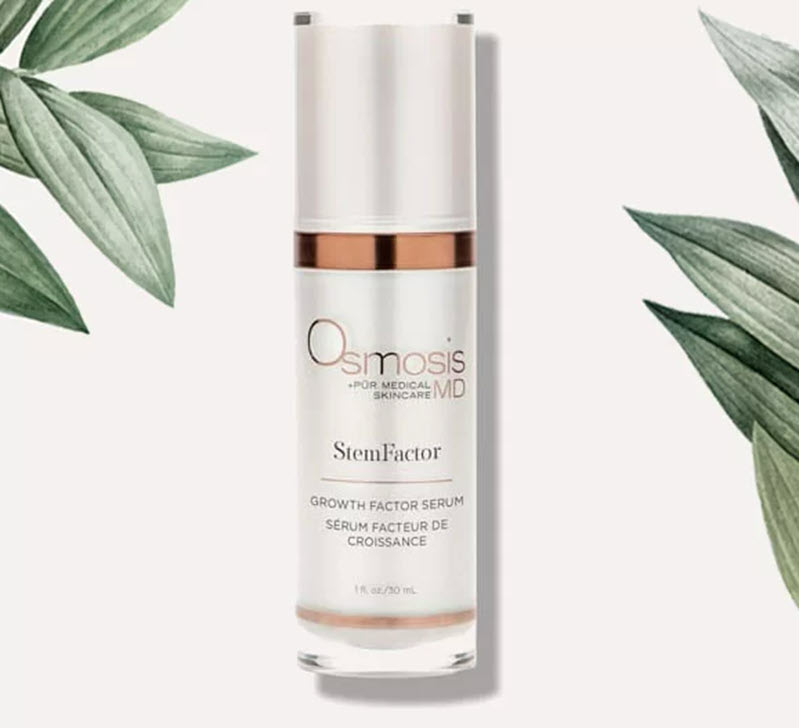 Osmosis MD StemFactor Growth Factor Serum is a good solution for the summer because it hydrates the skin and encourages skin repair, improving all aspects of aging and damage by free radicals.
2. Avoid Heavy Makeup
The summer calls for less product layering on the skin to avoid pore clogging. Avoid heavy makeup and look for cosmetic products that combine two products in one, such as tinted moisturizers or foundations with SPF.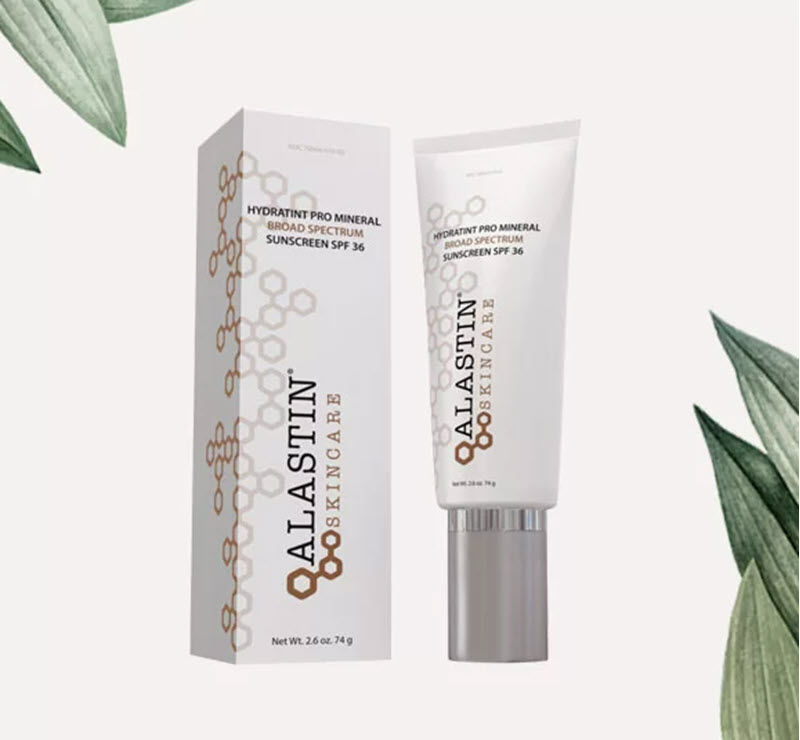 For example, Alastin's Hydratint Pro Mineral tinted sunscreen is full of antioxidants that protect the skin from the sun and is a light foundation that blends in seamlessly while providing impressive coverage.
Beauty treatments like lash lifting or brow lamination can also help with your summer "no makeup" routine.
3. Try Mineral Makeup
The summer is the best time to initiate a mineral makeup routine. It has many advantages over conventional beauty products: it contains quality, soothing ingredients with healing properties that help calm the skin. Mineral ingredients such as zinc oxide and titanium dioxide are natural sunscreen agents that provide an extra layer of protection from the sun.
---
Note: Learn why mineral makeup is better for the skin than conventional makeup.
---
4. Exfoliate More Often
Exfoliation is necessary all year round to remove impurities from the air and dead skin cells that accumulate on the skin and clog the pores. Exfoliating is even more important if you live in a hot and dry area. Gradually increase the frequency of exfoliation in the summer to keep the skin free of impurities, especially if you have oily and acne-prone skin.
The best solution for the summer is a product that simultaneously removes dead cells and impurities and hydrates the skin, such as the above Polish Enzyme Cranberry Mask.
We recommend using exfoliation products at least twice a week.
5. Short and Lukewarm Water Showers
Excessive showering and hot water strip the skin of natural oils, causing an imbalance in sebum production and preventing the cells from locking in moisture. To prevent drying out and irritating your skin during summer, have quick showers using lukewarm water.
6. Choose Non-comedogenic Products
As humidity causes a buildup of sweat and dirt on the skin, clogging the pores and causing breakouts, make sure to use non-comedogenic products in your skincare routine. Look for information on product labels to ensure the ingredients don't clog pores. Use non-oily cleansers and creams with light, hydrating ingredients such as aloe vera, glycerin, hyaluronic acid, and gentle exfoliating agents like AHAs and BHAs. Avoid coconut, avocado, and olive oil during summer, especially if you have acne-prone skin.
---
Note: Find the best products for oily, acne-prone skin.
---
7. Wear Sun-Protective Clothing and Accessories
Topical skin care is the first layer of protection against UV rays, and clothing is the second. Choose light colors that don't attract sunlight as much as dark ones, and wear cotton rather than synthetic fabrics. Loose, comfortable clothes like wide, long-sleeved shirts and long skirts allow your skin to breathe and reduce sweating.
Whenever you can, avoid direct sun exposure and seek shade.
8. Try Laser Hair Removal
Frequent leg shaving often leaves unwanted results like rough skin, strawberry bumps, and ingrown hairs. Laser hair removal is the perfect solution for slowing down hair growth and improving the texture and tone of your skin.
Make sure you schedule a treatment two weeks before your planned trip to the beach — cosmetic practitioners usually don't perform laser hair removal on tanned skin. After a series of six to eight treatments, your hair will stop growing and you'll have soft, smooth legs all year round.
---
Note: Read our article on laser hair removal areas to learn more about your treatment options and better prepare.
---
9. Drink More Water and Use Hydrating Products
The summer air is often humid, but we still lose a lot of moisture through sweating, so summer skincare demands extra hydration. It's essential to drink enough water—at least 8-10 glasses per day. Eat a lot of hydrating fruits and vegetables like watermelon, cantaloupe, pineapples, kiwi, cucumbers, and tomatoes. Hydrating face masks with cucumbers or green tea also add moisture.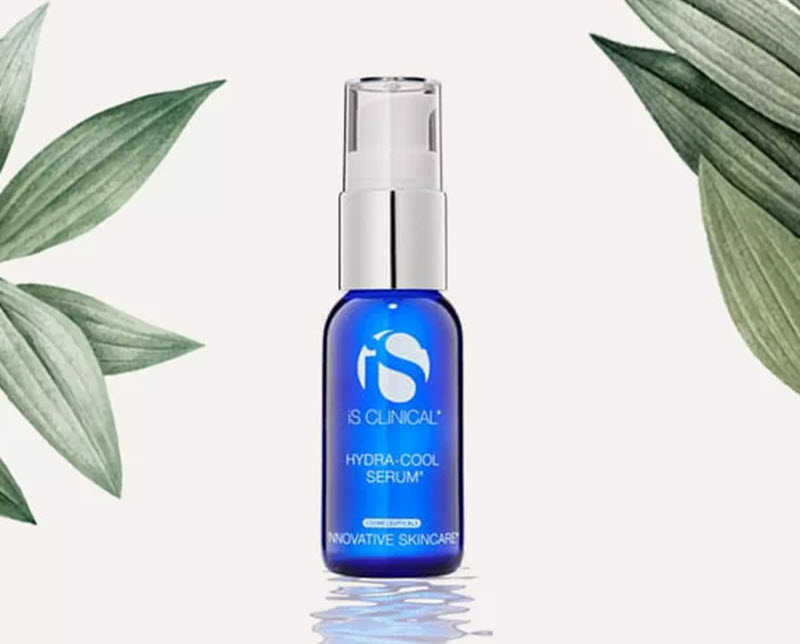 To help you in your hydration efforts, use powerful hydrating products like Hydracool Serum from iS Clinical. It provides intense hydration and nourishment while protecting the skin from free radicals.
10. Include More Vitamins in Your Diet
Vitamins and antioxidants help combat sun damage, helping rejuvenate the skin and making it glow. Introduce more fresh fruits and vegetables into your diet to increase antioxidant concentrations.
Vitamin supplements, such as Vibrant C, are an easy way to take the necessary daily amount of vitamins and antioxidants and speed up their absorption. Vitamin injections and IV therapy are even quicker, providing a boost of rejuvenating and hydrating nutrients, particularly useful for people who lose nutrients through heavy sweating.
---
Note: Learn more about IV drip for glowing skin and which ingredients help increase hydration.
---
11. Try Facials
Facials deeply cleanse and deliver a more concentrated nutrient formula to the skin, nourishing and refreshing the skin more quickly and effectively than topical products. Some of the best facials for the summer include Oxygen Infusion and Hydrafacial.
Oxygen Infusion delivers high-pressurized oxygen to skin cells, exfoliating dead skin cells and dirt and helping antioxidants penetrate deep skin layers. The result is clear and plumper-looking skin and a brighter complexion.
---
Note: Learn more about the differences between an Oxygen Facial and Hydrafacial.
---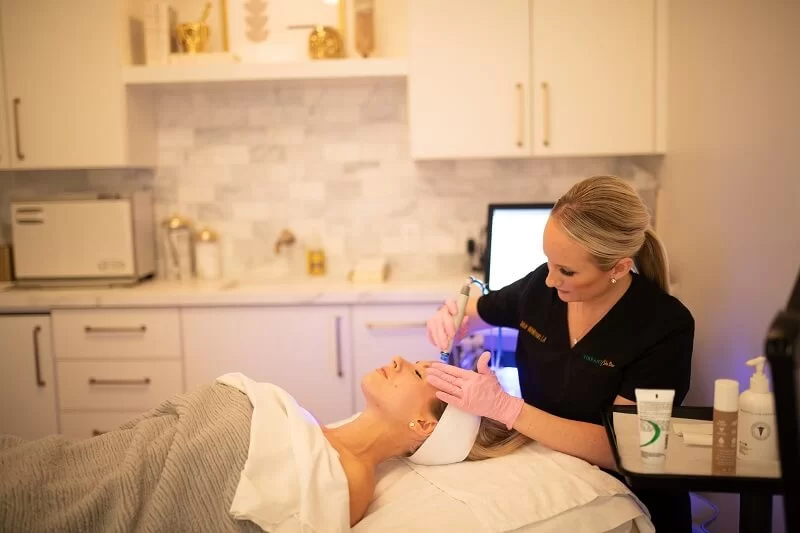 Hydrafacial is a three-part treatment involving deep cleansing of the pores and infusing the skin with potent antioxidant serums and moisturizing agents. It helps balance oil production, unclog and shrink the pores, deeply hydrate and plump the skin, and improve its tone and texture.
Conclusion
A daily skincare routine is essential in our mission to preserve a youthful appearance, especially during summertime. Embrace the good things the sun has to offer while following these special summer skincare routines to protect your skin from damaging sun rays.
If you need more tips about skin care during summer, read our article on summer skin care for dry skin. Your face will thank you for it in the years to come.