Environmental factors cause premature skin aging, but the skin also reflects our overall physical and mental state. That is why many skin experts emphasize the importance of nurturing the skin both topically and internally. Their approach to skin care is called holistic because it addresses the root causes of skin imperfections rather than solely treating the skin.
This article focuses on the holistic facial, a cosmetic treatment that employs holistic skin care practices to improve the patient's skin condition and general well-being.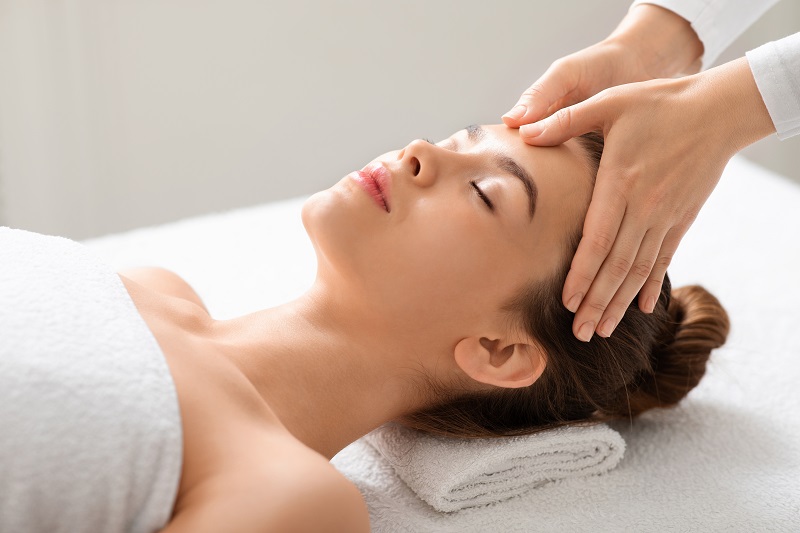 What Is a Holistic Facial?
A holistic facial is a non-invasive cosmetic treatment that uses various massage techniques with aromatherapy and natural skincare products to help the skin fight internal and external factors that cause damage.
The treatment is customized to each patient and involves a unique combination of plant-based products and ingredients, depending on their skin type and the issue they want to treat.
---
Note: Read our ultimate skin care guide to learn how to nurture your skin.
---
What Skin Conditions Can a Holistic Facial Help with?
A holistic facial can help with various skin issues, including:
Rosacea
Psoriasis
Fine lines and wrinkles
Eczema
---
Note: Holistic facials are one of many natural ways to alleviate symptoms and treat eczema. Discover other holistic eczema treatment methods.
---
Holistic Facial Benefits
The combination of acupressure, lymphatic massage, essential oils, and skincare products with potent botanical ingredients stimulate skin and body regeneration and offer a range of health benefits, including:
Improved circulation
Toxin removal
Increased collagen production
Relief from tension headaches
Relaxed muscles
Reduced sinus congestion
Reduced anxiety and stress
Improved sleep
What Can You Expect During a Holistic Facial Treatment?
A holistic facial is unique to each patient and involves different products and techniques depending on the patient's needs. However, they all follow a similar structure.
1. Breathing and relaxation. The treatment begins with a relaxing breathing session. The patient follows the provider's instructions, deeply inhaling and exhaling while the provider massages their face, neck, shoulders, and upper chest with essential oils. The oils stimulate the patient's sense of smell and relax the muscles.
2. Cleansing. The provider applies a natural cleanser infused with plant oils and floral waters to remove impurities from the pores, improve hydration and restore vitality to the skin.
3. Exfoliation. The provider uses a plant-based product with microcrystals based on cellulose to further remove dirt, dead cells, sebum, and other impurities from the patient's skin and resurface a softer, cleaner layer.
4. Tonic. A tonic with an organic blend of botanical extracts calms and tones the skin, keeping inflammation in check.
5. Serums and masks. The provider applies all-natural serums infused with antioxidants and other skin-healing ingredients to help the skin fight free radicals and provide proper nourishment. Some practitioners use a face mask to further nourish the skin.
6. Massage. Before applying a moisturizer, the provider massages the skin, applying pressure to key points to rejuvenate and deeply relax the face and scalp.
7. Hydration. A moisturizer, eye cream, and lip balm are applied as the last step of the treatment.
The facial lasts 60-90 minutes.
Who Should Avoid a Holistic Facial?
A holistic facial is a gentle, non-invasive treatment suitable for most healthy adults, even pregnant women. However, a few conditions may pose a health risk. Your holistic skin care professional may need to reschedule or adapt the treatment if you have:
A skin infection
A scar tissue less than six months old
Cuts on the treatment area
Sunburn
Allergies
Undiagnosed lumps
A malignant tumor
Holistic Facial Cost
Holistic facials range from $40-50 to a few hundred dollars, depending on complimentary treatments paired with the massage.
At Vibrant Skin Bar, our holistic skin care specialist offers various facials ranging from $99 for Skin Rehab, a specialized treatment for acne-prone skin, to $125 for Remedy Facial, recommended for inflammation-prone or sensitive skin.
Conclusion
A holistic facial is a gentle cosmetic treatment offering multiple benefits for a brighter, rejuvenated complexion and a more relaxed body and mind.
Contact our friendly skin care specialists today to schedule a consultation!